Transgender bathroom, locker room use: The Pa. debate, explained
This article originally appeared on PA Post.
—
About 20 years ago, Hope Adkins-Durante and her husband moved to the Eastern Lancaster County School District, a largely rural community. It wasn't far from where Adkins-Durante herself went to school.
Now, Adkins-Durante is a registered nurse and mother of three children who go to Eastern Lancaster County schools. The past few months, she said, have been "a little shocking."
The district of about 3,100 students is in the middle of a debate over transgender rights, one that is dividing the community.
More than 200 people showed up to the latest school board meeting on Monday night as the board passed a "biological sex" policy for bathrooms and locker room use.
That is the type of policy that the Pennsylvania School Boards Association has said "will almost certainly be struck down" because it limits transgender students from using facilities aligned with their gender identity. The Eastern Lancaster County policy is set to go into effect May 14.
Adkins-Durante opposed the policy. And the public debate over the issue has changed how she sees her community.
"I'm learning that it's not as diverse as I thought it was," she said. "… It's hard now seeing it in a different light, because had I known this, I don't know that I would have raised my family here."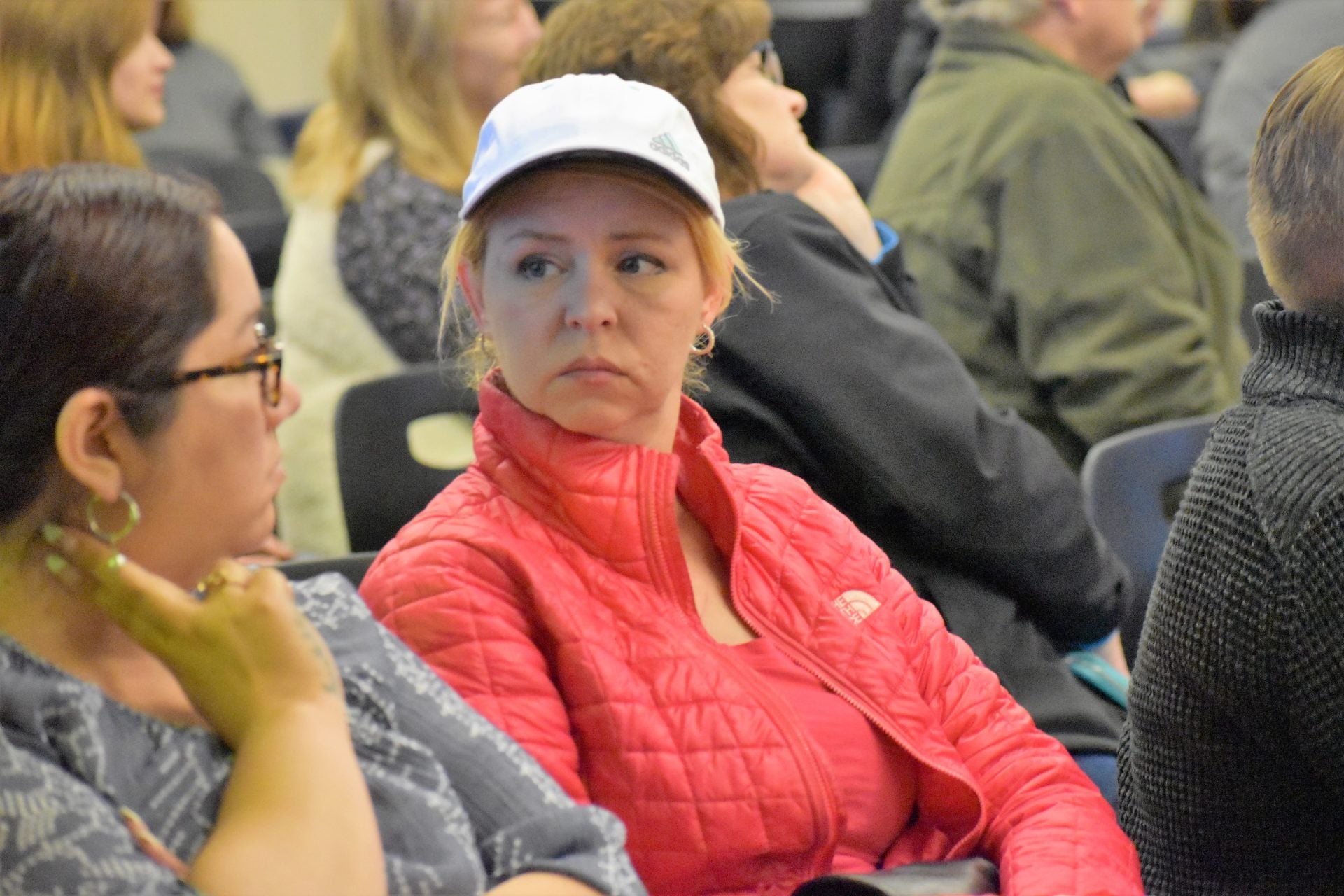 Stu Martin, the father of two children in the district, is one of the people who has encouraged the school board to separate bathrooms and locker rooms by "biological sex."
After the meeting, Martin described the dispute as "a clash of civilizations." He thinks some people have the wrong idea about his side.
"We're not unloving. We're not monsters," Martin said. "What we are doing is we're trying to protect our children and our children's children in the way of life that we embrace and believe."
The debate in Eastern Lancaster County shows no signs of going away soon, and it's one that other districts could confront. Here's what you need to know about the issue, the potential legal risk for the school district and what comes next.
How did the Eastern Lancaster debate start?
In past years, the school district worked with transgender students and their families to allow the students "to use single-user restrooms or have alternative locker room arrangements," Jeff Litts, an attorney for the district, said in January.
But he said this year, the "family of a transgender student insisted that their child" have access to boys' restroom and locker room facilities at the high school. Litts said the student is "a biological female" who identifies as male.
Locker rooms weren't an issue in the first semester, because the student did not have a physical education class, Litts said. But this semester he did. The district allowed him to use the boys' locker room, and Litts said the district took steps to protect the privacy of students, including installing changing stalls.
But there was still a public outcry, and more than 250 people attended a school board meeting in January, LNP reported.
The school district is considering spending about $1 million to get rid of gendered locker rooms. Instead, the district would have private showers and changing stalls for high school students.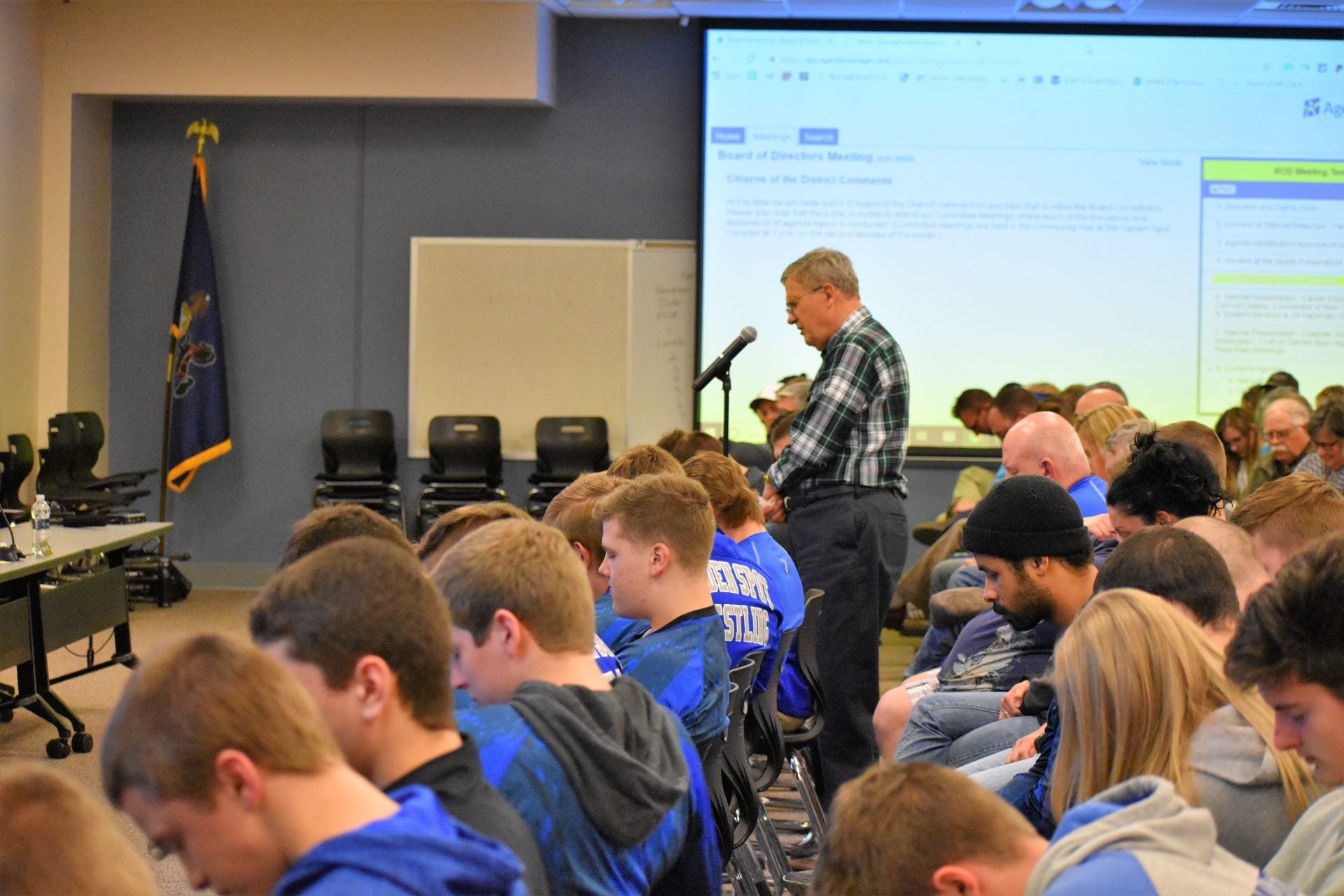 What happened on Monday?
The board approved a student privacy policy with a "biological sex" addendum that would prohibit transgender students from using the locker room or bathroom that matches their gender identity.
No attorney for the district reviewed the addendum. During the meeting, school board members also eliminated language suggesting the new policy was a recommendation as opposed to a requirement.
What are community members saying?
There are, broadly speaking, three camps.
There are people, such as Adkins-Durante, who say the district should support transgender rights. She said there are multiple transgender students in the district. One of her sons is friends with a transgender student.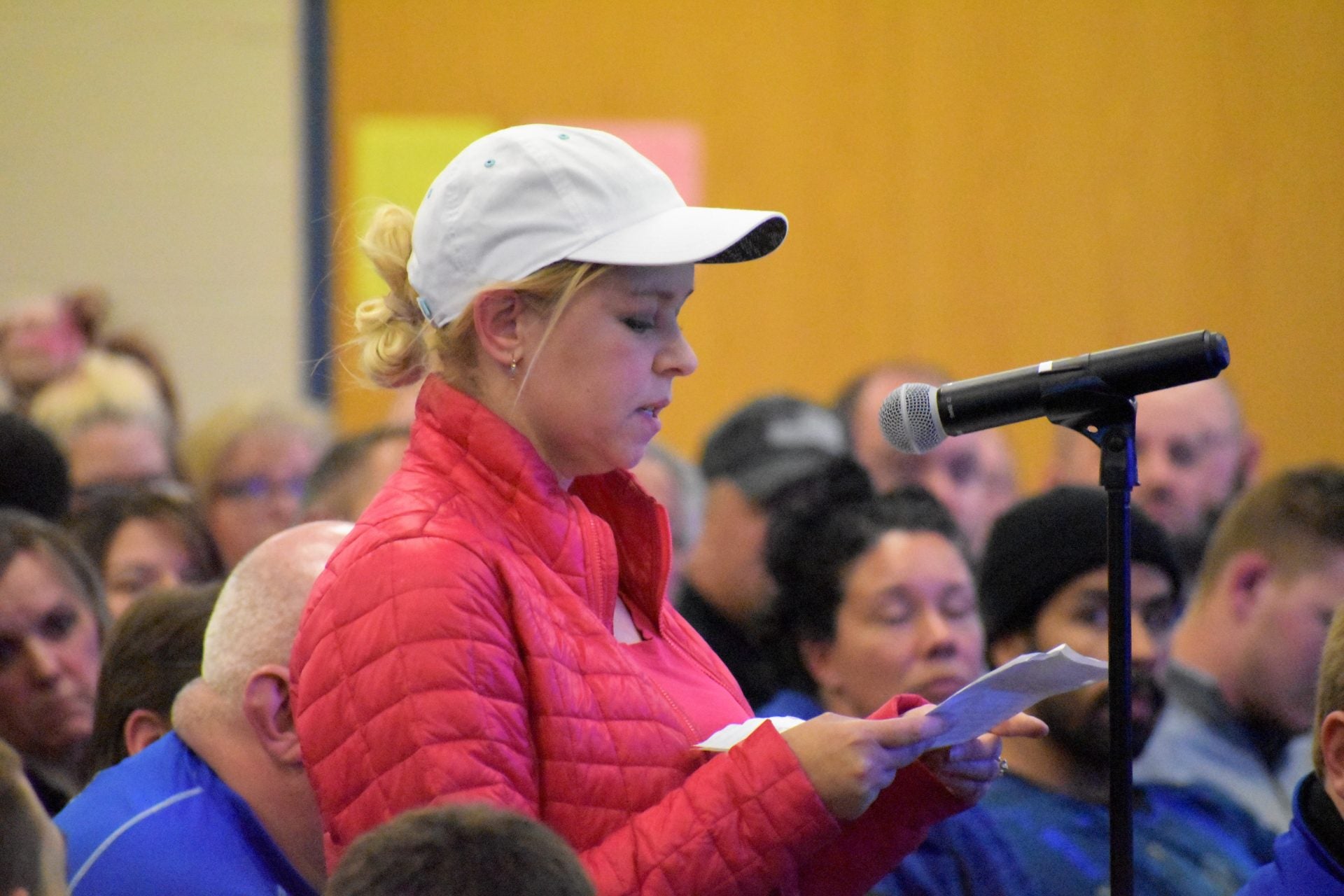 "His gender has never been an issue for us. It wasn't even something I thought about until it seemed like the adults started speaking out a lot more and making it an issue," Adkins-Durante said after the meeting. "And as a mom, I just — it bothers me because he's such a great kid."
In another camp, there are people who raise legal concerns. Rodney Jones, a school board member who voted against the "biological sex" policy, focused on the potential costs of a lawsuit on Monday evening.
And there are people, such as Martin, who don't want transgender students to use the locker room and bathrooms that match their gender identity.
"In the Bible, it says that God created them male and female," Martin said.
Martin said he expects there will be a lawsuit — and that he's not concerned about it.
"What should one be more concerned about — the future of their children or the future of their bank account?" Martin said.
What does the Pennsylvania School Boards Association recommend?
The opposite of what Eastern Lancaster County school board members approved.
The association recommended that if students are uncomfortable using the same changing and bathroom facilities as transgender students, then those uncomfortable students should have access to single-user or partitioned areas.
"We urge public school entities to be sensitive to the needs of transgender students, a vulnerable community who need protection and support and to be aware that the legal landscape presently favors the legal positions of transgender students," the association said.
What has happened in other court cases?
Multiple court cases have gone in favor of transgender students, including two high-profile ones in Pennsylvania.
In 2016, the Pine-Richland School District in Allegheny County passed a policy that said students must either use unisex bathrooms or the school bathrooms of their "biological sex."
Three transgender students sued with the assistance of an organization called Lambda Legal.
A federal district court temporarily blocked enforcement of the policy, and the two sides reached a settlement that Lambda Legal says prohibits the district from ever barring transgender students from using the bathroom that matches their gender identity.
The district also agreed to pay three transgender plaintiffs — who had since graduated — $20,000 each, plus $75,000 for attorney costs, the Pittsburgh Post-Gazette reported after obtaining the information through a Right-to-Know request.
Omar Gonzalez-Pagan, an attorney with Lambda Legal, represented the plaintiffs in the case. He said the policy that Eastern Lancaster County passed Monday is the same as what Pine-Richland attempted.
"If they were to look at the case law, there is no wiggle room," Gonzalez-Pagan said.
In another Pennsylvania case, the Boyertown Area School District in Berks and Montgomery counties was sued by students over its policy of allowing transgender students to use the bathrooms and locker rooms that match their gender identity.
A federal district court and an appeals court ruled in favor of the district, and the wins were seen as victories for transgender rights. In November, the plaintiffs filed a petition, asking the U.S. Supreme Court to review the ruling.
What's next?
The Eastern Lancaster County school board is scheduled to meet again on May 13. The new privacy policy is scheduled to take effect the following day.
That means the board will have the opportunity to change the policy or delay it further.
The school board president, Glenn Yoder, said he wasn't going to comment about a potential lawsuit. "I'm hoping that everybody in the community decides to work collaboratively," Yoder said.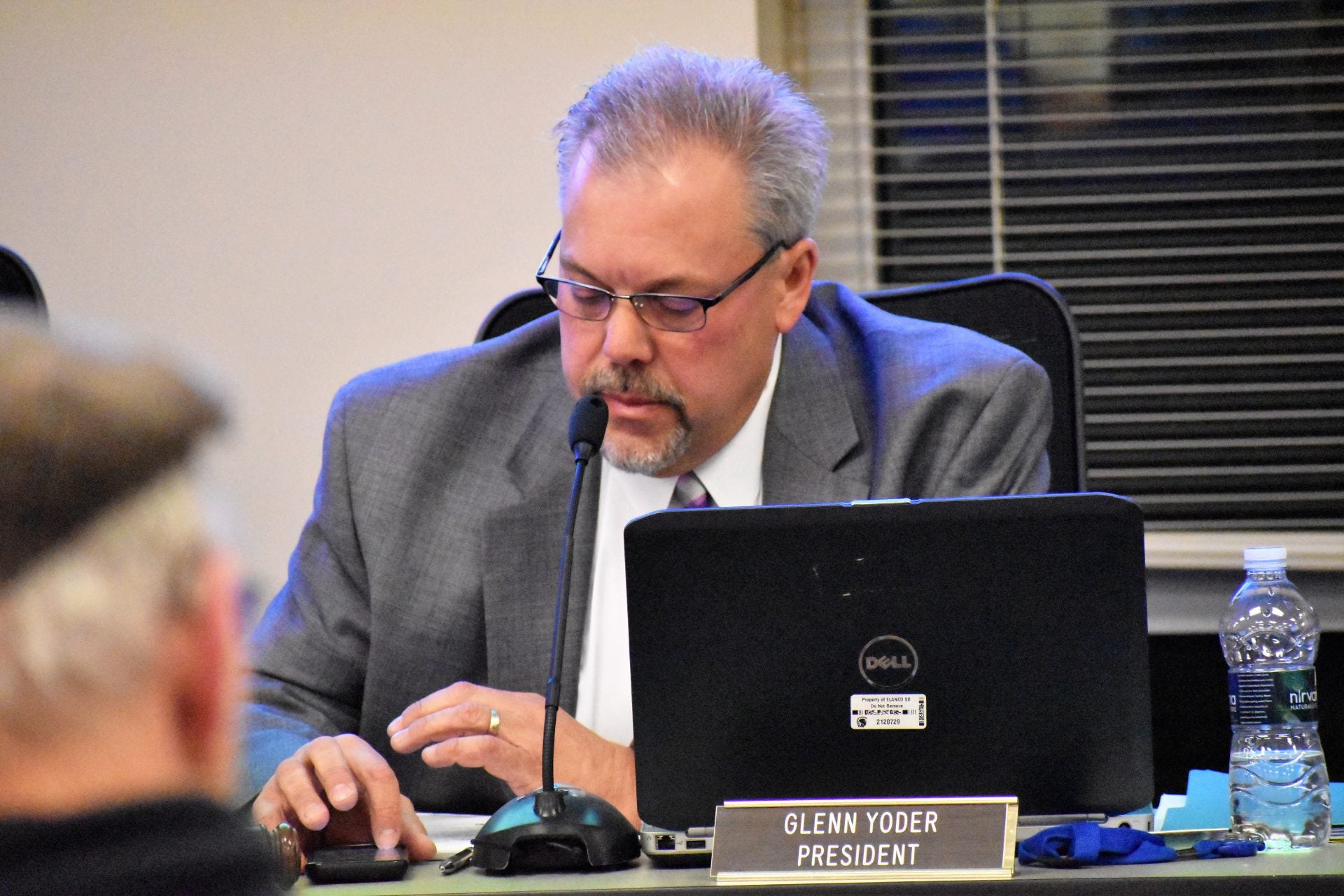 Jason Landau Goodman is executive director of the Pennsylvania Youth Congress, which advocates for LGBTQ people. He said members of his organization have talked with students and families in the district about a potential lawsuit.
He said the district still has a chance to reverse the policy in May.
"There is a threat of imminent harm to students here who, come next month, will be forced into the bathroom and locker room that are unsafe and completely harmful to them," Landau Goodman said.