Pa. coronavirus update: Residents to receive COVID-19 emergency alerts
Pa. residents with mobile devices will receive emergency alerts about COVID-19 through the WEA system, which notifies people of threats like severe weather and Amber Alerts.
Pennsylvania residents will soon receive public messages about the COVID-19 pandemic through the national Wireless Emergency Alert (WEA) system, Gov. Tom Wolf announced Wednesday.
The national public safety system sends messages to mobile devices to notify people of a threat — such as severe weather — or an Amber Alert.
Residents in the state with mobile devices will receive their first statewide message today. Messages, available in English and Spanish, can also be targeted to specific areas — if one zip code has significantly higher COVID-19 rates, the system could alert people in that area with helpful information about how to respond.
"WEA is one more way to reach as many Pennsylvanians as we can to provide timely information on COVID-19," Wolf said in a statement. "This tool is another tool in our toolkit to fight the pandemic and unite against COVID."
The WEA system has been used almost 56,000 times since 2012 to warn the public about dangerous weather, missing children, and other situations.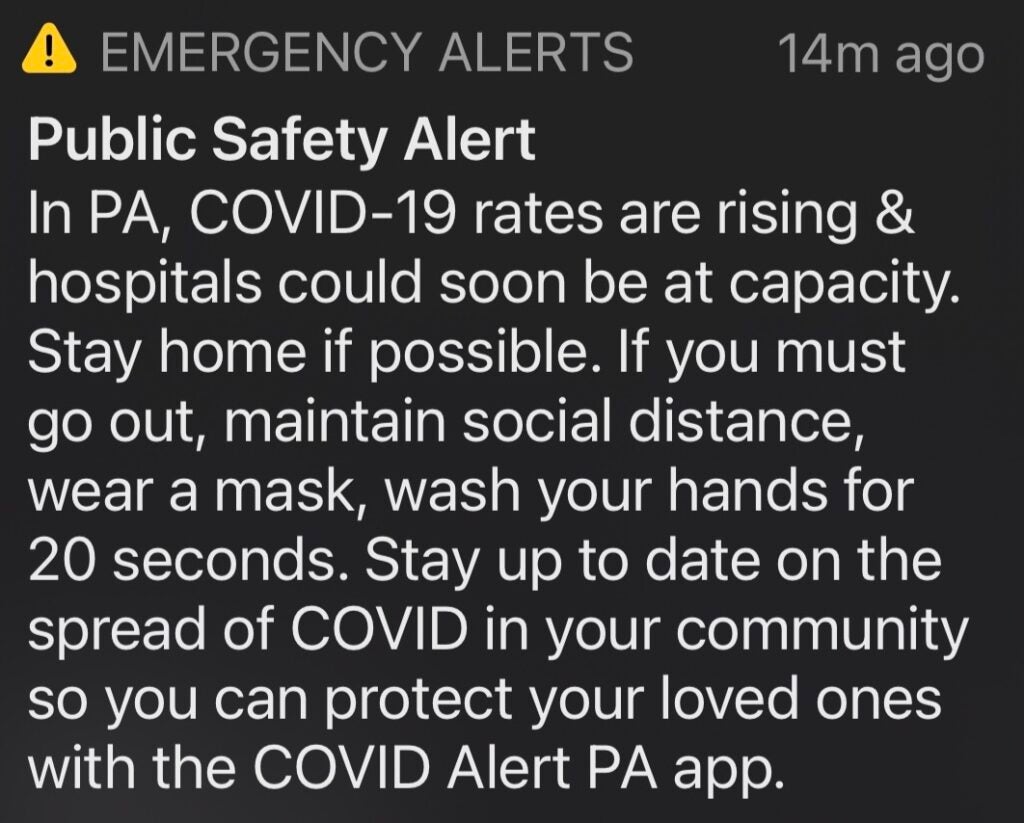 Case updates: Commonwealth, Philly show increases
The Pennsylvania Department of Health reported 6,759 new positive cases of COVID-19 on Wednesday, bringing the statewide total to 327,829. The majority of people testing positive for COVID-19 were between 25 and 49, with a spike in cases among 19- to 24-year-olds.
The state reported 144 new fatalities Wednesday, for a total of 10,095 deaths attributed to COVID-19.
There were 3,897 patients hospitalized with coronavirus statewide, 826 of whom were in intensive care units. Most of the hospitalized patients were 65 or older. The number of hospitalized patients per day has increased by nearly 2,300 since the end of September, the Health Department said.
There have been 32,915 COVID-19 cases among long-term care residents, and 6,466 cases among employees at long-term care facilities. Of all deaths, 6,430 have occurred in residents from nursing or personal care facilities.
On Wednesday, the Philadelphia Department of Public Health reported 1,246 additional confirmed cases of COVID-19 in the city. That brings the number of confirmed cases to 63,026.
The department confirmed eight additional fatalities in Philadelphia, which brings the number of residents who have succumbed to the virus in Philadelphia to 1,968. Of the total deaths, 926 (47%) were long-term care facility residents.
The Department of Public Health reported 714 patients with the virus being treated in Philadelphia hospitals, with a total of 51 on ventilators.
Wolf signs emergency disaster renewal
Gov. Tom Wolf has signed a third renewal of his 90-day Proclamation of Disaster Emergency for the COVID-19 pandemic.
The first proclamation was signed on March 6, following the announcement of the first two presumptive positive cases of the virus in Pennsylvania. It provides increased support to state agencies responding to the pandemic, such as expediting supply procurement and lifting certain regulations to allow for mitigation efforts.
"With cases and hospitalizations increasing, we cannot afford to let down our guard," Wolf said in a statement. "This renewal will allow the commonwealth to maintain its response and support efforts as we face increasing case numbers and decreasing hospital capacity."
During the pandemic, Wolf's declarations have given businesses and employees the ability to waive and extend the one-week waiting period to receive unemployment compensation, work search requirements, and the registration with PA CareerLink for applicants. They also provide relief from charges for employers, and have allowed the commonwealth to suspend numerous training requirements, certification and licensure renewals for health care professionals, child care workers, direct care workers, and other professional groups who provide life-sustaining services. They allow the state Emergency Management Agency to direct the National Guard to provide direct patient care support at long-term care facilities, as well as related support and testing.
Pa. updates travel restrictions
Pennsylvania's travel advisory was updated Wednesday to clarify quarantine requirements for those entering the state or returning home.
Travelers 11 years old or older arriving or returning to Pennsylvania must provide evidence of a negative COVID-19 test. If they cannot do so, they must quarantine for 14 days upon entering the state. However, if they receive a negative test result during that period, they may cease quarantine.
Those returning to Pennsylvania after leaving the state for less than 24 hours, as well as individuals complying with court orders, including child custody, are exempt from the testing and quarantine requirements.
"This update keeps in place the need for people visiting and returning to Pennsylvania to have a negative test or quarantine for 14 days upon arrival," Department of Health Secretary Dr. Rachel Levine said in a statement. "We still recommend that Pennsylvanians do not travel, and the stay at home advisory I issued earlier this week remains in effect. I know that it is hard not to travel during this holiday season, but it is the right thing to do to protect one another from this devastating virus."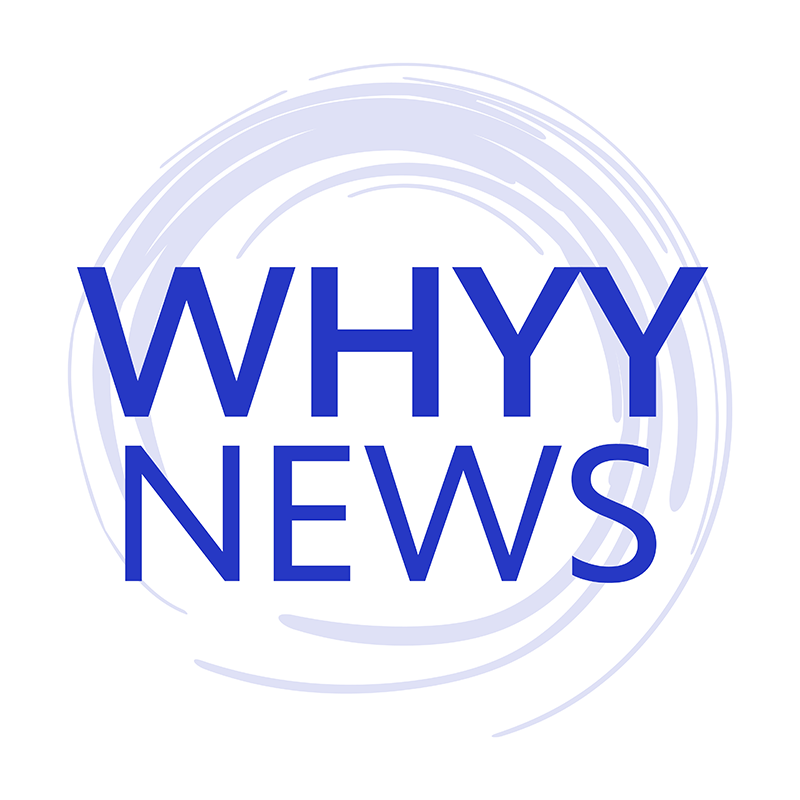 Get daily updates from WHYY News!
WHYY is your source for fact-based, in-depth journalism and information. As a nonprofit organization, we rely on financial support from readers like you. Please give today.