Pa. cancels Farm Show butter sculpture amid COVID-19 resurgence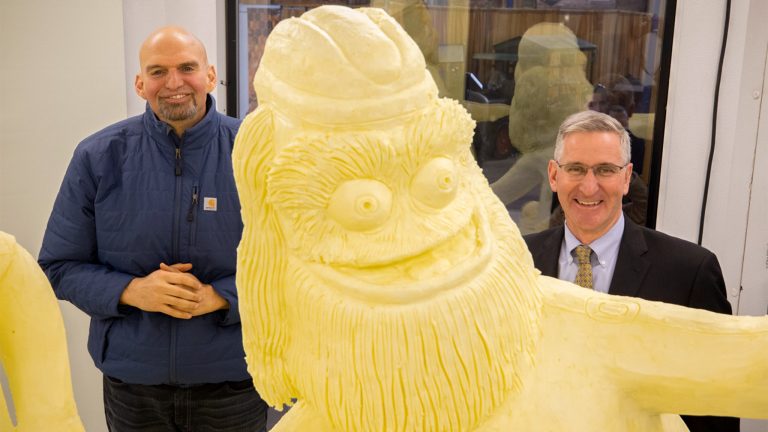 Ask us about COVID-19: What questions do you have about the current surge?
Every year, 1,000 pounds of butter are shaped into a sculpture at the Pennsylvania Farm Show in a plug for Pennsylvania's ailing dairy industry.
But with coronavirus cases rising across the commonwealth, the grease-laden tradition has been canceled, the Pennsylvania Department of Agriculture announced Tuesday.
"Pennsylvania is experiencing a resurgence of COVID-19 cases with higher daily case counts than we saw in the spring," Agriculture Secretary Russell Redding said in a press release.
"While we are heartbroken to have to cancel popular features of our annual Farm Show," Russell said, "we simply cannot afford to compromise the health and safety of our staff, the sculptors who would have to travel to Harrisburg, and those involved in recording and broadcasting virtual events."
Pennsylvania on Monday reported 6,330 new cases of COVID-19, raising the statewide case total to 426,444. The commonwealth also reported 42 new deaths, for a total of 11,373 lives lost to COVID-19.
Coronavirus cases, deaths and hospitalizations have risen dramatically over the last two weeks, with 1,000 deaths reported in the last week alone, according to Secretary of Health Dr. Rachel Levine.
"Pennsylvania's situation has become even more dire" than when the latest round of state mitigation efforts was issued, Gov. Tom Wolf said in a Monday press conference.
The Farm Show's butter sculpture dates back to a replica of Ben Franklin in 1991. Since then, the buttery undertaking has featured life-size WWII soldiers, dancing cows, the liberty bell and more.
In what now seems like a prelude to a fever dream of a year, the Farm Show's 2020 iteration molded a half-ton of butter into Philadelphia's collective id: Gritty.
This is for you, Philadelphia. #ButterGritty. pic.twitter.com/L2ZCdxQ4M9

— John Fetterman (@JohnFetterman) January 2, 2020
The butter sculpture's sponsor, American Dairy Association North East, bemoaned the loss of the sculpture, which it called a "creative way to highlight the state's hardworking dairy farmers."
Butter Gritty or not, the 2021 virtual show will go on, organizers said.
The agriculture department will continue to provide educational and "issue-oriented conversations that invite Pennsylvanians, wherever they are, to encounter agriculture for the first time or to see it from a whole new perspective from the safety of their homes."
The department plans to make adjustments to the 2021 Virtual Pennsylvania Farm Show as the pandemic unfolds.
Billy Penn contributed reporting.