Openness is secret ingredient in meal shared with strangers
Leon Caldwell, a socially minded real estate developer who was born and raised in West Philadelphia, spends a lot of time thinking about how neighborhoods grow and change. So does Phoebe Torchia, a recent college graduate who left New York for a job in Philly, and ended up living in not far from where Caldwell grew up.
The two never had reason to interact before Thursday when they ended up sitting across from one another, sharing dinner and conversation, at the second annual  On the Table Philly community meal hosted by WHYY.
The event was free and anyone with an opinion was invited. For Dominique Miller, a social worker and mother who lives in Cobbs Creek, the event was an opportunity to talk with new people about some of the challenges in trying to find safe and fun places for her teenage son to hang out after school and on the weekends. She chose to sit at a table where conversation centered around the question of how to create more kid-friendly public spaces in the city.
"My kid can't go past my stoop," Miller, a Philadelphia native, told tablemates.
Most parents around the table agreed they would feel uneasy about their child even being at the end of the block without supervision.
Suzanne Anderson, a mother and educator who lives in Port Richmond, counted herself and her neighbors among the lucky who feel comfortable letting their little ones roam the neighborhood. "We are very fortunate to be in an area where families know each other," she said.
Drew Harris, a doctor who specializes in population health, said his interest in creating a safer city for young people came in part from an experience he had near his Bella Vista home on Easter Sunday. He was inside with his family when he heard gunfire and rushed outside to find a wounded 16-year-old lying in the street. William Bethel, a sophomore at Boys' Latin of Philadelphia, had gotten caught up in a fight on South Street. "They worked on him for four hours. He couldn't be saved," said Harris, a health care consultant and assistant professor at the Jefferson University College of Population Health.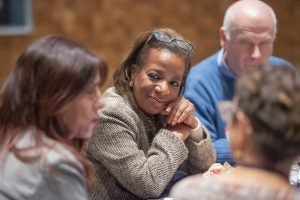 The experience has inspired him to think differently about the need young people have for safe places to spend time.
"We need to redesign our streets for our kids to be safe," Harris said. "It's isolating, and we need to integrate them."
Harris also noticed that a lot of the city's high schools are in Center City, yet few places downtown welcome them after school gets out.
"Teenagers need an outlet, too," said C. Adrienne Rhodes from Washington Square West. "There needs to be a bridge between existing cultural institutions that want youth audiences and young people who want a stimulating program."
Other On the Table Philly conversations held at WHYY on Thursday focused on homelessness, educational equity and economic inclusion.
Deborah Young, a recovery advocate for Pro-Act and an activist for people who are homeless, came out to the WHYY studio to suggest the city  leverage its 40,000 blighted lots to create housing for people in need.
"The government should be held accountable," Young said. But, beyond City Hall, everyone has a role.
"We need volunteers. We need people with heart," she said. Even the simple act of having a conversation with a homeless person asking for donations — rather than ignoring that individual — is a help, she said.
Beverly Penn from West Mount Airy said she has watched the city change over decades.  "I never saw a white person north of Spring Garden," said Penn, who is African-American, commenting on the city as she remembered it in the 1980s. "North Philadelphia now starts at Girard."
How do you know when a neighborhood is being gentrified? At the table focused on economically inclusive neighborhoods, the group debated whether a coffee shop opening is a sign that incomes in the area are increasing.
"I like coffee, too," Caldwell said. "If I opened [a coffee shop], would I be encouraging gentrification or can this community just like coffee, too?"
Torchia, originally from New York, has lived in her Mantua neighborhood for about two years. She said that bringing new businesses into a neighborhood is not inherently bad, but that business must be open to all.
"It's about keeping things accessible," she said. "If you're charging $7 a cup, it's not accessible. If you're only hiring young white people and people not from the community to attract other white people, that's not accessible. You have to ask, 'Will this be good for the community that already exists?'"
Originally from central Pennsylvania, Maureen McVail recently moved to Manayunk and came to WHYY to talk about public education.
"I don't know anyone that went to public school," McVail said to the group. She explained that she, her friends growing up, and her ex-husband never went through the public school system. Acknowledging that she doesn't know much about the public system, she said it should strive to provide the same quality as private schools. Others at the table, including Michael O'Bryan who grew up going to public schools, listened attentively.
Anne Tobey, from Graduate Hospital, said she supports a funding baseline for all public schools. Low funding, she said, is a large driver of underperforming schools. Some schools have found the answer to be partnering with businesses for extra revenue.
"Public education is a right to everyone but a school should not be struggling with no computers because they don't have a partnership," Tobey said.
O'Bryan, the director of youth and young adult programs at the Village of Arts and Humanities, noted that many young people need support to deal with trauma in their lives, and that schools as well as community mentors have a role to play there.
Like other tables, the conversation about education ended on a solutions-oriented note.
"Let [students] know there are multiple avenues to be successful,"  said one participant. "And, by successful, I mean happy."
Editor's Note: This story has been updated to reflect accurate information on Michael O'Bryan's educational background. 
Community members from many parts of Philadelphia gathered to discuss a variety of social issues at WHYY. (Jonathan Wilson for WHYY)

Community members from many parts of Philadelphia listen to an introduction by WHYY staff before discussing a variety of social issues at WHYY. (Jonathan Wilson for WHYY)

Community members from many parts of Philadelphia gathered to discuss a variety of social issues at WHYY. (Jonathan Wilson for WHYY)

WHYY's Diana Lu recaps her table's discussion topic. (Jonathan Wilson for WHYY)

Sandra Clark talks with community members prior to the beginning of table discussions. (Jonathan Wilson for WHYY)

Daryl Murphy recaps his table's discussion topic at the conclusion of the event. (Jonathan Wilson for WHYY)

WHYY's Ariella Cohen recaps her tables discussion topic at the conclusion of the event. (Jonathan Wilson for WHYY)

(Jonathan Wilson for WHYY)