One less thing to panic-buy — Philly tap water safe from coronavirus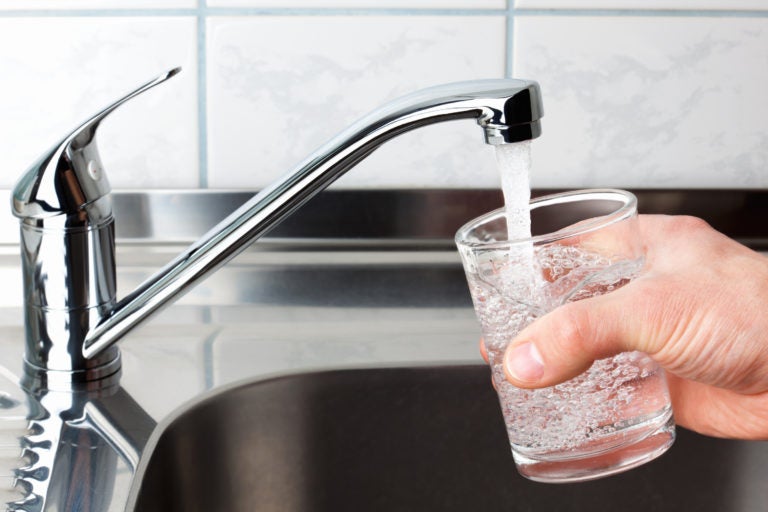 As shoppers rapidly empty shelves at grocery stores to stock themselves during the coronavirus pandemic, experts have one recommendation: skip the water aisle.
Both the Centers for Disease Control and Prevention and the Environmental Protection Agency, as well as most municipal drinking water systems including the Philadelphia Water Department, say people should continue to use and drink water from their tap as usual.
And, no, you don't need to boil it.
"There's no reason to believe that it can be transmitted by drinking water, or even that it is in drinking water as a viable organism," said Charles Haas, head of the department of civil, architectural and environmental engineering at Drexel University.
According to a World Health Organization technical brief published last year, there is no evidence showing that the coronavirus can survive in drinking water or sewage.
That's because the virus has a fragile outer membrane and is very susceptible to oxidants, such as chlorine, which is used in water treatment plants.
"Conventional water treatment methods, including filtration and disinfection used at all of Philadelphia's drinking water plants, removes or inactivates the virus that causes COVID-19," Philadelphia Water Commissioner Randy E. Hayman said at a press conference last week.
Haas, who has worked in drinking water quality and treatment methods for over 40 years, said even if the virus survived in water or sewage, it would become inactive faster than other viruses that water plants deal with every day.
There's no reason for people to get bottled water, he said, unless they live in rural areas and get water from their wells.
"In Philadelphia, we are blessed with a very, very competent and large water utility. … There should be no danger in either the quality or the quantity of water … failing to be delivered, even in the event of a large upswing in coronavirus cases," Hass said.
On a Twitter survey made by PlanPhilly on Monday, 95% of 224 respondents said their families were drinking water from the tap, most of them using filters, and 5% from bottles.
Hi Philly, for a @planphilly story, can you answer this question and reply with your argument? Thanks!

Right now me and my family are drinking water from:

— Catalina Jaramillo (@cjaramillo) March 23, 2020
But that figure is not representative of the city as a whole, said Nina Hoe Gallagher, a University of Pennsylvania researcher working on a campaign with the city's Water Department to reassure people that Philadelphia taps dispense safe, reliable and high-quality drinking water.
More than 40% of residents in the city drink water from bottles at home, because they don't trust the water coming from their faucets. Most of those people reported lower levels of income and identified as non-white with 56% of Black and 40% of Latino people surveyed drinking from bottles rather than the tap.
Meanwhile, according to the research, Philadelphians with higher levels of education and income, tend to drink tap water at home.
Gallagher said although the 25 community ambassadors working in the tap water campaign have proven successful in changing habits of those they've reached, the coronavirus is showing that there's still a lot of work to do.
"The couple of times I've been in a grocery store, I basically see our study playing out in that I see a lot of people loading up —  along with a lot of canned goods — with a lot of bottled water," she said.
Gabriella Paez, a community development manager from Esperanza, a Latino organization in Hunting Park, agrees.
"There is still a lot of mistrust in our community when it comes to drinking tap water. Just judging by the reaction to COVID-19, I would say most people in our community ran to empty Cousin's and other supermarkets of their bottled water," she said.
The city's Water Department is doing what it can to ensure that no one is choosing bottles because the tap is not an option. Due to the virus, the city suspended shuts-off through May 15 and restored water service to those who were cut off for not being able to pay their bills, according to the Philadelphia Water Department.
Stephanie Wein, a clean water advocate for PennEnvironment, said there are many sustainability reasons to choose tap water — it saves money, takes less energy to produce, it doesn't have to be packed and transported, and it doesn't create plastic pollution.  Plastic bottles were one of the most common types of litter found on the city's streets in 2018.
The coronavirus is giving people yet one more reason to pick tap over bottle, she said.
"It's one less thing that I'm going to handle with my hand," Wein said. "A bottle of water has to be produced, then packed, then shipped and then stocked for me to take and buy it at the cash register … That's a lot of surfaces and a lot of touching."
According to the World Health Organization, coronaviruses may persist on surfaces for a few hours or up to several days, depending on the kind of surface and other conditions. A recent study discovered COVID-19 was detectable for up to 24 hours on cardboard and up to two to three days on plastic and stainless steel.
"When I turn on my tap, that water has not been handled by anyone," Wein said.