On the record with Kenyatta Johnson: Development, politics, planning, and more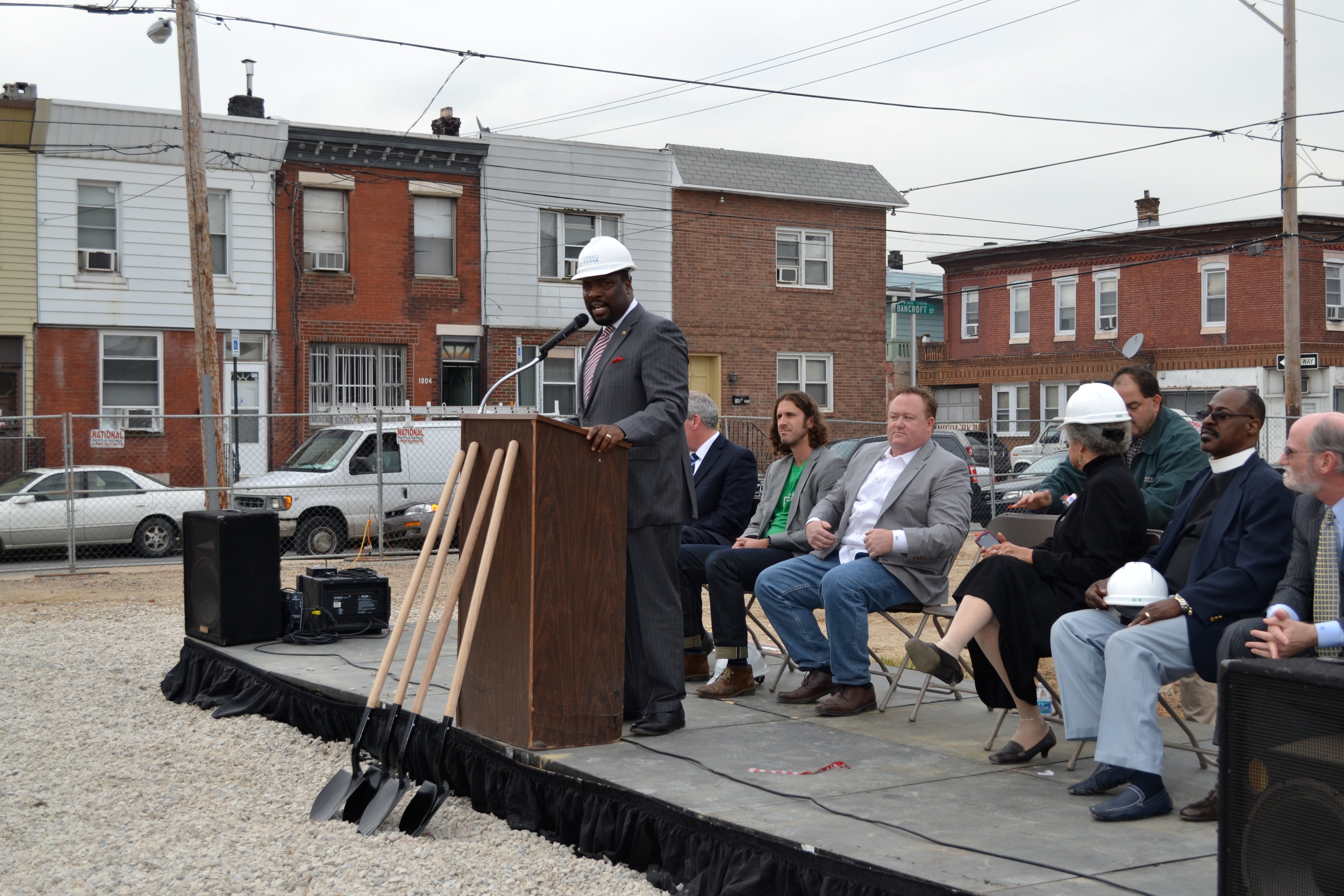 Last Wednesday, PlanPhilly sat down with 2nd District Councilman Kenyatta Johnson to talk about development in his district, his upcoming reelection campaign, and accusations of cronyism lodged by his opponent, developer Ori Feibush, in an earlier interview with PlanPhilly. Also present were Steve Cobb, Johnson's legislative director, and Mark Nevins, who is managing his campaign.
The conversation includes references to the issuance of the city's second casino license for Live! Casino and Resort, which is proposed for a property near the sports stadiums in Johnson's District. Johnson also refers to a recently filed lawsuit that alleges that he illegally manipulated the process for disposing of city-owned vacant land, steering properties to a favored purchaser and steering purchasers to a favored contractor.
Johnson also says that Feibush has been the primary recipient of city-owned vacant property since the Councilman took office at the beginning of 2012. PlanPhilly is still working through city-owned property sales data provided by the Office of Housing and Community Development, but it is certainly true that Feibush and his company have received more property than most people since Johnson took office. We hope to have more on that later this week.
This transcript has been lightly edited for clarity.
PlanPhilly: Obviously development is sort of booming in different areas of your district, particularly in Point Breeze, and Point Breeze is changing pretty rapidly, and I'm just wondering what you think the role of a Council member should be in development.
Kenyatta Johnson: Well, first and foremost I've always focused on, as an elected official, building strong neighborhoods one block at a time. Certainly as a state representative but most importantly now, as a Councilperson. Particularly in Point Breeze, where I've been born and raised all my life, I have focused on having an approach that makes sure that first and foremost the community has a say in how we focus on equitable development. Equitable development meaning making sure that we have a level of affordable housing, workforce housing, and market-rate housing, but also making sure that the development that takes place in the Point Breeze area is development that is conducive to the surrounding environment and making sure, at the end of the day, we want to support developers in getting their projects done but also make sure that there's a win/win with the community.
PP: So in an area that's gentrifying, sort of like Point Breeze, what do you think a Council member can do to capture some of the value that's coming in through market-rate development and redirect that to communities that aren't necessarily experiencing that benefit.
KJ: You know, there's a couple different ways to achieve it. One, what we have been doing on the city side, because we do control some of the land, is making sure that we can use publicly owned land as subsidies for developers who want to come in, they want to build. They may say, "Councilman, I want to build a level of affordable housing, but at the same time, because subsidies are less, how can we actually achieve that goal?" So we use land to subsidize developers coming in to build affordable housing.
On the market-rate side, for the most part, I've always been one to realize that the market is going to dictate the type of development that takes place in Point Breeze and obviously, a significant amount of people want market-rate housing. So we focus on being supportive of it but at the same time making sure that there's a healthy balance in our approach.
PP: So preserving some city-owned vacant land for affordable housing while there's market rate development going on.
KJ: Yes.
PP: OK.
KJ: Can I go back on something and speak beyond Point Breeze? Because I also try to explain to people that I didn't run for City Council as a Councilperson with just Point Breeze, even though I grew up in that area and it is a very aggressively and rapidly changing area.
For several months, we've been working with the Planning Commission, first with [Center City Residents Association] on the Central District Plan, to begin looking at long-term remapping priorities. Working with CCRA, and they reached out to us, so we've started that process.
But also working with SOSNA, South of South Neighborhood Association, and the South [Street] West Business Association to look at, how do we begin looking at the remapping process along the South Street business corridor? Looking at the concerns of some of the business owners who want more density, more height along South Street. One of the key projects we're going to be looking at moving forward on is the Royal [Theater], and that's been long overdue. Since I've come in as a Councilperson, people have been calling my office saying, "How are you going to move forward on this project?" So that's going to be one particular project that will be a good boon to South Street.
But also Washington Avenue, another area. If you look at 1601 Washington Avenue—and obviously, when we talk about zoning, we talk about remapping, there's a very different use for the buildings along the Washington Avenue business corridor than there was when I was growing up. When I was a kid it was primarily all industrial. Now, when you go along Washington Avenue, you'll see a daycare center, you'll see two or three gyms. So we've been working with the Washington Avenue Property Owners Association to begin looking at, how do we long-term remap Washington Avenue?
One of the first pilot projects is 1601 Washington, which is industrial mixed-use. And that's going to be residential up top, commercial down the bottom, but we're going to be looking at, after that project gets developed, long-term, how do we begin moving and upgrading other parts of Washington Avenue? And I think the same process is going to take place with—Toll Brothers are now looking at Broad and Washington, the old railroad … .
PP: The one on the west side?
KJ: Yes, on the west side, yes. And you have Bart Blatstein on the east side. So obviously we're going to want to rezone those two plots of land primarily for a level of industrial mixed-use going forward.
My role as a Councilperson is really to, how I look at it, have a hands-on approach, primarily with the community, and also making sure the developer has open communication until the project gets completed. And I think that's one of the key ways to address the issue of blight. I think that's one of the key ways to improve the quality of life in all the neighborhoods throughout the 2nd Councilmanic District.
But having that hands-on approach primarily, and most importantly for me, means that the neighbors have a voice.
PP: So, I don't want to make you be responsible for everything that Ori Feibush says, but one of the things that he said when I talked to him a couple weeks ago was that his approach is sort of like a by-right approach, where he wants to up-zone Point Breeze Ave. and other areas and say, "Alright. This is the plan, and now my hands are off." What do you think about that approach to planning?
KJ: I don't think he really has a thorough understanding of the role of an actual Councilperson. There will be times where you have to intervene on behalf of the constituents you represent, which are the neighbors, the local RCOs. And oftentimes, also, on behalf of developers. So you can't just take a top-down approach.
My approach has always been bottom-up. Let's get the needs and the issues and the concerns of the neighbors, the residents, from a zoning standpoint. Let's listen to the developers, because we want to support the developers in actually getting the projects done, and then we'll find some type of common goal that we all can come to the table on, and it will be a win/win first and foremost for the community, and also a win/win for the developer.
And we can give examples. If you look at—we have CHOP, on Schuylkill Avenue. We just did another major project at Broad and Morris, the new health center/library/recreation center. That was negotiating with the neighbors, but also making sure that the developer, which was CHOP, and the city had a chance to get their points across so the development can actually take place.
So for me, my personal approach is approaching zoning on a case-by-case basis. I don't think you can just take a blanket approach, because at any given time, things change.
PP: Another thing I wanted to ask you was—you've taken a range of positions on some proposals that are fairly similar in different blocks of Point Breeze. Say if there's single-family housing, sometimes you've supported it, sometimes you've taken no position, and sometimes you've actually outright opposed stuff. And I'm wondering what factors influence that decision when stuff goes to the zoning board.
KJ: Yes. What really happens—and I'll also say, for the record I guess, since we talked about Mr. Feibush—about 85 or 90 percent of projects that have come through my office that he's gone after has been supported. He's the number one recipient of direct sales of properties in the 2nd Councilmanic District. His coffee shop, as soon as I got elected, was supported—that's the OCF coffee shop at 20th and Federal. And at least five other market-rate projects that I supported through non-opposition letters.
My litmus test is listening to the community. At the end of the day, the people who have to live in the neighborhood should have some type of say, realistic say as to what gets developed in their community, within reason. Most reasonable developers will sit down, have a conversation with the residents in the community. Sometimes there are concessions, sometimes there are compromises, and a project gets done.
You take [George W. Childs] Elementary School, my former alma mater, 17th and Dickinson streets. It's a former school building which will soon be an apartment building with a combination of market-rate, affordable housing, community space for the neighbors and the neighborhood. The neighbors asked for things such as lighting, additional parking, so it's a win/win. And that was, again, a compromise between the developers and the community.
So I listen to the community first and foremost. Let the RCOs give me their recommendations as to if they support a project or not support a project.
PP: So, what about when the community is sort of fractured? There's one community group that says, "We support this proposal," and there's another community group that says, "We don't support this proposal." What do you do in that situation?
KJ: Well, in that particular case, it's my role to step in and say, "OK, how do we get a win/win for both parties?" And then also make sure that before it gets to the zoning board, the things that get requested of the developer are reasonable. And making sure that the things that the developer are willing to concede on are things that the residents and neighbors say, "OK, well this is a good fit for us. This is a win/win for us." And so, I'm trying to think of what particular projects that may have come up on, but for the most part that's when we step in, and we will pretty much defer based upon the immediate residents and take their opinion first and foremost.
PP: So the closer the residents live, the more weight you give them in terms of considering what to do.
KJ: Yes. For the most part, yes.
PP: We talked a little bit about how you didn't run just to be the Councilman for Point Breeze. And I'm wondering, in areas that aren't experiencing a development boom like Point Breeze is, like Grays Ferry, Elmwood, Eastwick, do you think there's anything that you can do, from a planning perspective to help those neighborhoods?
KJ: Of course. First and foremost, you take Southwest for instance. We've talked about not being an elected official and pushing policies from the top down but working from the bottom up. In the Southwest district, one of the key issues out there was the proliferation and the saturation of auto-body shops, junkyards, and chop shops. We sat down, we talked about what the needs of the community were—that was one of the key things they wanted to address. We did an overlay, and that overlay basically says that moving forward, if you decide to open up any type of auto mechanic shop, chop shop, junkyard, you have to go through the community, as a part of them having the opportunity to begin that process of improving their area.
But also, separate from that, we just took a couple community leaders, some developers, through a walk through Eastwick. As well as, I call it the Lower Southwest part of Southwest Philadelphia, which is the 60th and Kingsessing area, we took some developers with the Planning Commission, the Redevelopment Authority, to walk through the area to begin looking at, "OK, how do we support a developer who will redevelop a Redevelopment Authority publicly-owned property to develop that part of my district?" So it's really sitting down with those parts of my district, looking at, what are their needs? What are their issues and their concerns in terms of improving the quality of life in their area? And then we put the plan together.
For me, if you're going to plan the direction of a neighborhood, you have to have all the stakeholders at the table. I may come to the table with a totally different perspective than what the immediate neighbors want to see in their area. But that's one fine example.
In the Girard Estates area, they have a concern about the type of businesses that are going along the Passyunk Avenue corridor, and so we're sitting down during the planning process to begin looking at when we do remapping and rezoning of businesses that are open along the Passyunk Avenue corridor, what are those businesses that you feel as though aren't really a contribution to the Girard Estates area? People have concerns about businesses that sell drug paraphernalia, different types of alcoholic beverages. And so, again, that was community-led and driven, and it's a way of managing based upon what the needs and the issues are of the actual constituents who live in the area.
PP: So that gets to something else I want to talk about too, which is—you released a statement maybe a week or two ago about the casino, and you said that you would work with the community to oppose the casino if it turned out that that was what they wanted to do. I'm wondering what your personal opinion is on the casino, first of all, and second of all, is it not too late to do anything about it right now?
KJ: Well, obviously, there should have been a petition to intervene filed by the stadiums/sports complex district. And that didn't take place, so I think they missed the mark, because most of the other projects that were denied, individuals actually submitted petitions to intervene.
Nevertheless, for me, my personal opinion is trumped by what the residents in that actual community want to see. So, I think jobs are good. I think any time you're able to put more revenue on our city's tax rolls, it's good. But nevertheless, not at the expense of the residents who are impacted by the casino being in the area.
So when you talk about an area that's already congested, when you talk about making sure that if there's going to be additional traffic, it doesn't impact the residents—additional foot traffic, in terms of the types of crowds that are going to and from casinos, it doesn't impact immediate residents, those are issues that need to be addressed. Also, when you look at the actual pressure that those residents have been dealing with as a result of just living in the shadow of the stadiums, I have grave concerns based on listening to the concerns of the residents who live inside the area.
And that's how I've always lived. I've always paid attention primarily to what the constituents want to do in their area, and in order for us to move forward, there has to be some level of addressing their issues and their concerns before we even think about moving forward with any type of zoning.
PP: Was it not clear that there was neighborhood opposition before the license was issued?
KJ: No one has officially come to my office and said, "Councilman, give me a letter of opposition to this casino." At all.
PP: So if it does turn out that most of the neighborhood is opposed to this thing, you would hold off introducing a zoning ordinance for it?
KJ: Yes. My position right now is, if it has to go in the Packer Park area, then the Cordish group, Live!, are going to have to really sit down and figure out a way to satisfy those residents in that area. And that's just the right thing to do, because at the end of the day, one thing that I've always paid attention to as well, as an elected official and always dealing with the issue of zoning and development—think about where you live, and would this be acceptable in your back yard? And so part of our role is listening to our constituents, and that's part of the litmus test that we use moving forward.
PP: You've talked a lot about approaching each project on a per-project basis and talking to community members that are most affected. And, I hope this question won't be seen as impertinent, but your margin of victory was pretty slim when you won your Council seat, and I'm wondering whether that had any impact on the way you've approached representing the district.
KJ: No, not at all. Not at all. When I ran for Council—remember, I've been a public servant since I served in AmeriCorps, since I was fresh out of college and became a member of City Year for two years, so I'm a public servant at heart. I don't make decisions based upon my last election. I make decisions based upon what's right, and most importantly the voices of the constituency which I represent.
But I pride myself on representing all neighborhoods throughout the 2nd Councilmanic District equally. Whether it's neighborhoods such as Center City to Hawthorne, Point Breeze to Eastwick, Grays Ferry to Girard Estates. In each particular neighborhood, we have worked to make sure we are improving the quality of life of those particular neighborhoods, making sure that all those constituents have their issues, concerns, and most importantly voices heard in City Hall. So for me, at the end of the day, I'm pretty confident that my track record in all parts of my district will reflect how we represent our district equally. And it's based upon just serving, public service, and not politics.
So that 40 [vote margin], that was OK.
PP: It didn't make you think twice about taking sort of strong positions on one thing or another because the vote was sort of split?
KJ: Not at all. Not at all. I'm sincerely answering you with a positive—not at all.
Here's the other part. You know, there are areas that I didn't represent when I ran during my reelection that I have done a significant amount of work. Like, you take the car crusher down in the reserves of Packer Park. People have been voicing their concerns about this car crusher for years—the booming noise that it makes, the thunderous loud noise that it's making when it's crushing metal. My team and I worked together with the residents in Packer Park, shut down the car crusher company. I'm quite sure, and we get calls, people appreciate the work that we've done in that particular area. So we've done a significant amount of work all throughout the district, and we're pretty confident that people appreciate the work that we're doing, because we hear it on a day-to-day basis.
PP: So, the last thing that I wanted to talk about, actually, was—Ori Feibush has accused you, in no uncertain terms, of a pretty sweeping situation in which you shell out favors to political allies and campaign donors at the expense of others. I just wanted to give you an opportunity to respond to that.
KJ: Well, first and foremost, the lawsuits are frivolous, politically motivated, and untrue. I never did anything illegal as it relates to the disposition of properties. The number one recipient of direct sale properties in my district is Mr. Ori Feibush. I have supported him in a variety of different ways, after he announced he was running against me in Philly Magazine.
At least five market-rate housing projects, I've supported with letters of non-opposition. Again, after he supported my opponent significantly during the last election, as soon as I get elected, I support the [OCF] coffeeshop. Very controversial project. I still support it, because it was the right thing to do. It was about bringing back development along the Point Breeze business corridor.
Along with another project which has recently just been built, which is an apartment complex at Point Breeze and Titan, which is residential up top, and at that time there was a commitment to do a pharmacy down stairs. And he made a concession. The neighbors said, "We want a pharmacy downstairs on the first-floor level and residential up top." He submitted a letter to us saying he was willing to do it. No problem.
Because for me, oftentimes in this process, we recognize that the big picture is about improving the quality of life in Point Breeze and all neighborhoods in the 2nd Councilmanic District. I think, somehow, he has an impression in his mind that this is personal, that I want to stop him from developing. That's not the case. If you're the number one recipient, and you're not a supporter, you're the number one recipient of direct sales, that has to show you that for me it's about improving the quality of life in the 2nd Councilmanic District, addressing the issue of blight. And really, I don't take any of this personally. I know people sometimes wanna say, "OK, in order for me to have a platform," they'll do political stunts. They'll engage in all types of political antics to make themselves seem more than what they may be.
But, for me it's not personal. He does projects that benefit Point Breeze. I think we defer in our approach. You know, I believe that you always want to look for win/wins with the community. I'm a strong advocate of affordable, market-rate, and workforce housing. But it's not personal.
And again, I can't be trying to hinder him from accomplishing his goals if [he's] receiving the number one direct sales of property, you've got five properties that I signed letters of non-opposition to, yes, the coffeeshop, again, which is his flagship business in Point Breeze as well as the proposed pharmacy and residential units. So—and this is after! So, I don't approach it—I've never been a vindictive person, and I have a passion for serving people, and I make sure that the residents that I represent have a voice when it comes to development in the community.
Let alone that the lawsuit is sponsored by one of his business partners, a person who donated $2,900 to his campaign, a person that he has business dealings with. So the lawsuit is frivolous, a political stunt. And I think what it does is—those type of political stunts is why people don't get involved in politics. Because now we're not talking about how best to clean the streets in the 2nd Councilmanic District, making sure we have an education formula that makes sure all students receive a quality education, addressing the issue of youth gun violence and public safety. But also making sure we're discussing how do we make sure the streets in the City of Philadelphia are cleaner, as well as in the 2nd Councilmanic District, as opposed to focusing on frivolous lawsuits.
So that's not how I approach it, and it's definitely not personal for me.
PP: When I spoke with him a couple weeks ago, one of the main things I wanted to ask him about was whether he thought there was going to be a conflict of interest if somebody was going to be a developer and a Councilperson at the same time.
KJ: That's like the fox in the henhouse.
PP: OK, that's what I wanted to ask you. His response was, "I sold all my [property] and there's no conflict." And I'm just wondering whether you believe that, whether you buy that.
KJ: No, I don't believe that. I don't believe that. A lot of developers now use LLCs [Limited Liability Companies] as shells in ways to kind of hide their personal interests. And also, I mean, when you're a developer and you're running for office, it's a way to, if not enrich your own pockets, your developer friends, when you get in office. You will become their tool to assist them in accessing all the land that they want. So for me it's more of a fox in the henhouse. Definitely a conflict of interest.
But hey, again, for me, let's debate who has the best ideas for moving the 2nd Councilmanic District forward. I have a track record through serving as a state representative, but also I've been the youngest member of Council, and moving the 2nd Councilmanic District forward.
I don't see how you can engage in real estate dealings and, at the same time, effectively serve as a Councilman. You're going to have to weigh in in some way or another on some project, whether it's voting on a project that's in the 8th Councilmanic District or the 5th Councilmanic District, or directly in the 2nd Councilmanic District.
PP: So, before I let you go, the whole issue of pay-to-play constantly comes up in Philadelphia politics, no matter who's in office, no matter what's going on. And I'm wondering—obviously, people who build things donate to local campaigns—how do you try to avoid the perception that this is happening?
KJ: You know what? Ironically, well, obviously, if the number one person in my district that receives more of the disposition of direct land is my opponent, that goes to show you that I have an open door policy for all developers. When I was going over the last, half of the people who got direct sales, I have no idea. But if they come with a project that my staff and I look, and it's good for the district, then we support [people] who have never come to any of my [campaign] events at all.
So the way to combat that is always being transparent. I'm always upfront. Campaign finance law, you can go online and see who my contributors are, but I've never operated in that capacity. I've had individuals who have been supportive of me go in on a project and lose the project. So that's how I've always operated.
WHYY is your source for fact-based, in-depth journalism and information. As a nonprofit organization, we rely on financial support from readers like you. Please give today.