On one block, more than $200,000 in uncollected revenue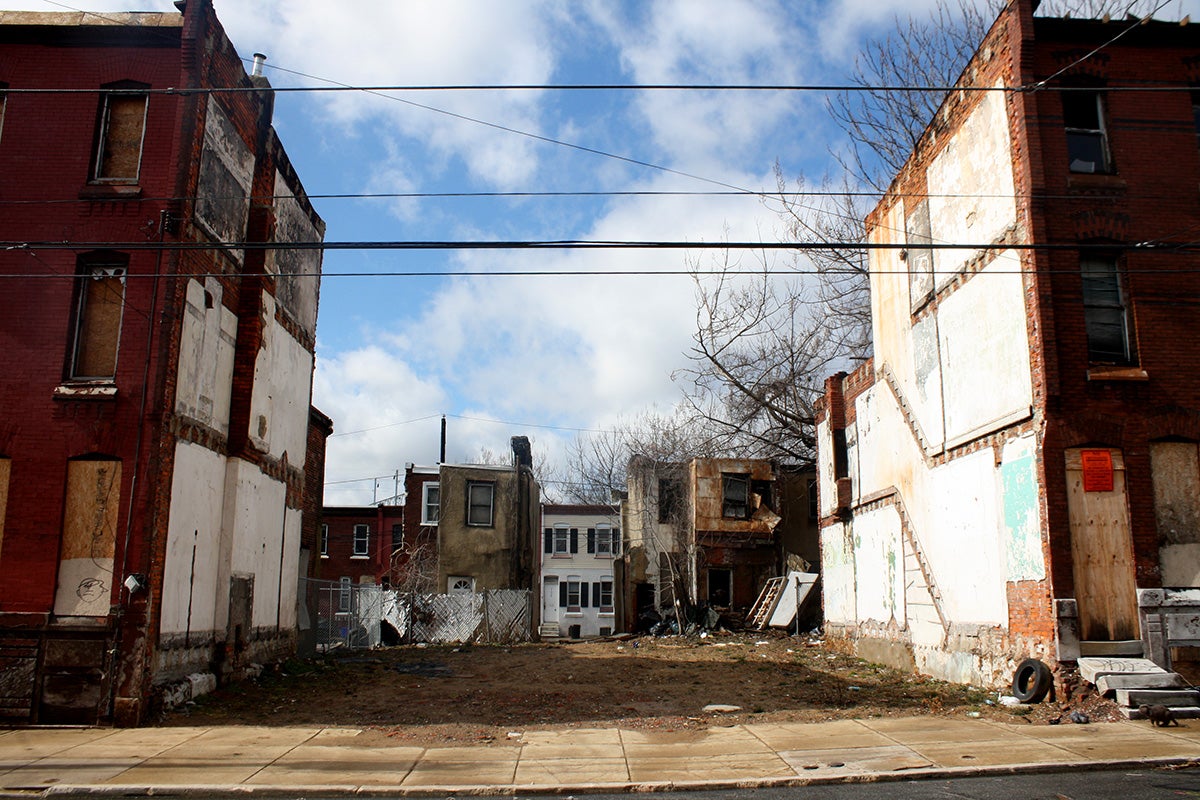 The 2100 block of North 9th Street—between Diamond and Susquehanna, just northeast of Temple University—looks as though it's being eaten alive. Between the still-standing, three-story brick houses, conspicuous patches of empty and overgrown land poke holes in the Philadelphia grid. Without trouble, a reporter recently walked clear from 8th Street to the alley west of 9th in the middle of the block, through the living rooms of houses that no longer exist.
So it's no surprise that property-tax delinquency is rampant here. There are thirty-two delinquent accounts on this one block of 9th Street, half of which have been delinquent for more than 20 years. Delinquent accounts outnumber current ones 5 to 1, and the total tax debt owed the city from this single block exceeds $200,000. And many of the houses that are still standing have been abandoned and boarded up.
So far, the Temple area development boom has been confined mostly to the area west of Broad Street. Developer Jonathan Weiss said he thinks "the critical mass for student housing is moving more south and west of campus," rather than north and east, at least for student housing.
But projects are popping up on the other side of campus as well, and student housing isn't the only option. Recently, Mosaic Development Partners opened the Diamond Green apartment building at 10th and Diamond. Asociación Puertorriqueños en Marcha (APM), the registered community organization and community development corporation for the area, is building a massive transit-oriented project adjacent to the Temple train station, just a few blocks south of 9th and Diamond. The Paseo Verde project, a mixed-use, mixed-income development, is intended to accommodate not Temple students but residents of the surrounding communities.
Delinquency enforcement is a problem citywide, but the City hasn't shown any extra interest in focusing its foreclosure or disposition efforts in areas where there is potential for development. Rose Gray, vice president of APM, said that her group has been successful because it has been able to identify and assemble parcels for redevelopment. She said a land bank—a single city agency which would hold city-owned vacant property and market it for reuse, currently under consideration in City Council—would help. In fact, Gray didn't even want to discuss other strategies that the city might use, saying her group and others have "spent so many years rehashing what works and what doesn't."
"The land bank is the answer to all of this," Gray said.
Michelle Moody, a resident of the hyper-delinquent 2100 block of N. 9th Street said she hadn't heard of anyone interested building on her block, but would welcome the idea.
"It'd bring some more people around here," Moody said.
north 9th 3

north 9th 2

north 9th 1

814 s 19th 3

814 s 19th 2

814 s 19th
WHYY is your source for fact-based, in-depth journalism and information. As a nonprofit organization, we rely on financial support from readers like you. Please give today.