The $50,000 fight to get speed cameras on Roosevelt Boulevard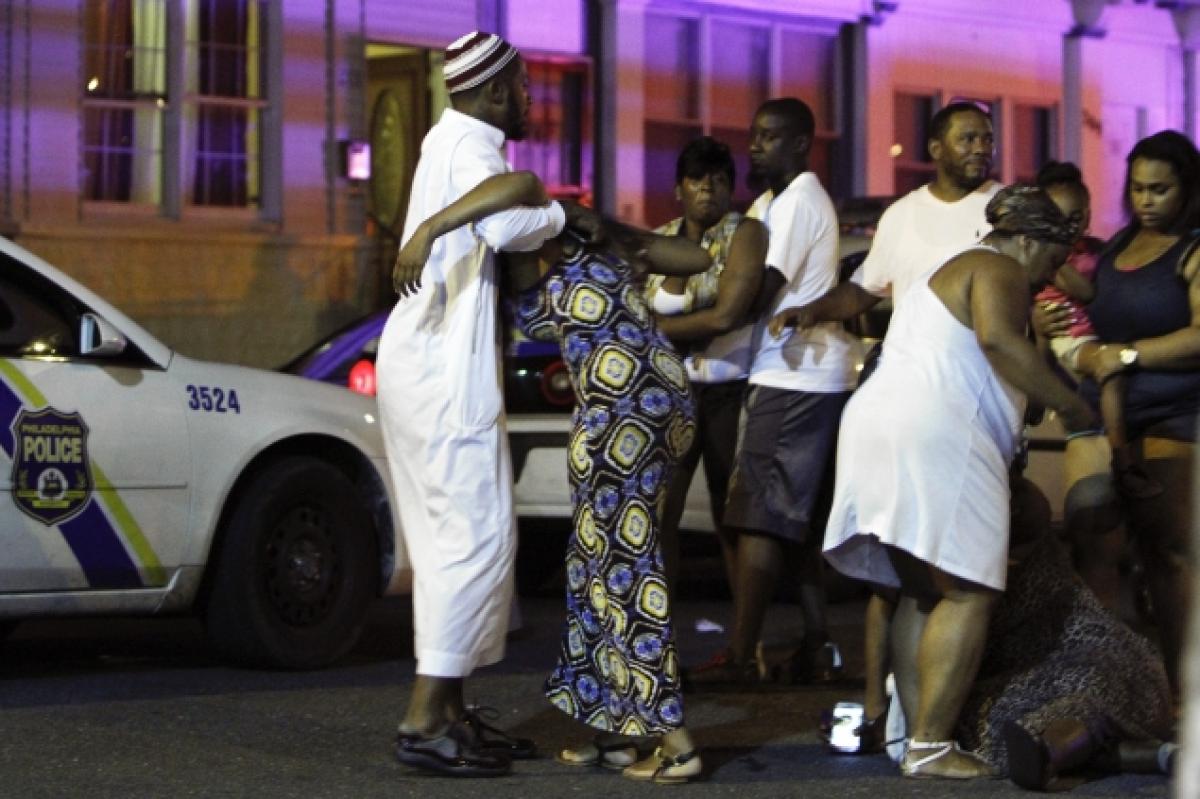 Latanya Byrd's eyes still well up when she talks about July 16, 2013.
"It was a beautiful day," she says. Her niece, Samara Banks, posted photos online of her four children playing at the pool. Later that night, heading home after visiting with family, Banks decided to walk back and enjoy the warm night air. She pushed her two babies, ages 7 and 23 months, in a stroller, while her older sons, four and five years old, walked beside.
The walk meant crossing Roosevelt Boulevard. They were just six feet from the sidewalk when a drag racer struck them trying to make it across the street's 12 lanes.
The police report would say that the impact with the Audi S4 hurled Banks 210 feet down the Boulevard. That's 70 yards, farther than most NFL quarterbacks can throw a ball. Banks died, as did three of her children; only her oldest survived.
Byrd describes arriving at the scene that night.
"My niece was," Byrd pauses, and takes a breath, "mangled in the street."
"The babies were just scattered."
In the four years since that tragic night, Byrd has fought to make the boulevard safer. She spoke Thursday before a crowd of around 50 lawyers and businessmen at the Center City law offices of Montgomery McCracken Walker & Rhoads to rally support for automatic speed enforcement cameras.
Similar to red light cameras, the speed enforcement cameras take photos of drivers going over 11 miles-per-hour above the speed limit, which are then used to issue speeding tickets.
Republican Rep. John Taylor has been pushing legislation to introduce speed enforcement cameras to Roosevelt Boulevard for years, but to little avail.
A version of the legislation that would also deploy speed cameras along highway construction zones has already passed the state Senate and the House Transportation committee on which Taylor serves. It now sits and waits to be heard on the full floor of the House.
The bill's backers include AAA, AARP, the Bicycle Coalition, the Center City District, the Delaware Valley Smart Growth Coalition, the Philadelphia Chamber of Commerce, Uber, University City District, a smattering of insurance companies who have to pay out after crashes. Byrd and others who have lost loved ones on the boulevard also support the bill.
Their loudest opponents are those who believe the ticket-issuing cameras generate revenue for municipalities without improving traffic safety and libertarian types who complain about the idea of government cameras tracking their movement, impeding upon their liberty.
"I think it is about liberty," says Rep. Taylor. "We want you to have the liberty of coming to Philadelphia and not get killed when you drive through here. We want you to have the freedom to know that you're going to be a lot safer than you think."
Taylor hopes to mollify big brother concerns by including a provision in the bill that calls for the deletion of photos soon after the tickets are issued. The revenues from the tickets would go towards two restricted funds; 75 percent going to the State Police, and 25 percent to help pay for traffic-safety improvement projects.
Philadelphia is home to 2,575 miles of streets, but between 2011 and 2015, six percent of the city's crashes, resulting in 13 percent of all traffic fatalities, occurred on Roosevelt Boulevard's 16-mile stretch of road.
Since 2011, crashes along the Boulevard have killed more than 60 people and injured another 4,700. One-third of those killed along the Boulevard were pedestrians trying to cross the twelve lanes that cut through Northeast Philadelphia.
Taylor says that the bill would pass the House easily if it were allowed to reach the floor for a vote.
"There'll be 35 members that will scream loud, and talk twice," he says. "It'll sound like there'll be 70 members speaking against it, when in fact a majority of the House will support it."
At the event, Delaware Valley Smart Growth Coalition President Jason Duckworth said the bill's supporters were raising $50,000 to fund a lobbying effort for the bill's passage.
The push comes at an inopportune time, politically, for Republican leadership in Harrisburg. State House Majority Leader Dave Reed is running for U.S. Congress, and state House Speaker Mike Turzai is running for Governor. The speed cameras could offend some primary voters philosophically opposed to automated traffic enforcement.
Steve Miskin, press secretary for the Majority Leader, said the bill was "not scheduled at the moment," as "members were still vetting it out."
Aaron Cohen of Arena Strategies told the crowd of supportive lawyers and businessmen that he'd push talking points and action items to them in the coming weeks.
For Taylor, the push marks a final effort to put a coda on his 34-year career in the General Assembly, having announced last fall that he would retire at the end of this year.
WHYY is your source for fact-based, in-depth journalism and information. As a nonprofit organization, we rely on financial support from readers like you. Please give today.