Older patients respond better to melanoma immunotherapy, Wistar study finds
Researchers found that for each decade of life, the chances that a patient's melanoma would advance dropped 13 percent.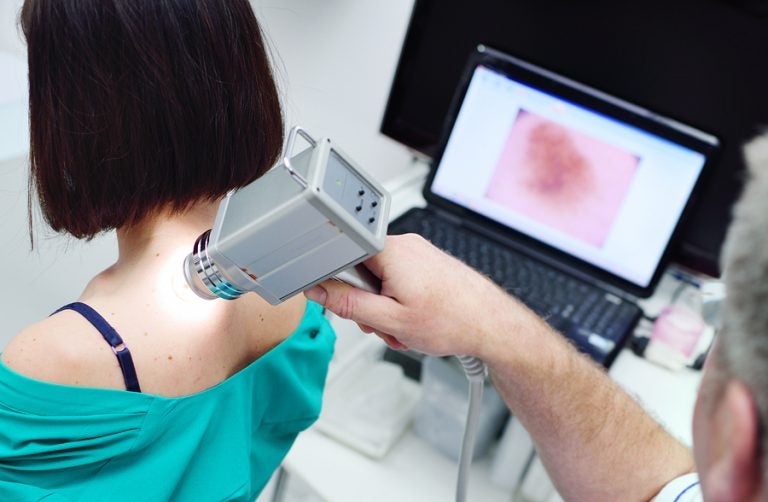 As we get older, our immune systems weaken. When it comes to disease, that's usually a bad thing. But a new study from the Wistar Institute in Philadelphia shows that older immune systems actually respond better to "checkpoint inhibitors," immunotherapy drugs that help patients' immune systems see tumors as foreign objects open to attack.
The study looked at the use of pembrolizumab, marketed under the brand name Keytruda, in more than 500 melanoma patients across the globe. Researchers found that, for each decade of life, the chances that a patient's melanoma would advance dropped 13 percent.
It was the opposite of what they expected to find. A study published by the same team last year showed that older patients fared far worse when it came to therapies that targeted the mutation in the gene responsible for many melanoma cases. Older patients are also more prone to melanoma metastasis.
But the new study showed the very weaknesses in an older patient's immune system actually make them more responsive to immunotherapy.
"It turns out that the immune system is full of a complex repertoire of cells," said lead researcher Ashani Weeraratna, professor of immunology, microenvironment, and metastasis at the Wistar Institute. "It looks like not only do cells that promote immune response decline [with age], but also the cells that regulate them."
Weeraratna is referring to regulatory T cells — also known as Tregs — that tend to suppress T cell response and interfere with checkpoint inhibitors. The researchers found that younger patients' Tregs were more active, which may explain why the drugs did not work as well.
"It's one of the first times we've seen something that we can say, 'Look, older patients actually have a better chance of something positive happening,' " Weeraratna said.
That doesn't rule out immunotherapy for younger patients. In their paper, the researchers showed that if they targeted and suppressed Tregs in young mice, they could enhance the immunotherapy response. That leaves the door open to a combination therapy in younger patients, though Weeraratna cautioned such an approach would need to be carefully studied to avoid negative side effects.
"Whenever you combine more than one immunotherapy with another, there's a chance for increased toxicity," she said.
The study looked only at Keytruda, so it is unclear whether other checkpoint inhibitors could perform differently in younger and older patients. The clinical outcomes could also have been influenced by other factors, including the number of genetic mutations, which tend to increase in older patients versus younger ones.
Still, melanoma researchers say this is intriguing data that ought to be studied further.
"What combination therapies will work might be different in younger and older patients," said Jason Luke, assistant professor of medicine at the University of Chicago. "That's actually a really interesting idea."
WHYY is your source for fact-based, in-depth journalism and information. As a nonprofit organization, we rely on financial support from readers like you. Please give today.