Not your everyday 'Basic Witches'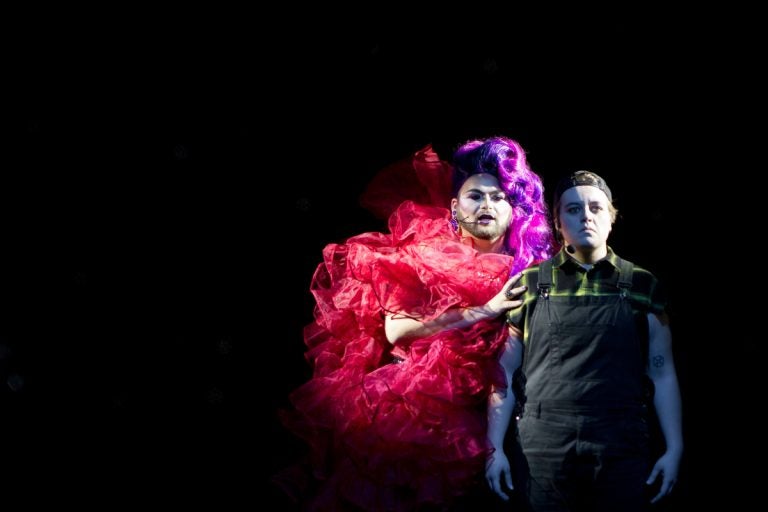 Certain people have been throwing "witch hunt" around in Washington, and if they want to see a literal version I suggest they travel to Philly. "Basic Witches," an independently produced new musical that opened Friday the Arden Theatre, is probably not made for them – it's a drag and transgender show, cabaret-style and with the audience at café tables and a bar that's open during the show's 90 minutes. But it is a witch hunt, for an annual contest to crown the Supreme Witch of Halloween Hills.
Four witches are competing, all in super-strength drag: Davanity (played by Vincent Celeiro); Westernia (Scott McMaster, also called Miss Elaineous); Strudella (AJ Jackson) and Oceana (Bobby Goodrich). They're ready to claw their way to the Supreme Witch crown in this goof that was workshopped as part of the Philly Fringe two months ago. The contest is emceed in drag by Eric Jaffe, who hosts a monthly cabaret at Tavern on Camac, a Center City gay bar.
"Basic Witches" is no improv or real contest – it's a scripted show with a book and a pleasant upbeat score by Robi Hager, who's acted here and on Broadway, and John Treacy Egan. Hager also produces the show, which shares its name with a book subtitled "How to Summon Success, Banish Drama, and Raise Hell with Your Coven."
Banishing drama is not the point here – "Basic Witches" is about creating drama. It's a face-off among witches who must show skill in magic (there's no real magic, just goofy stuff) and other witchery. It's all for fun, with clowning repartee, plenty of drag attitude and — hold on! – even a plot. The story involves the witches' gofer, a person named Eddie who uses the pronoun "they" in modern gender-free English and is played among all this glitter with real sensitivity by Sav Souza. Souza has the best voice in the show, and displays it with brio.
Eddie, it turns out, aims to be not just a full-fledged witch but the Supreme Witch, winner of the contest. Eddie is encouraged by two pals – a helper named Boney (Lorenzo Ballesteros) and an orange cat called Punkin' (Brennen S. Malone). Punkin' is a talking cat with his own aspirations and in a story about drag witches, that makes some strange sort of sense.
The show's orchestration is recorded and frequently overwhelmed the singers at Friday's opening in the intimate studio theater in the Arden's Hamilton Family Arts Center. In fact, the execution of John Kolbinski's sound design was erratic during the show, with some characters miked just right and others often too fuzzy to fully understand. Jillian Keys had a great time designing over-the-top costumes, from the looks of them.
Two major names in local theater are at the helm of "Basic Witches": the all-around theater artist Steve Pacek, who directed, and the sought-after choreographer Jenn Rose. They have a head start here with the bar – there's nothing like a few drinks to get an audience in the mood for this Halloween mischief. And nothing like drag queens to up the ante.
—
"Basic Witches," from Hager Productions, runs through Oct. 28 at the Horan Studio Theatre at the Arden, 62 N. Second St., a few doors north of the Arden's main building. Information and tickets at basicwitchesmusical.com.