N.J.'s first needle exchange could close as Atlantic City looks to develop beyond casinos
Advocates are lobbying Gov. Murphy to save the program, which they say has helped reduce HIV infections in the area by 50% since it opened 14 years ago.
Listen
2:47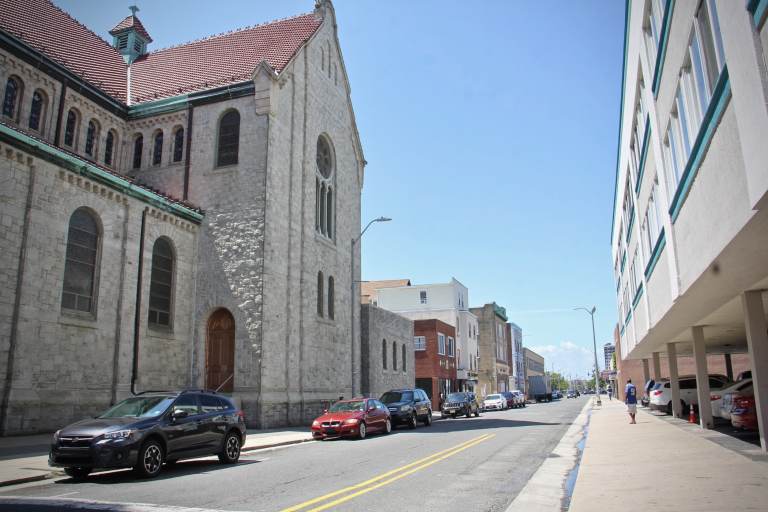 The Atlantic City Council is expected to pass a bill at its next meeting on July 21 that would effectively close the state's first needle exchange as development of a tourism district and new supermarket take shape.
Supporters are fighting to keep that from happening, crediting the Oasis Drop-in Center on South Tennessee Avenue with helping reduce HIV infections in the area by 50% since it opened in 2007.
It comes as New Jersey saw a record 3,046 people die from opioid overdoses in 2020.
Oasis is known as a harm reduction center where people who use drugs can get access to sterile syringes, needles, and naloxone. It's also a place where they can safely dispose of their needles.
The area around Oasis, which is located a few blocks from the boardwalk and the Hard Rock Hotel and Casino, was rezoned as a tourist district five years ago.
"As part of that rezoning, the master plan recommends that social service agencies move out of the tourism district," said Carol Harney, CEO of the South Jersey AIDS Alliance, which operates Oasis. "And we have been fine with that."
The tourism district in the city is overseen by the New Jersey Casino Reinvestment Development Authority. According to a master plan from 2012, the authority said, "certain existing uses within the tourism district are not necessarily compatible with the clean and safe resort environment and 'family-centered tourism related activities'" it envisioned. The authority cites adult entertainment, massage parlors, social services, and "perhaps gold shops," as some examples of "incompatible uses."
Harney said Oasis had found a new location in a building with a drug treatment center on the same block as a homeless shelter.
"It was a really good location for us," she said. "We really can't think of a much better location in the city."
Then all of a sudden, "it just kind of fell apart without any notice to us whatsoever."
Members of the Atlantic City Council proposed an ordinance that would revoke Oasis' permission to operate within city limits.
Harney said she and others heard about it on local radio station, WPGG.
Council President George Tibbitt, who is a lead sponsor of the proposal, said he learned the new needle exchange location was near a ShopRite set to break ground this fall; it could be the city's first large grocery store in 15 years.
"It's unattractive, it's unsafe and it's just being used as a tool to administer drugs," he said.
Tibbitt also questions why his city is one of seven in the entire state, including Camden and Trenton — out of more than 550 municipalities — that allow needle exchanges. He accuses other municipalities in the region of sending their problems to his city.
"It's time everybody steps up to the plate and does their fair share because we're not going to carry the load at the expense of our people," he said.
Even if the bill does pass, it may not be a done deal.
Atlantic City remains under state control. That means any council action must be approved by Gov. Phil Murphy.
Advocates are lobbying the governor to veto the bill, holding a rally Tuesday at Firefighters Memorial Park and even flying a banner over the Atlantic City Boardwalk.
happening now: this banner plane is flying across the Atlantic City shoreline this morning urging @GovMurphy to #SaveOasis!
An attack on people who use drugs anywhere is an attack on people who use drugs everywhere! pic.twitter.com/ELgbIIRPKb

— NJ Harm Reduction Coalition (@NJHarmReduction) June 15, 2021
The governor's office has signaled support for the needle exchange.
"Gov. Murphy believes that harm reduction centers are critical to battling the opioid crisis," said spokeswoman Alyana Alfaro Post in a statement. "The Murphy Administration is committed to ensuring that Atlantic City and area residents continue to have access to these evidence-based and life-saving services."
More than clean needles
The Oasis Drop-in Center is on a quiet street that connects Atlantic and Pacific avenues, next door to St. Nicholas of Tolentine Catholic Church.
The needle exchange operates three days a week and serves some 1,200 people a year. Clients, who remain anonymous, see one of the community health educators after they are checked in.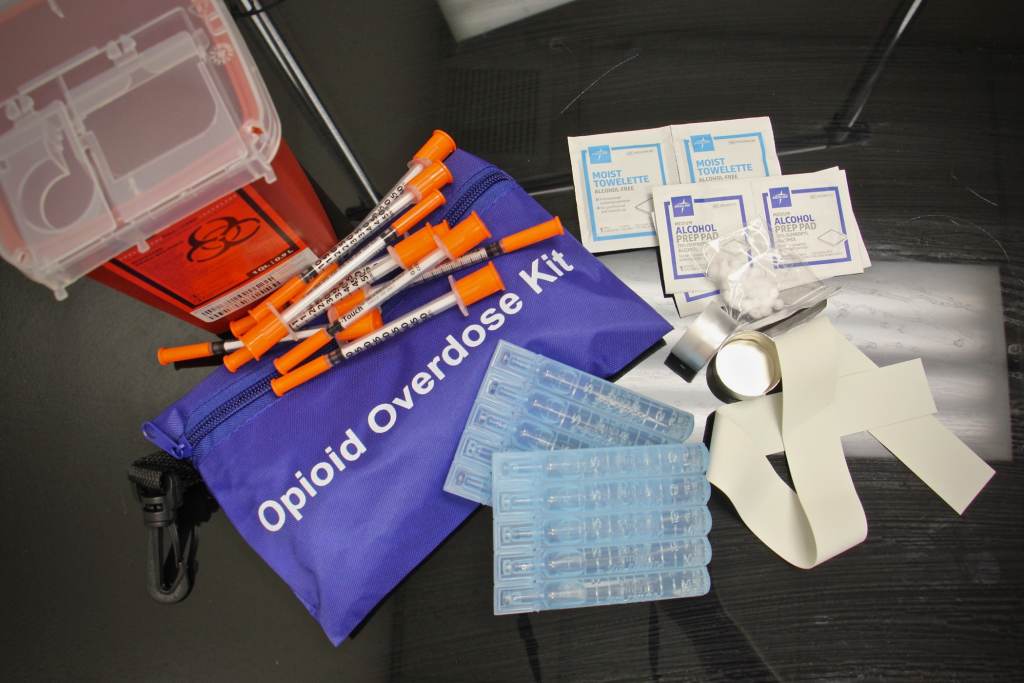 Anyone who visits the exchange receives at least one clean needle, even if they do not bring in any to exchange. They also receive what's called a "work bag" that includes alcohol, bandages, antibiotic ointment, and a container to bring back used needles safely. Clients also receive naloxone to reverse any potential drug overdoses.
But Oasis is not only a place where needles are exchanged. Staff also refer people to rehab if requested and provide some medical treatment, including for open sores and wounds.
"Those clients who come in that have any issues where they're sharing needles or have any kind of wounds or open sores, we definitely want to get them in for HIV, STD, Hepatitis C testing," said Babette Richter, the registered nurse at Oasis.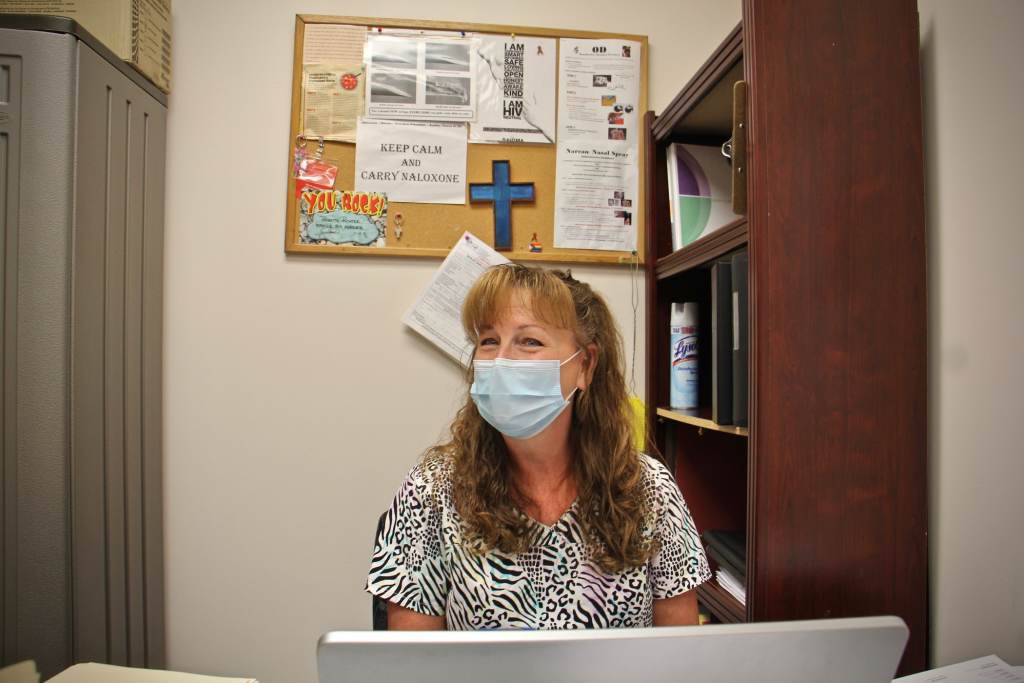 She adds that they also connect pregnant women to maternal and child health care and encourage them to stay healthy throughout the pregnancy. More serious matters are referred to hospitals.
Harney said their ultimate goal is to reduce risk by providing clean needles to people who are still using drugs and help for people who are ready to seek treatment.
"We provide service to everybody in that spectrum," she said. "Our ultimate goal is the hope that they will continue to be healthy."
David Long, a former Oasis client, began to use different substances when he was 17. In 2001, he said a friend introduced him to Percocet pills. He has been sober since Aug. 26, 2013.
"That's completely clean," he said. "No weed, alcohol, no nothing."
The 50-year-old Northfield resident discovered the needle exchange in its early days. Staff there offered to refer him to rehab. He was hesitant at first, but then changed his mind.
"I'm sitting there while she's writing me up to get my needles," he said. "And I was like, you know what? What do you mean by treatment? … I knew what treatment was. I just want to know where they were going to send me."
He said Oasis was a blessing for him after years of using opioids and repeated trips to rehab and jail.
"I was just so tired of the same old bulls**t," he said. "Just imagine 30 rehabs, and we're talking 280-day rehabs, 60-day rehabs, 90-day rehabs, six-month, nine-month rehabs, jails, and just over and over and over again."
Now, Long said, he focuses on the present.
"I always try to keep it in the day because that's easy for me to stay clean on," he said, "Any given day is easy when I start thinking about I'm never going to use again. I don't ever do that."
Long said forcing Oasis to close its needle exchange would hurt the people who rely on it.
"Here's the reality, what happened when we didn't have one, the AIDS rate was through the roof," he said. "And then what happened when we got one? Here's the reality. You're talking about a human life."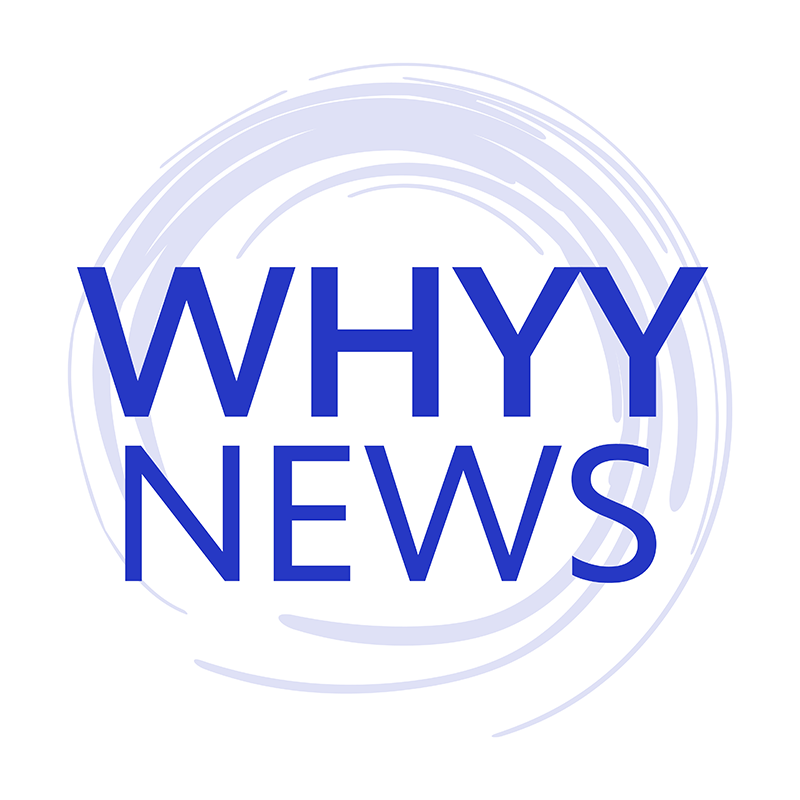 Get daily updates from WHYY News!
WHYY is your source for fact-based, in-depth journalism and information. As a nonprofit organization, we rely on financial support from readers like you. Please give today.