Night Market returns, hungry for more neighborhood delights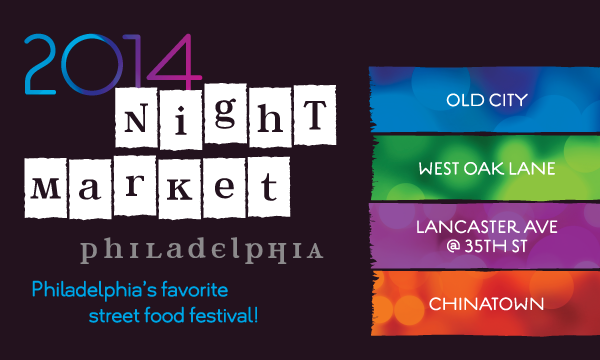 Night Market 2014
Old City: May 15

West Oak Lane: June 19

Powelton (Lancaster Ave /35th St): August 21

Chinatown: October 2
We're officially entering fair-weather street festival season and last week The Food Trust announced its four Night Market locations for the year. This year Night Market will bring its caravan of food trucks, tent vendors and entertainers back to the streets of West Oak Lane and Chinatown, and will be hosted by Powelton Village and Old City for the first time.
"We're excited to highlight areas that are close to Center City as well as neighborhoods that are a little off the beaten path… cool spots in the city that might be underappreciated," said Diana Minkus, The Food Trust's Night Market Manager.
Since starting out on East Passyunk in 2010, Night Market has helped highlight Philly's growing and increasingly popular mobile food community, exposing would-be customers to startup food enterprises and area restaurants.
"I think Night Market is a perfect way to highlight these businesses. There really aren't many opportunities for all of them to congregate like this in one area on one night," Minkus said. "Through Night Market we've really been able to support these businesses by having new audiences for them."
Each Night Market is presented in partnership with neighborhood groups, which help stimulate community involvement. That, Minkus said, helps make sure that the events reflect the host neighborhood, and encourages local businesses to participate in some way.
The first Night Market in 2010 had about 15 vendors, but at the South Street Night Market last August there were more than 70 vendors and tens of thousands of people. That growth and new relationships with community partners has helped raise the profile of the Food Trust and vendors alike.
Typically The Food Trust is focused on promoting affordable access to healthy, nutritious food. Night Markets aren't exactly health food fests, but Minkus said the events are occasions to to talk with vendors about sourcing locally, presenting some healthy options, and offering smaller portions.
"It's a celebration of local food and food culture and it's about supporting food entrepreneurs," Minkus said. In turn Night Market is about creating opportunities for people to explore different corners of the city, or at least see familiar places in a new way.
Night Market will kick off in Old City on May 15, where The Food Trust is partnering with Old City District to commandeer a few blocks of 3rd Street (Market to Race) and Arch Street (2nd to 4th).
"We want to showcase the best of these neighborhoods and we think one of the best things about Old City is the historic aspects," Minkus said. That explains why the Food Trust said "historic attire encouraged" for this event. "We thought it would be really fun if we had a bunch of Ben Franklins and Betsy Rosses walking around."
Night Market will finish off the season in Chinatown, as it has in the last couple of years. The Asian night market tradition is one reason why The Food Trust keeps coming back to Chinatown, plus it's an accessible location that offers a dramatic backdrop for the street festival. As Minkus put it, "It feels authentic and exciting and interesting."