Protesters tear-gassed in Philly after blocking highway traffic
From police headquarters, to City Hall to I-676, large groups of protesters have turned out Monday afternoon.
Listen
0:49
Hundreds of protesters gather a Philadelphia police headquarters. (Emma Lee/WHYY)

Protesters at the Pennsylvania Convention Center urge police to 'take a knee in solidarity.' (Emma Lee/WHYY)

Police load arrested protesters into a Sheriff's Office bus after closing Route 676 in both directions. (Emma Lee/WHYY)

Protesters help each other after being tear-gassed on the Ben Franklin Parkway. (Emma Lee/WHYY)

Protesters help each other after being tear gassed on the Ben Franklin Parkway. (Emma Lee/WHYY)
A large protest against police brutality that flooded parts of Center City Monday mostly dispersed as night began to fall on Philadelphia's third day of demonstrations denouncing the death of George Floyd at the hands of police in Minnesota.
Tensions reached a peak when the group blocked traffic in both directions of I-676. State Troopers intervened, releasing multiple tear gas canisters into the crowd as part of its effort to clear people off the expressway.
Catherine Letine, 30, was among those marching.
"It's been mostly peaceful and the police were the first to strike on us," said Letine, a life-long Philadelphian who is white. "We have no weapons. We're unarmed. We're here peacefully and they have continued to use force. And it will only get worse I'm sure."
State Police, in a statement to NBC10, said tear gas was used because some protesters pelted police with rocks and bottles.
Protesters rapidly disbursed, heading off the highway back towards 22nd Street and scattering in multiple directions.
Dozens of protesters, some lined up against a median on the highway, were detained by police.
The tense situation led to the shutdown of the Benjamin Franklin Bridge in both directions.
Throughout the day, helicopters whirred above, with people holding signs with messages such as "black lives matter" and "defund the police."
As of 6 p.m., Philadelphia is under a mandatory citywide curfew. It will not lift until 6 a.m. Tuesday. During those hours, people can only leave their homes to go to work at essential businesses or to seek medical attention or police assistance.
The larger unrest hit cities across the country after Floyd died when being arrested and restrained by Minneapolis police for allegedly using a counterfeit bill. Officer Derek Chauvin was seen on video with his knee on Floyd's neck for nine minutes. Chauvin, who had previously faced more than 15 conduct complaints, has been fired and charged with third-degree murder. Three other officers part of the altercation have also been fired.
Saturday and Sunday both featured large, mostly peaceful protests during the day, followed by vandalism, property damage and looting in the afternoon and evening.
Each day has seen moments of both harmony and extreme tension between protesters and police. On Monday, some police officers knelt on the steps of the police headquarters in a show of solidarity.
In other moments, officers have seemed to show little respect for people's right to assemble, ramming them with bicycles and pepper spraying without provocation. On Sunday, a WHYY reporter covering a peaceful march was tackled and arrested without warning.
On Monday, one protester, an African American woman who asked not to be named, said she felt "defeated" and "hurt" based on her interactions with police.
"I've been flipped off. I've been told 'Fuck you' by these police officers…" she said. "A police officer drove by in his car and sprayed mace out of his window towards my friends. It's very disgusting to see how they act."
Since Saturday, the first day the city implemented the mandatory curfew, officers have arrested 161 people for being on the street past 6 p.m, according to police. The vast majority were city residents.
Police arrested another 257 people for failure to disperse. The majority of those people were also city residents.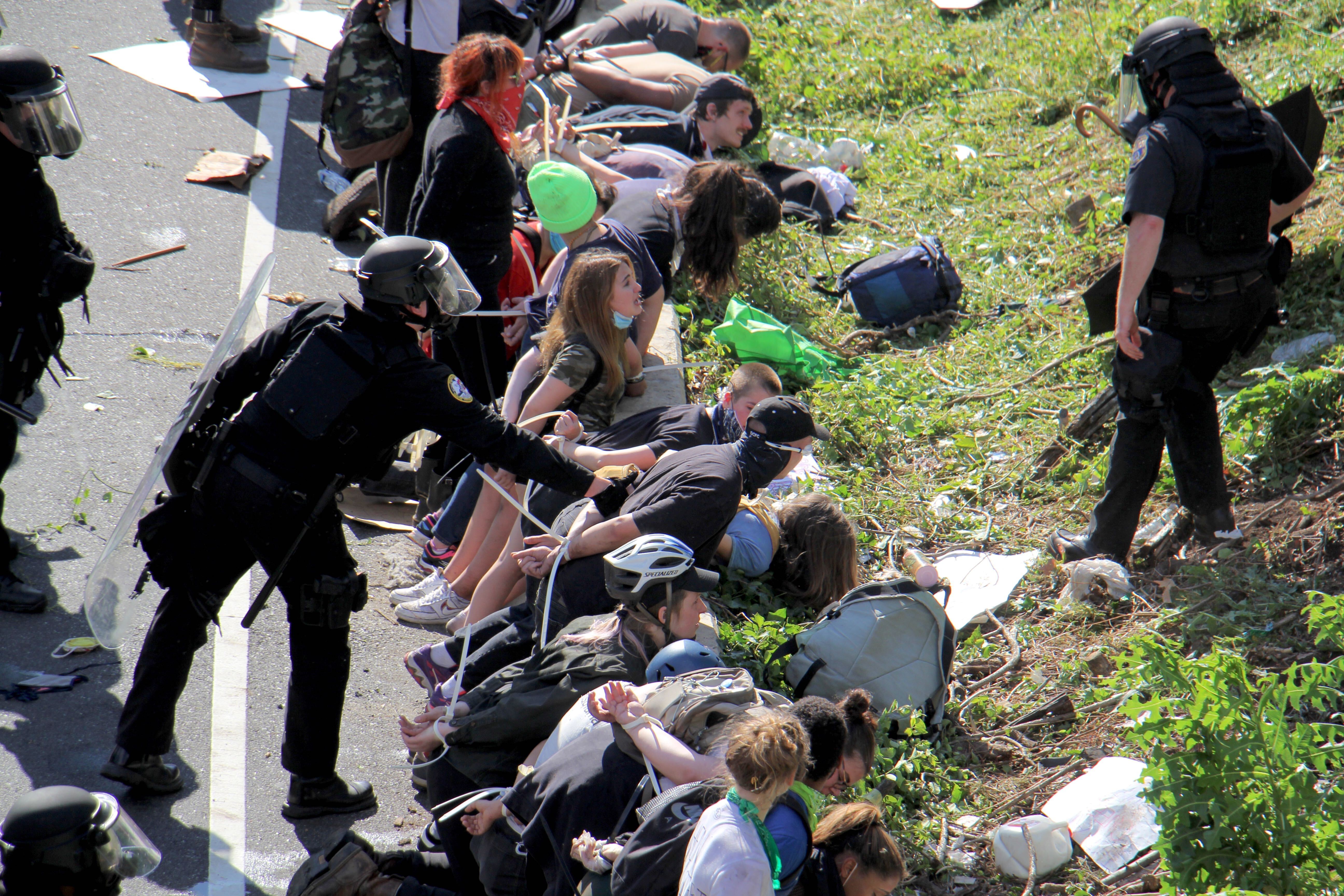 Trouble in Fishtown
Starting in the early evening, a group of roughly a hundred people, mostly white men, patrolled Girard Avenue in Fishtown, confronting a group of protesters. Some of the men carried bats. Others had golf clubs and billy clubs. Protesters had signs.
One man was overheard by a WHYY producer as saying: "I'm ready to fuck shit up. You know, I've been looking for a fight for the past 6 months."
Another man holding a hatchet had an angry interaction with a protester in the street.
"I'm here to protect this neighborhood," he said.
One guy tells a cop: "im not here to make your job harder. I want to protect you." A guy in a trump hat raised his fist and greeted his friend by saying "white man!"

— Jon Ehrens (@jwehrens) June 1, 2020
'No one has listened for years'
Earlier in the day, another group of protesters gathered outside City Hall, with many calling for the removal of the Frank Rizzo statue bolted to the steps of the nearby Municipal Services Building. Barricades now cross JFK Boulevard in between MSB and City Hall, blocking access to the statue.  Members of Philadelphia police department, as well as the National Guard, who were brought in to assist local police as civil unrest continued for a third day in a row, stood behind the barricade. On the outside, protesters chanted slogans and burned sage.
Mayor Jim Kenney said over the weekend that the Rizzo statue will be removed more quickly than planned, likely within a month.
On the opposite side of City Hall, the group Human Rights Coalition 215 held its own protest by the statue of black intellectual and activist Octavius Catto, calling for a variety of national and local reforms.
"Philadelphia, since I've been born, has been the poorest big city in the country," Dr. Keith Leaphart.  "We've seen great improvement in our downtown, but uptown remains the same."
Speakers called for all of the Minneapolis officers present for the death of George Floyd to be criminally charged, not just the police officer who pinned down his neck for more than eight minutes as Floyd struggled to breathe.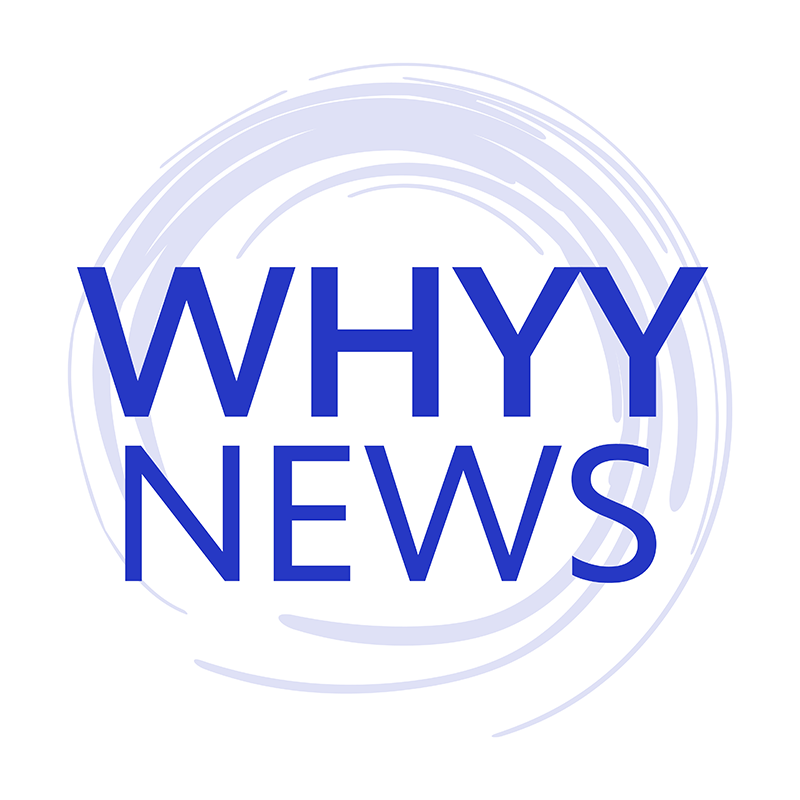 Get daily updates from WHYY News!
While the looting and property destruction of the last few nights is not the aim, "We've tried to kneel peacefully, we've tried to protest and just do marches, but no one has listened for years," said Leaphart.
On the local level, they pointed to the city's contract with the police union as an opportunity to introduce more accountability for officers who use force unjustly, and called for an end to segregation in the local building trade unions.
"It is imperative that we have real reforms within our local police department," said Latifa K. Fields with the National coalition of 100 Black Women. "Just having a commissioner that looks like me is not enough," she said, referring to Commissioner Danielle Outlaw, who started as the City's top cop in February and is the first Black woman to run the department.
As more people joined from the protest outside MSB, the topic once again turned to the Rizzo statue.
"The mayor said that he wanted to move the statue. We got a question for him. What city, what neighborhood, has enough space for racism?," said Dawud Bey of the Reform Alliance.
Deadline for mail-in ballots extended amid mass protests, coronavirus pandemic
Under a disaster emergency declaration signed over the weekned, Pennsylvania Gov. Tom Wolf is giving election officials in six counties an extra week to count absentee and mail-in ballots sent in for the primary on Tuesday.
They are: Philadelphia, Delaware, Montgomery, Allegheny, Dauphin and Erie and counties.
Ballots must be postmarked no later than June 2, the day of the election.
"So if you vote and the vote gets in by Tuesday the 9th of June by 8 o'clock, it'll count," said Wolf during a news conference in northwest Philadelphia.
The deadline to hand deliver absentee and mail-in ballots remains 8 p.m. on June 2.
Nearly 1.8 million Pennsylvanians have applied for a mail-in ballot since the start of the coronavirus pandemic.
Gov. Wolf's executive order was announced after he spent the day touring through the city to take in the vandalism and property destruction that took place over the weekend following hours of peaceful protests of the killing of George Floyd, mostly in and around Center City.
"It was sad," said Wolf, who traveled to West Philadelphia, Upper Darby, Germantown, and West Oak Lane.
Standing along Ogontz Ave., the neighborhood's main commercial corridor, Wolf said the state needs to "contribute and invest" in the rebuilding of the city.
"When that starts and how we do that remains to be seen," said Wolf.
Speaking more broadly about the demonstrations in the aftermath of the killing of Floyd, Wolf said the country "needs to recognize that we have a lot of work to do to address the ills that the protest is about. Racism is wrong."
"This is the central issue of American history and we need to address it," he added.
Citywide curfew extended through Tuesday
Mayor Jim Kenney has renewed the city's overnight mandatory curfew for Tuesday. It will start at 8:30 p.m. to allow voters to cast their ballots in the Pennsylvania primary. Polls close at 8 p.m.
City officials also announced that an area of Center City will be shut down "until further notice" in response to continuing demonstrations, and "in order to facilitate access for first responders."
Residents and business owners who need to access the area, which runs from Market Street to Walnut Street, river to river, will be allowed to be there, according to the city.
A number of municipal buildings in Center City will remain closed on Tuesday, including City and the Municipal Services Building.
Similar to Monday, the city will not hold a virtual new conference regarding COVID-19 on Tuesday.
WHYY is your source for fact-based, in-depth journalism and information. As a nonprofit organization, we rely on financial support from readers like you. Please give today.