New Philabundance kitchen in North Philly a 'dream come true'
The Philabundance Community Kitchen has outgrown its current space. It'll move into a much larger space in North Philly next year.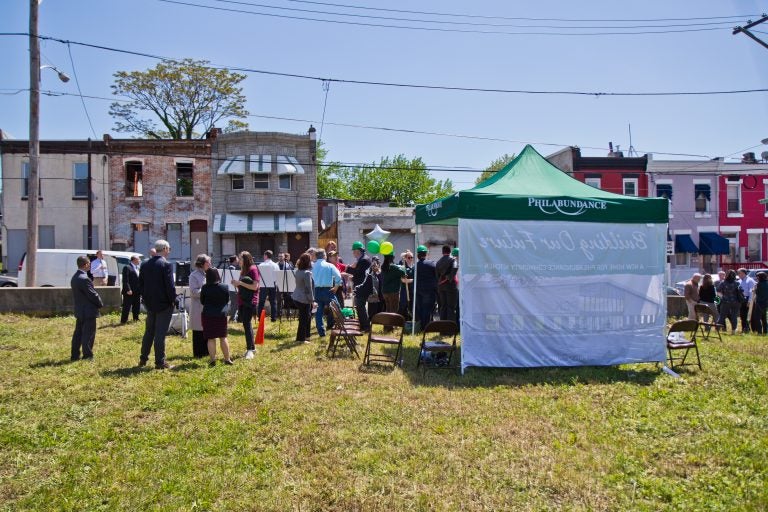 Darryll Williams was downright joyful on Monday. For more than two decades, the large overgrown lot near his North Philly home has sat vacant, attracting trash and providing cover for drug users. By this time next year, the plot will be the newest address of the Philabundance Community Kitchen.
"We made it happen, and it's a beautiful thing," said Williams, a block captain, after a sunny groundbreaking ceremony on North 10th Street.
The longtime resident is also smiling because the new kitchen will prepare more than two million meals each year for those in need, including neighbors in Williams' ZIP code, one of the city's poorest. More than half of the residents there live below the poverty line.
The meals are served at shelters, as well as human services organizations.
"That's what we're all about — helping people, supporting people, uplifting people," said Williams.
The Philabundance Community Kitchen, a 19-year program, also provides free culinary training to people in need of a second chance. Most students have never had a formal job. Many have struggled because of their criminal past.
Participants — mostly men and women in their 30s — regularly land living-wage jobs in professional kitchens after graduating from the 14-week program, offered four times a year.
Students also get counseling and life coaching.
"It doesn't just impact the individual, it's impacting the families they come from, and eventually the community that surrounds those families," said Candace Matthews-Bass, deputy director of workforce and community development with Philabundance.
The program's larger space — 18,800 square feet — enables the kitchen to offer training to 200 students a year, twice as many as it does now. The current kitchen on North Woodstock Street prepares 250,000 meals each year, a fraction of what the new location will be able to manage.
The $12 million project — a combination of fundraising and taxpayer dollars — will sit a short walk from SEPTA's Broad Street Line and Temple University's campus.
"This is beyond a dream come true," said Matthews-Bass. "It's unbelievable."
WHYY is your source for fact-based, in-depth journalism and information. As a nonprofit organization, we rely on financial support from readers like you. Please give today.