New phase of Barnegat Bay protection plan features 'pollution budget'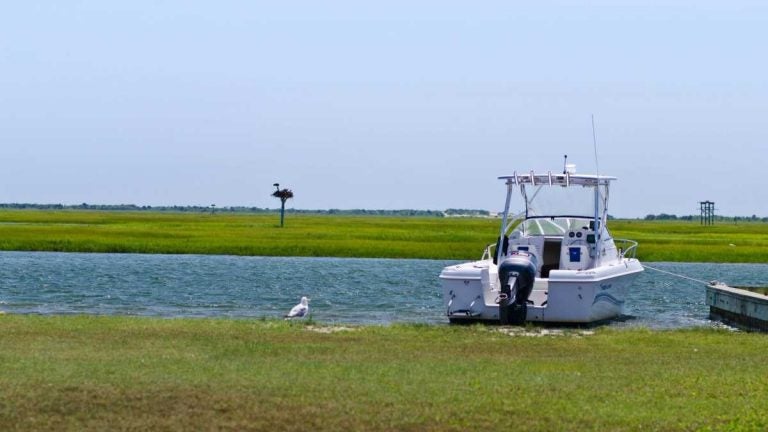 A new phase of New Jersey's Barnegat Bay protection plan will feature a "pollution budget" to reduce the nutrients entering impaired areas in the northern section of the waterway.
Gov. Chris Christie announced yesterday $20 million in funding to local and county governments for additional projects to improve wetlands, upgrade stormwater infrastructure, and conduct long-term water-quality monitoring of the bay and its tributaries.
A major component of the plan is the establishment of a Total Maximum Daily Load (TMDL) standard, a pollution budget, for nutrients.
The Barnegat Bay has historically been a collector of phosphorous and nitrogen runoff that spark environmental problems, which advocates pin directly on land use decisions.
A state report has found that the bay continues to show signs of stress from algae blooms, which degrade water quality and reduce dissolved oxygen that fish and other aquatic life need.
The TMDL would be incorporated into stormwater discharge permits in impaired areas, especially in the northern third of the bay, to limit runoff.
In a release, Jeff Tittel, Director of the New Jersey Sierra Club, said the TMDL action is "better late than never" but still "eight years late."
"The governor did the real damage to the Barnegat Bay when he conditionally vetoed the TMDL bill more than five years ago," he said, adding that the bill would have put a cap on pollution and required real comprehensive cleanup for the waterway.
"Had Christie not vetoed the bill, we would be making progress in cleaning up the bay instead of it getting more polluted," he added.
American Littoral Society Executive Director Tim Dillingham said Christie's TMDL action has been on the Barnegat Bay goal list "since the beginning."
Department of Environmental Protection Commissioner Bob Martin applauded the announcement.
"We have laid a strong foundation with extensive scientific research and implementation of efforts to restore and protect natural resources," Martin said. "It is vital that this work continues for years to come, as envisioned by the governor's comprehensive action plan. This funding will largely go directly to local governments and nonprofit organizations that will continue to do the work of restoring Barnegat Bay."
——————————————————————
WHYY's Phil Gregory contributed to this report.