New Jersey Legislature sends 2019 spending bill to Murphy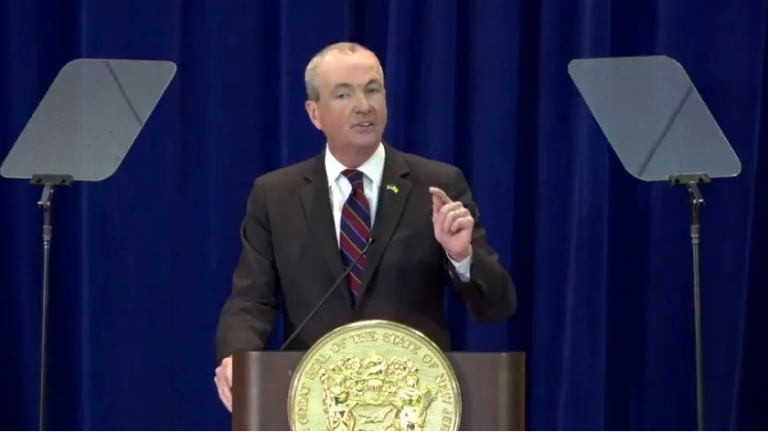 A day of high-level negotiations and a surprise court ruling momentarily brightened hopes for a budget deal in Trenton yesterday, but in the end the talks failed to produce agreement. That led lawmakers to follow through on their promise to send Gov. Phil Murphy a legislative spending bill, one that he's already promised to veto.
In the wake of the up-and-down day in Trenton, the only question now is how quickly the governor will reject the Legislature's budget, and what happens next.
There's still a full week left before the state constitution requires a new spending plan to be enacted, but yesterday's events — and some of the rhetoric that came out of them — seemed to move the state closer to a government shutdown, which must occur if the two sides can't resolve their differences on the fiscal year 2019 budget.
Christie Democrats
For his part, Murphy, a first-term Democrat, didn't take it easy on his fellow Democrats who control both houses of the Legislature during a news conferencethat was held after the budget talks broke down late yesterday afternoon. He suggested they were still in a budgeting mode established by former Republican Gov. Chris Christie, who saw the state's credit rating downgraded numerous times during his tenure.
"Unfortunately, the Legislature seems intent on keeping the legacy of Chris Christie alive and well," Murphy said.
"I will not put forward gimmicks and games that I believe are ticking time bombs and call it a day," he added.
But the Democratic legislative leaders sounded just as unshakable during their own early evening news conference, which was held in the wake of their budget bill having just been passed in both the Assembly and Senate and sent directly to Murphy's desk.
"This is not Goldman Sachs," said Senate President Steve Sweeney (D-Gloucester), referring to Murphy's prior career working at the prestigious Wall Street investment bank. "We're not going to be told what to do."
"The only way to achieve an end to this is to set aside our egos and to make things happen," said Assembly Speaker Craig Coughlin (D-Middlesex).
The key sticking point in the budget disagreement remains how to raise new revenue to support essential spending priorities that are shared by Murphy and lawmakers. They include an increased payment into the public-employee pension system, more aid for K-12 education and property tax relief, and a more robust contribution to New Jersey Transit.
In his own $37.4 billion budget plan, Murphy has asked lawmakers to approve a series of tax hikes that would establish a millionaires tax and restore a 7 percent sales tax. But lawmakers have rejected those two ideas and have countered with a proposal to hike the tax rate levied on high-earning corporations.
Murphy has argued that moving the sales tax from 6.625 percent to the 7 percent that was in place in 2016 will have little impact on New Jersey residents. He also maintains those who earn more than $1 million annually will benefit greatly from a series of tax cuts enacted by President Donald Trump late last year. The state's current top-end rate is 8.97 percent, levied on earnings over $50,000. The governor is seeking to establish a 10.75 percent income-tax rate for earnings over $1 million.
Using Trump to justify tax hikes
But lawmakers have also pointed to the Trump tax cuts as a justification for a corporate-tax increase they were able to move out of both houses last night along with their $36.5 billion spending bill. Under their legislation, the corporate rate would go from 9 percent to 11.5 percent for businesses earning between $1 million and $25 million annually, and to 13 percent for those earning more than $25 million annually.
The higher rates would be in place for just two years, but the 13 percent rate would still be the highest corporate rate in the country, besting Iowa's 12 percent rate.
"I'd certainly rather tax corporations that got a windfall from Donald Trump than I would the people of this state," Sweeney said yesterday. "They say the sales-tax has no (impact), but you know who it hurts? The poor and the working class."
No agreement on the Amazon angle
Meanwhile, the two camps also seemed to disagree yesterday on what appeared to be a stroke of good luck for the state after the U.S. Supreme Court issued a ruling in a case involving the ability of states to levy taxes on online sales made by out-of-state vendors. The ruling in favor of the states' power to tax such sales should generate millions of dollars in new revenue for New Jersey, though some of the benefit could be muted by mega-retailer Amazon's prior agreement to do so.
Still, many lawmakers were excited about the court ruling yesterday, suggesting it could be a healthy new revenue source available in time for the July 1 start of the 2019 fiscal year. But Murphy downplayed the decision and said it may not be the final word legally on the issue, making it hard to budget with any certainty. He also faulted lawmakers for other revenue assumptions that are built into their budget, including projected savings from audits and other fiscal measures.
"Kicking the can (down the road), Band-Aids, toothpicks — enough," Murphy said.
During the formal debates on the legislative budget bill that played out in the State House, Republican lawmakers also took issue with the overall idea of increasing spending with tax hikes.
"It seems like every year we try to do too much, and we never have enough," said Assemblyman John DiMaio (R-Morris).
But Assembly Majority Leader Lou Greenwald (D-Camden) countered by saying the increased spending will pay for top priorities like the pension system, which is the nation's worst funded state retirement plan, and to offset property tax bills, which are the nation's highest. It will also go to increase aid to K-12 education, he said.
"These are critical components of what we are doing," he said, moments before the bill passed the Assembly by a 46-28 margin. In the Senate, the spending bill passed more narrowly, by a 21-17 margin.
Now that the budget is on his desk, the state constitution gives Murphy the option of issuing an outright veto or a conditional veto or removing individual line items. He didn't tip his hand yesterday, saying only that "everything is still on the table."
But he also left the door open to what has been an elusive deal so far with lawmakers, though it's unclear when talks could resume after yesterday's breakdown.
"It's not over yet," Murphy said. "I'm not going to stop working. I'm not going to stop trying."
________________________________
NJ Spotlight, an independent online news service on issues critical to New Jersey, makes its in-depth reporting available to WHYY. 
WHYY is your source for fact-based, in-depth journalism and information. As a nonprofit organization, we rely on financial support from readers like you. Please give today.