New construction covers Chomsky mural, fills long-vacant lot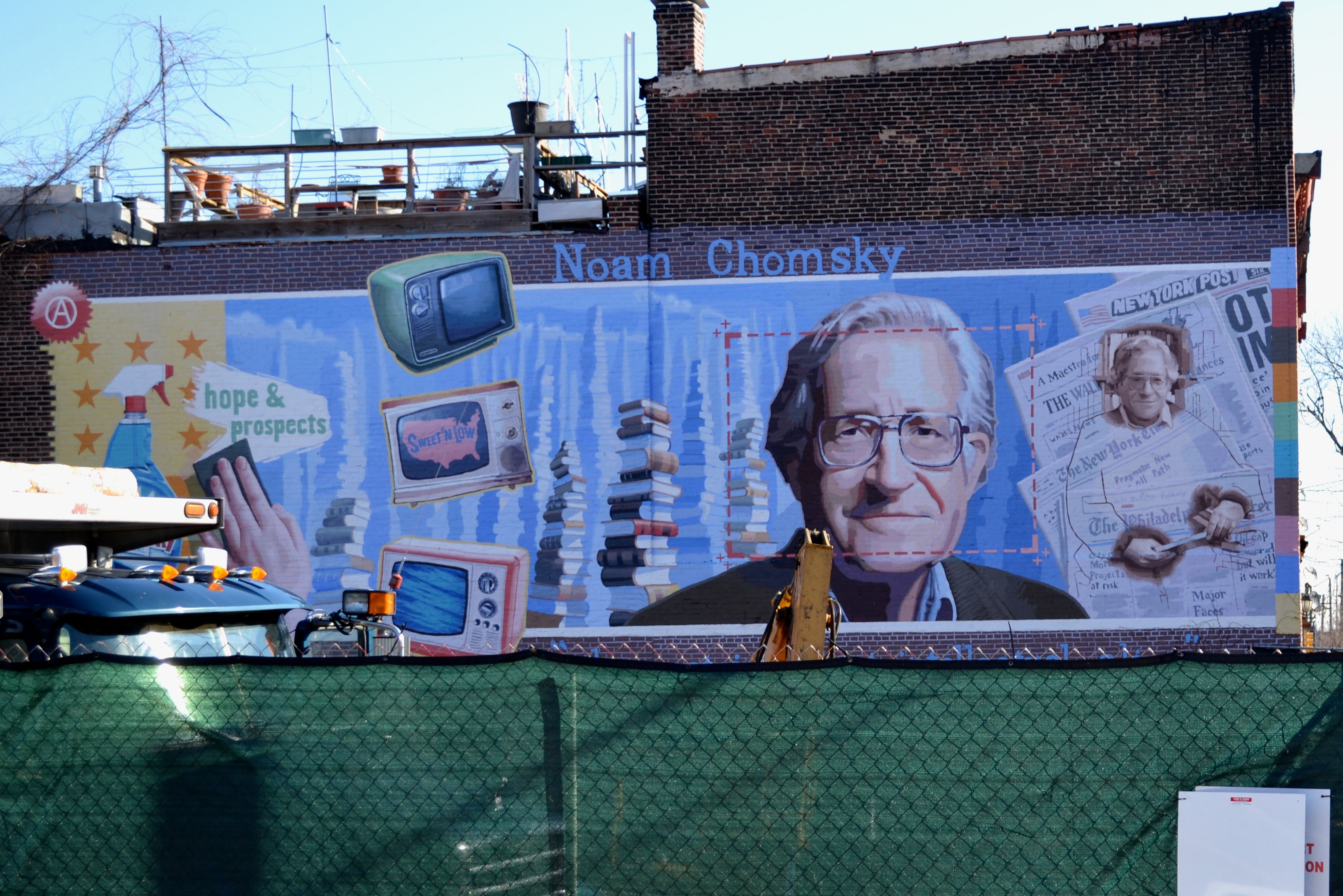 At 19th and Fairmount Ave new construction is underway to bring retail and residential space to a long-vacant lot. The project will extend the bustle of Fairmount between 20th Street and the Art Museum east toward Broad Street, but it will also cover a relatively fresh mural of Philly-native Noam Chomsky.
When searching for a wall to paint this tribute to Chomsky, Philadelphia artist Peter Pagast feared these exact circumstances.
According to a Philadelphia Weekly article from 2009, Pagast's friend owned the building next to the 19th and Fairmount corner lot and let Pagast paint the mural on the exposed wall. Pagast was concerned then that developers would cover the wall after just a year or two. He suggested that perhaps it would be fitting though, "a Chomsky mural, swallowed up by capitalism."
In 2009 Pagast, who worked for the Mural Arts Program for 10 years, had already spent four years trying to make the mural a possibility. Through grassroots fundraising, Pagast made his mural dream a reality in 2010.
The mural quotes the New York Times, which labeled Chomsky "the most important intellectual alive," and adds a splash of color to the vacant corner.
The 2009 Philly Weekly article says Pagast hoped people would see the mural and seek more information on Chomsky, who revolutionized linguistics and spends much of his time writing and speaking as a political activist and critic of the United States,' notably its foreign policy. Chomsky grew up in East Oak Lane and graduated from both Central High and Penn before going on to work at MIT.
In December Naked Philly reported that the building now under construction in the vacant lot adjacent to Chomsky's portrait will bring 15 rental apartments, seven parking spaces and some type of food retail space. At the moment Fairmount's retail district drops off significantly between 18th and 19th streets. This addition will extend the pedestrian-friendly commercial zone further east toward Broad Street.
Noam Chomsky Mural, 19th Street & Fairmount Ave

Noam Chomsky Mural, 19th Street & Fairmount Ave