New Castle County loosens solar power restrictions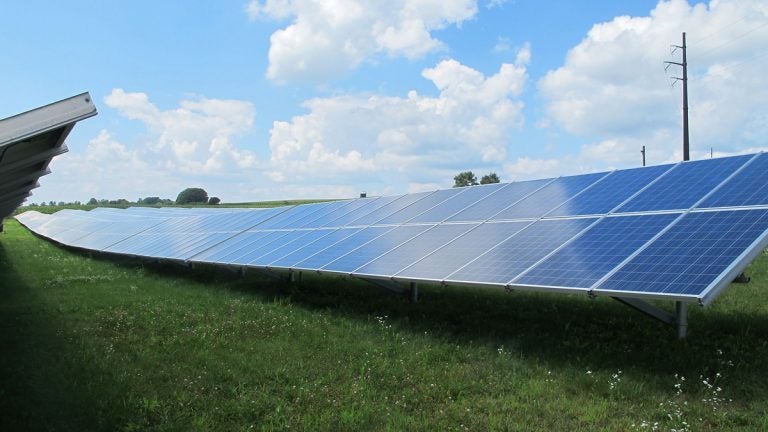 Leaders in New Castle County say solar energy use in Delaware will double following the enactment of an ordinance that reduces various restrictions where solar energy systems can be installed in the county.
On Wednesday, County Executive Matt Meyer, D-New Castle County, signed the ordinance, sponsored by Councilwoman Janet Kilpatrick and Councilman David Tackett, that expands land use allowance for solar energy fields.
"Today is about our planet, our people and profits, and getting those three things to work together for the benefit of the residents of New Castle County," he said.
Solar energy power has become an increasingly favorable way of reducing fossil fuels, which contribute to climate change. The technology also is increasing economic development—the U.S. Bureau of Labor finds solar photovoltaic installer positions to be the fastest growing job in the country.
Delaware's Renewable Energy Portfolio Standards Act requires Delaware utilities to acquire 25 percent of its energy portfolios from renewable sources by 2025.
There are 4,000 solar energy systems across the state, mostly on residential rooftops—but Delaware only gets 1.5 percent of its energy from solar power.
County officials hope the new ordinance will increase solar energy use in the state, and play a role in protecting the environment.
"We do know when you look at renewable energy, solar is the way to go. So if we're serious about protecting our environment, we've achieved that today," Tackett said.
Solar energy fields can now be located in suburban and suburban reserve zones, which are mostly agricultural areas. The county has 14,000 acres of these zones, but they're capped at 1,000 acres for solar energy use.
Previously, they were limited to industrial zones—which industry leaders say are limited, may not be large enough (solar fields require 4 to 6 acres per megawatt) and can be more expensive.
The restrictions were in place because power generation was defined generically, and solar power fell under that distinction because it was not a foreseen technology when the ordinance was written.
The ordinance still includes some restrictions to protect agriculture and residents.
Freepoint Solar has begun plans to construct five solar fields, with four in the county, that consolidate into a single substation. The 100 megawatt project, with an investment of $150 to $200 million, will double the state's existing solar power and create about 300 construction jobs, according to managing director Peter Ford.
"I think it will provide an opportunity for Delaware to have its own homegrown renewable energy instead of having to import it from other states," he said. "And what comes along with that is economic development, and as with new trending technologies, you want to be part of that as opposed to just being a consumer of it."