Narcan scarce at pharmacies in N.J. cities hurting from opioid crisis, researchers find
Many states grappling with the opioid crisis, including New Jersey and Pennsylvania, have allowed people to get Narcan without a prescription. But a new study from Rutgers New Jersey Medical School finds that pharmacies in the New Jersey cities that may need it the most often don't have the overdose-reversing drug in stock.
Researchers called every pharmacy in 10 cities to ask if they had Narcan or its generic version, naloxone, in stock. They found that pharmacies in bigger and poorer cities were less likely to have it in stock than those in smaller, wealthier towns. The poorer cities surveyed also had the worst problems with opioid addiction, as measured by hospital admissions for opioid overdoses.
"So much of naloxone's ability to save a life depends on if it's there when it's needed, if it's in the hands of a person who happens to see an overdose," said senior study author Diane Calello, medical director of the New Jersey Poison Control Center.
Only one out of the six pharmacies in Atlantic City said it had naloxone in stock, the study found. Only one pharmacy out of every four in Camden did.
The researchers speculated that the relative scarcity of naloxone at pharmacies in poorer cities could be due to a lack of demand.
"If you're asking somebody in a lower-income area to go in and buy an antidote that they may never need, that's a big ask," Calello said. "Although I don't know, that probably impacts stocking decisions in pharmacies in those areas."
Camden had the lowest median household income — $26,000 — among cities included in the study. In Little Silver, whose $138,000 median income made it the wealthiest in the the study, two of out of the town's three pharmacies had naloxone in stock.
Researchers collected the data in 2017, and efforts to expand access to naloxone have ramped up since then. But out of four pharmacies in Camden contacted by WHYY News on Thursday, only half said they had the potentially life-saving drug in stock.
Low stocking rates are just one potential barrier to getting naloxone in New Jersey pharmacies.
At Northgate Family Pharmacy, on the ground floor of a high-rise apartment building near downtown Camden, Narcan was on the shelf but could be obtained only with a prescription. Kamal Patel, the pharmacist and owner, explained that he hadn't applied for a standing order from the New Jersey Department of Health that would allow him to dispense the drug over the counter.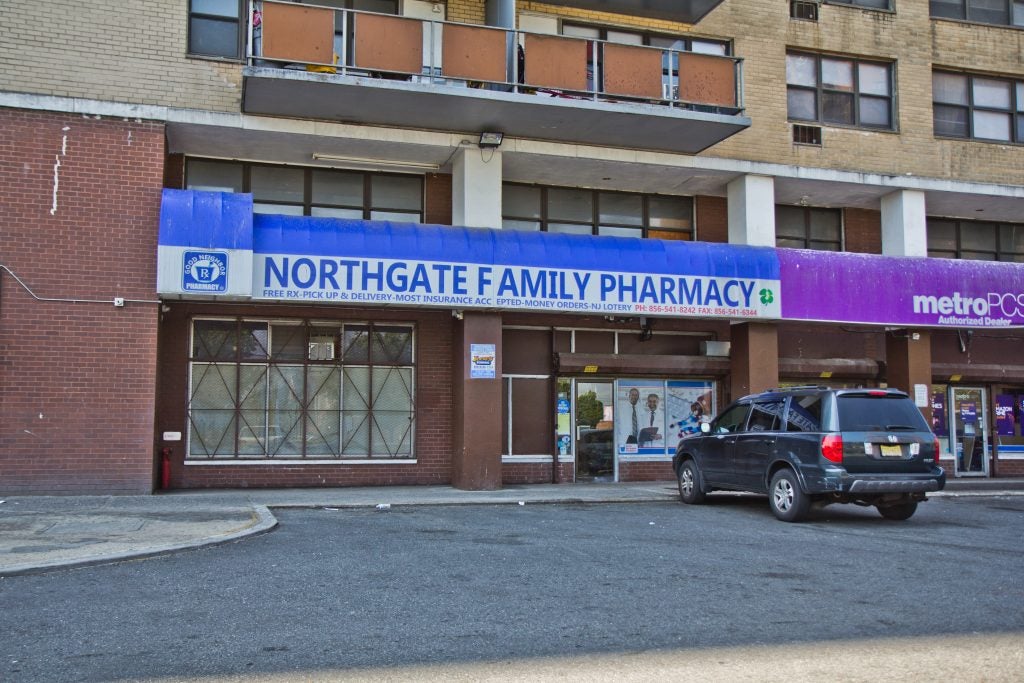 In New Jersey, a pharmacy that doesn't have a physician on staff who can issue a standing order — essentially a blanket prescription for anyone who asks for the medication — has to get one from the Department of Health. Smaller, owner-operated pharmacies, such as Northgate Family Pharmacy, usually have to get a standing order in this way, while larger pharmacy chains can issue one to themselves, according to Elise Barry, CEO of the New Jersey Pharmacists Association.
Patel said he hadn't applied for a standing order because of the "hassle." He added that he didn't think his customers' health insurance would cover a medication that was filled under a standing order.
"In this neighborhood, nobody would have money to pay cash," said Patel, who buys packs of Narcan wholesale for $120 each.
But Barry said the out-of-pocket cost would depend on a patient's insurance coverage, not whether the Narcan was obtained under a standing order.
One complication is that when people ask for Narcan under a standing order, it's often not for themselves but for a family member or a friend struggling with addiction. In those cases, pharmacists may be reluctant to bill the customer's insurance policy, said Gail Scott, manager of the Substance Use Disorders Institute at the University of the Sciences in Philadelphia.
"They're afraid: 'Well, am I committing insurance fraud, because if I fill it under a person's own policy, that policy is supposed to cover them, not their son, their daughter, or a friend?' " Scott said.
Some insurance companies have policies allowing naloxone dispensed to such "third-party caregivers" to be covered, Scott said.
But the New Jersey Office of the Attorney General has advised pharmacies not to bill naloxone obtained for someone else to the health insurance plan of the person requesting it. Even so, some insurers, such as AmeriHealth New Jersey, will cover naloxone when members buy it for someone else covered under their plan.
Scott said more efforts were needed to help pharmacists navigate some of the confusion around policies for dispensing and billing for naloxone under a standing order.
But applying for a standing order from the state Department of Health is straightforward, the pharmacists association's Barry said.
"I know several pharmacies that have done it that way, and they seem to be quite pleased with the process," she said.
Patel said he would take another look at what it would take to be able to offer the Narcan on his shelves to someone who doesn't have a doctor's prescription.