Narberth businesses nixing plastic bags, straws as ban kicks in
Narberth Borough's ban on plastic straws, mandated fee for plastic bags kick in April 17. Businesses are on board, but will have to pay more for eco-friendly alternatives.
Listen
1:45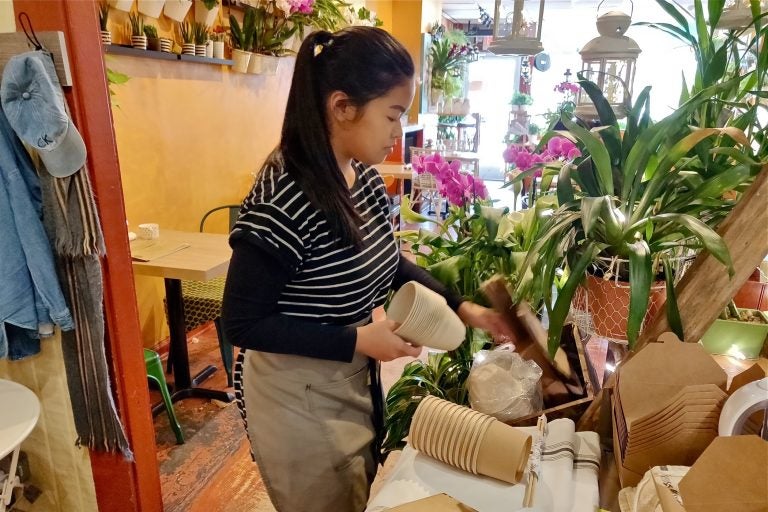 Narberth businesses are stocking up on green alternatives in preparation for the Montgomery County borough's ban on plastic straws and restrictions on plastic bags to kick in April 17.
"I am thrilled that we are getting rid of plastic bags," said Gina Vulpi at the American Family Market in the heart of the business district. "Hopefully people will continue to use their totes, and we also have reusable bags that people will be using now."
The legislation, which the borough council approved unanimously to combat a "throwaway culture," places a 10-cent fee on single-use plastic shopping bags and prohibits businesses from using plastic straws, unless requested by a customer with a disability.
Narberth is a small town without big franchise stores — except for the Fine Wine and Good Spirits, which doesn't have to comply with the rule since it is an entity of the state. So small-business owners are the ones figuring out how to comply with the new law.
Vulpi's family-operated supermarket is urging customers to bring or buy reusable bags so they don't have to pay 10 cents for a plastic bag.
Other business owners are going beyond what's required. Ann Montkholiat, who owns Coco Thai Bistro, replaced not only plastic straws and bags but also takeout containers and utensils. A documentary on how plastic affects ocean life helped her make that decision.
"I felt guilty, I really felt guilty," said Montkholiat, about being complicit in plastics ending up in the ocean. "[I decided] I don't want to do that for my customers." She says businesses should be doing more to ensure that they are not harming ocean life.
Jean Claire, manager at Le Petit Matron, is also looking into alternative supplies.
"We are going to be carrying recycled coffee cups and lids," Claire said. "We have also been researching the coffee stirrers, and I believe we're going to switch to a wooden coffee stirrer because that will be eliminating one more thing of plastic."
It won't be cheap. A lot of the biodegradable supplies that Claire and Montkholiat are switching to are more expensive. A box of 16-ounce plastic cups costs about $52, while the eco-friendly alternative will be about $85. The bulk cost of cups for warm drinks will rise from $44 to $63, and lid prices will increase from $25 to $40. Opting for paper straws will more than double the cost.
"I don't know what it does to our bottom line yet," Claire said. "This is a whole new adventure, but, at some point, you worry that you would pass that on to the customer."
WHYY is your source for fact-based, in-depth journalism and information. As a nonprofit organization, we rely on financial support from readers like you. Please give today.