N.J. governor OKs $300 million annual bailout from ratepayers to Salem nuke plants
Ratepayers will foot the bill for assistance to three nuclear energy-generating plants in South Jersey.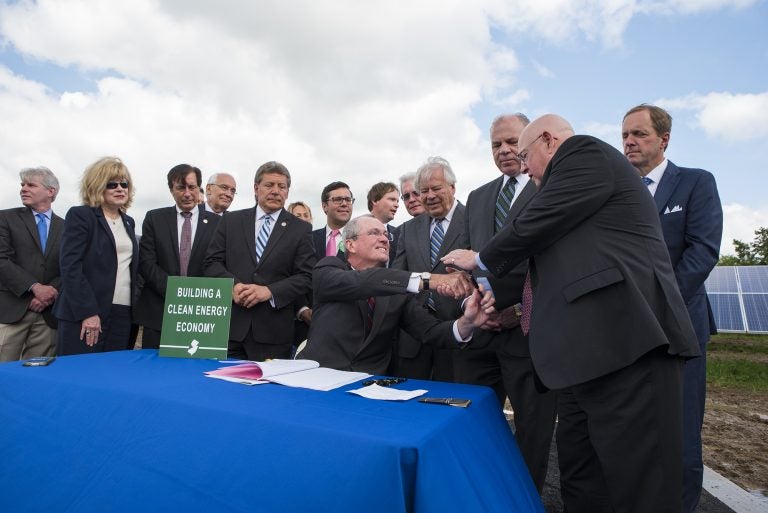 Ratepayer subsidies totaling up to $300 million a year will help keep three nuclear plants open in South Jersey now that Gov. Phil Murphy signed the controversial legislation Wednesday with an array of lawmakers at his side.
The legislation will protect the viability of the Salem and Hope Creek nuclear plants in Salem County, Murphy said.
"To reach our clean energy goals, we will need to keep these plants open and safely operational. They not only produce 40 percent of our power but, as of today, 90 percent of our clean energy," he said.
The subsides will keep its nuclear plants competitive with power generated from natural gas, according to energy company Public Service Enterprise Group.
Funded by ratepayers, the subsidies will mean a rate hike of about $40 a year for consumers.
Environmental groups questioned whether the subsidies are needed. But Murphy said the legislation will protect ratepayers.
"I think there are a lot of safeguards in this bill that will prevent some of the rumors generally swirling around that the money is going to go out of state, the ratepayer won't have representation, they'll get the subsidy even if they don't need it," he said. "None of that is true."
Murphy signed another bill requiring that half of the energy sold in the state come from renewable sources by the year 2030.
"This goes much deeper than our previously stated goals for offshore wind and solar development, both of which are written into this legislation," he said. "Moreover, importantly, it sets these standards responsibly to protect ratepayers so that we don't achieve all of this just at any cost."
WHYY is your source for fact-based, in-depth journalism and information. As a nonprofit organization, we rely on financial support from readers like you. Please give today.