Murphy expands N.J. gun control with six new laws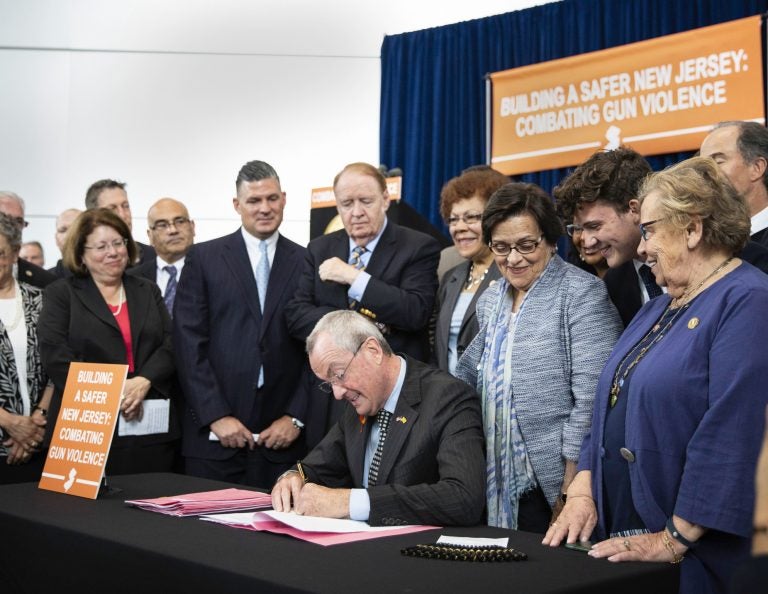 Signing a package of six new gun bills Wednesday, New Jersey Gov. Phil Murphy has made New Jersey's strict gun laws even tougher.
Senate Majority Leader Loretta Weinberg, who has been trying for years to get more gun-safety laws enacted, was among the lawmakers who joined Murphy at the signing ceremony.
"Really one of the most important pieces of legislation in this package is that legislation that allows people who know someone is going to do harm to themselves or others to have a path to remove firearms from that person," said Weinberg, D-Bergen.
The measures include a background check requirement for private gun sales, a ban on armor-piercing bullets and a 10-round limit on gun magazine capacity.
Toms River North High School junior Zach Dougherty, a founding member of the New Jersey Chapter of Students Demand Action, said he's thankful the legislation will keep guns out of the hands of those who pose a threat.
"I'm a member of a generation who is sick and tired watching children our own age be senselessly murdered and then to live with the fear that we could be next," said the 17-year-old.
The new laws represent common sense, said Murphy, adding that there's more to do.
"We must fund gun-safety research. We must, please, responsibly increase the fees for gun licenses and handgun permits. It's long past time we did this," he said. "The last time these fees were increased was 1966."
Murphy says weaker gun laws in other states enable people to get firearms and bring them into New Jersey. He's calling for national gun-control legislation.