Mid-point report on Lower Schuylkill Master Plan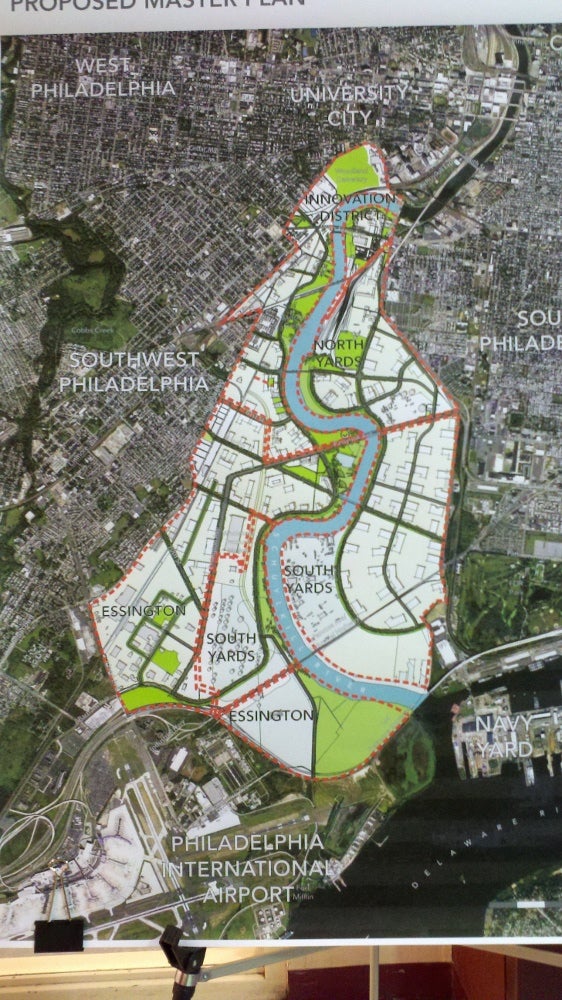 Philadelphians got a first look at a still-in-development plan to restore 4,100 acres of industrial land along the Lower Schuylkill to its former role as an economic engine, while simultaneously adding trails and green space and better connecting the swath to nearby communities and the rest of the city.
A progress report on the in-the-works Lower Schuylkill Master Plan was given Wednesday night at Richard Allen Prep Charter School on S. 58th St. by the Philadelphia Industrial Development Corporation and their consultant Alex Krieger of Boston architecture and design firm Chan Krieger Sieniewicz.
The project area contains 20 percent of the industrial zoned land in Philadelphia, said PIDC Vice President for Real Estate Services Tom Dalfo. It once generated thousands of manufacturing jobs, but that role has slipped. The key goal of the long range plan is making the area an economic engine once again, he said. Because new industries are largely cleaner, that goal can be accomplished while also creating new green space and adding trails and roads designed to connect this part of the Schuylkill with nearby neighborhoods and the city and region.
"People can re-connect with the river in ways they couldn't because of industry uses that had been there, in some cases, for 100-plus years," he said during his presentation.
Afterward, Dalfo said new and better-connected parks and trails would also help rev the economic engine, because private industries consider access to such things as important amenities for their employees.
Krieger and Dalfo said while this area has been in decline, economically speaking, it has key economic drivers all around it, including Penn and other universities, the airport, and the Navy Yard, which is also in PIDC's control. The trick is to capitalize on that potential for growth, they said.
Key components of the Lower Schuylkill Master Plan so far include:
-Creating an identity for the Lower Schuylkill.
-Better connecting the area to surrounding communities and the rest of the city.
-Protecting and fostering a diversity of uses.
-Revealing "the hidden river."
-Restoring the land and water of the river.
Elements to be used to reach those goals include:
-New parkways on the east and west sides of the river, connecting University City and the airport. These would be for passenger cars, not trucks, and also have trails and bike paths. There would be a mass transit component.
-Several east-west connections between Center City and the Lower Schuylkill, including streets, bridges, and sidewalks and bike paths.
-Two new riverfront parks, but also improved connectivity with existing assets, including historic Woodlands Cemetery, Bartram's Gardens and the Heinz Wildlife Refuge.
The concept of adding a new river-front road or two generated some comments.
"Why build a road near a river?" asked Southwest Philadelphia resident Bruce Dorpalen, an affordable housing advocate. Roads are barriers to access, he said during the presentation.
During the planning process for the future of Philadelphia's other river, the Delaware, many residents lamented the existence of I-95, Which some see as the predominant barrier to be overcome when reconnecting neighborhoods to that river.
Krieger said highways can definitely be barriers, but that's not what the Schuylkill plan envisons. These roads – along the west side at first, then eventually the east – would be parkways in the grand tradition of American parkways, such as Memorial Drive along his city's Charles River. They would be four, narrow lanes, with scenic views and no trucks, he said.
After the presentation, Dorpalen said most of the plan pleases him, but he still doesn't see the need for such a road on the west shore of the river. "They made the argument that there are traffic jams from University City to the Airport, but that's not the case," he said. "It's so easy on I-76 or Lindbergh (Ave.). They are both fast."
Husband and wife Lorraine and Roy Outterbridge have lived in Kingsessing for more than 30 years. Lorraine Outterbridge would be very pleased if her neighborhood were better connected to others nearby, and if people in other parts of the city new what the Lower Schuylkill has to offer.
"It truly is hard getting from one neighborhood to another within this area," she said. In other parts of the city, "People don't know we're here . We're sort of just cut off. Plus, they also don't seem to know the assets we have. We have Heinz Refuge. We have Bartram's Gardens. We have a lot of areas that people can go for recreation."
Roy Outterbridge said, "It's going to take a lot of work to develop the area because there's so much blight in the area."
The Outterbridges both would be pleased to see more employers move in, but Lorraine said it is important that there really be opportunity for everyone. During the presentation, it was said the jobs would be for people ranging from "GEDs to PhDs," and that sounds good, she said, but it is important that those GED-level jobs offer wages that people can live on.
Roy Outterbridge said he is a senior citizen who won't see all the benefits the plan promises, should it come to fruition. But his grandchildren will. As a grandfather, he said, it is his mission to make sure they are prepared for the best of the opportunities that may come.
Longtime area residents Lorraine and Roy Outterbridge share their take on the proposed plan. They like much of it, including the emphasis on job creation and access to the river, and are pleased Southwest Philadelphia has finally been chosen for planning.

PennPraxis Executive Director Harris Steinberg, whose organization steered much of the Delaware River planning process and is also consulting on the Schuylkill, agreed with Krieger that the roads proposed in this plan are completely different from I-95.
"It's like a South River Drive," he said, and would create a beautiful, welcoming gateway into the city from the south. In years to come, the road would be cherished like East and West River Drives are today, he said.
Dalfo said this much available land in an urban setting is a huge asset, but putting that asset – and a whole lot of people -to work again, won't be easy. Key challenges include extending nearby infrastructure, cleaning up contamination from previous industrial uses, and changing the configuration of extremely large parcels that don't lend themselves to modern industrial use.
The plan is far from finalized, Krieger said. The process is only half-finished, and the final version isn't expected to get to the city planning commission for their review until summer. The mid-point report was given to get feedback from residents. A second feedback session will be held Thursday night at 5:30 at Penn's New South Bank Campus, 3401 Grays Ferry Avenue, Building B176, 3rd floor.
Feedback from both sessions will be used to help guide the master plan. Danielle DiLeo Kim, PCPC director of special projects, and other planners have been working with the Lower Schuylkill Master Plan team to help infuse the values and goals of other city planning instruments, including new city comprehensive plan Philadelphia2035, Greenworks, the Bicycle and Pedestrian Plan. The Lower Schuylkill Master Plan will be presented to the Philadelphia City Planning Commission for information only in June, DiLeo Kim said, and is expected to go before the commission for either acceptance or adoption in late summer or early fall. DiLeo Kim said staff will likely seek adoption of the plan, because it was done by a quasi-city agency (PIDC) with direct assistance from planning. Adoption means the plan would becomes part of the city's comprehensive plan, and any city agency making decisions would have to consider the plan. If the plan is accepted, city agencies still could, but would not have to, use it to guide decisions.
Reach the reporter at kgates@planphilly.com