Message from Australia: 'We pray the U.S. will come to its senses'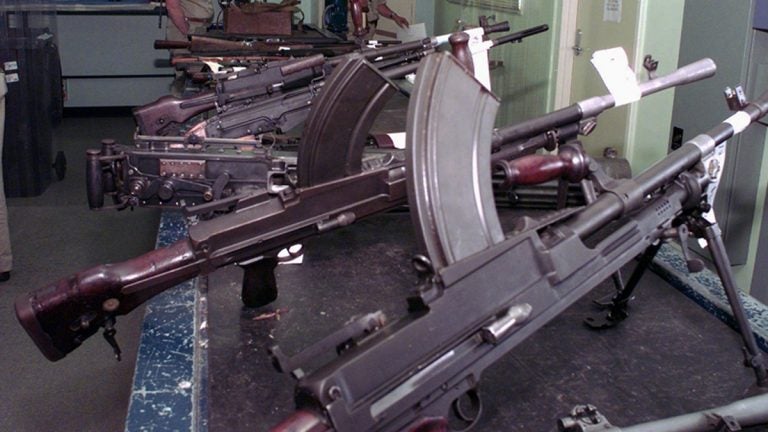 Instead of ritually wringing our hands today about the latest self-inflicted domestic massacre, instead of recycling all the policy pros and cons we've heard since Columbine in '99, let's get a fresh perspective from friends of ours across the sea.
Those Aussies know how to cut to the chase. In an editorial, the Sydney Morning Herald says:
"It is incomprehensible to us, as Australians, that a country so proud and great can allow itself to be savaged again and again by its own citizens. We cannot understand how the long years of senseless murder, the Sandy Hooks and Orlandos and Columbines, have not proved to Americans that the gun is not a precious symbol of freedom, but a deadly cancer on their society."
Yeah yeah, I know.
We're Americans, masters of the universe by definition, and nobody else should presume to tell us we're flawed. But not a single word in that paragraph rings false, and it just so happens that the Aussies have the credibility to rebuke us, because when they suffered a mass shooting 20 years ago, they didn't just mourn and forget. They did something about it.

And yeah yeah, I know.
Their solution would never happen in America because we worship our frontier culture and because we somehow believe that the Second Amendment's "well-regulated militia" language is still relevant in the age of the "active shooter" (although conservative columnist Bret Stephens writes today that the "quaint" amendment should be repealed). And how can we possibly believe that another country does something better, etcetera.
But just for fun, or for sheer educational edification, let's see how a civilized people responds to a massacre:
In 1996, a gunman killed 35 and wounded 23 at Port Arthur, an Australian seaside resort. A mere 12 days later (yes, folks, 12 days; not 12 months, not 12 years, not never),  Prime Minister John Howard announced a bipartisan gun reform deal (yes, folks, a bipartisan deal) that has sharply reduced gun violence in all the years since.
Howard said at the time, "We have an opportunity in this country not to go down the American path." What civilized country would want to do that?
In the '96 law, they orchestrated a buyback program that took 600,000 semi-automatic rifles and shotguns out of circulation — all told, roughly one-fifth of all firearms nationwide. They banned private gun sales, instituted thorough national background checks, required that owners register all their remaining weapons, and, perhaps most importantly, they required that gun buyers provide "a justifiable reason" at the time of purchase. Self-defense is not considered a justifiable reason. And a "national amnesty" program announced earlier this year prompted citizens to hand back 26,000 unregistered guns.
The result: Australia hasn't suffered a single mass shooting since the seaside massacre of '96. The number of gun-owning households has been halved since '96. Roughly one million semi-automatic weapons have been sold back to the government and destroyed. And Australian hunters can still hunt.
One hunter told Time magazine last year: "When (the prime minister) proposed the gun law, I marched like everybody else did in opposition. But I now fully endorse what he did … At the end of the day, it's a small price to pay not to have the nutjobs walking through shopping centers and massacring innocent people … The idea of having people own guns with no concept of gun safety and no reason to have a gun? That is not my idea of freedom."
Australia's laws haven't erased all violence, of course. But studies have charted a 59 percent decrease in gun homicides, and a 65 percent decrease in gun suicides, in the years since the '96 law was enacted. According to the '16 Australian government stats, there are 13.7 guns per 100 people; in our country, according to the most recent federal stats, there are 101 guns per 100 people. As Tim Fischer, Prime Minister Howard's '96 deputy, tells the BBC, "Plain and simple, what we've done works."
Which brings us back to that Sydney Morning Herald editorial. Go ahead, mates, you've earned it:
"We point over and over to our own success with gun control in the wake of the Port Arthur massacre, that Australia has not seen a mass shooting since and that we are still a free and open society. We have not bought our security at the price of liberty; we have instead consented to a social contract that states lives are precious, and not to be casually ended by lone madmen. But (our) message means nothing to those whose ideology is impervious to evidence…
"You can't regulate evil. But you can disarm it. Once again we pray that the U.S. will come to its senses and do just that. And once again, we are dreadfully sure it won't."
Indeed. It's tough to knock sense into people whose ideology is impervious to evidence.

——-

Follow me on Twitter, @dickpolman1, and on Facebook.