'Medea' continues its lo-o-o-ong run, this time at Hedgerow Theatre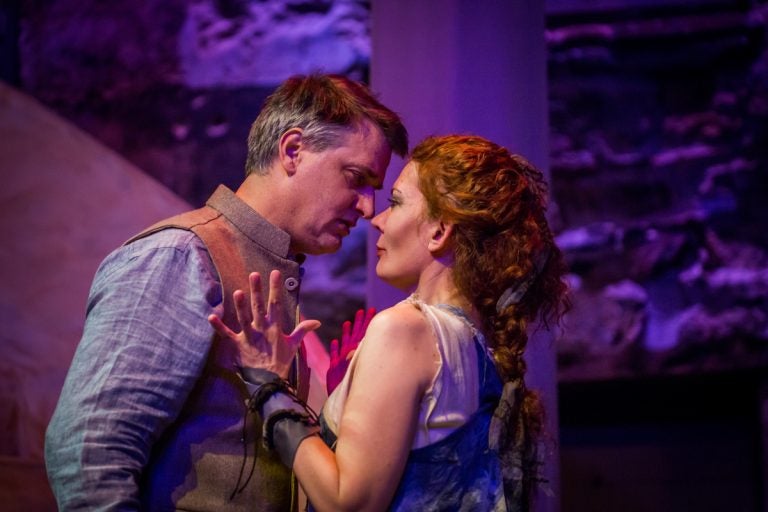 Euripides lost the new-play festival in Greece 2,449 years ago – his "Medea" came in last. As any producer who similarly loses the best-show Tony Award knows, that's no sign that you're down the drain. ("Wicked," anyone?) The losing "Medea," among the greatest Western stage classics, is performed to this day and has opened in a solid production at Hedgerow Theatre.
In recent times, some have considered "Medea" a play touting womens' empowerment. That's hard to buy into, given that she's a sorceress who runs off with Jason, the captain of a ship, and is responsible for a great deal of bloodshed in its wake.
And that's before Euripides' play even begins. When it does, Jason has abandoned her and their two small children for a young trophy wife, the daughter of the king of Corinth on Greece's Peloponnese, where they make their home. Worried about Medea's angry reaction and her powers, the king banishes her and her children, but gives her overnight to get out.
Big mistake. Medea, full of charms if not charm, will get even with her ex and the king by unleashing unspeakable violence. "Medea" is a play about vengeance – wanting it, planning it and executing it dead-on.
In director Megan Slater's production, which she calibrates to pop in the most emotional moments, we hear Medea's moans of anger and despair before we ever see her. When she eventually comes down the curving blonde-wood stairs of Sara Outing's simple and workable set, you can see instantly the furor behind her anguish. Jennifer Summerfield, in the role, maintains that fury through the play's 90 minutes – Euripides wrote the character at a high pitch. Yet Summerfield modulates it intermittently so that she's not performing at a constant crescendo, which would make Medea a stick figure or like a Punch-and-Judy puppet. Her performance, equally broadcast by her look and her delivery, is impressive.
Jessica DalCanton is likewise nuanced as the nurse to Medea's children and all-around caretaker of Medea in her stress. Adam Altman is Aegeus, who agrees (at much risk) to shelter Medea in Athens and Hedgerow's leader Jared Reed plays the ill-fated Jason. They, along with Summerfield, compose what Hedgerow calls its Core Company, and will take leading roles in three productions each season for three seasons.
The king of Corinth is played by John Lopes and the Greek chorus (Minou Pourshariati, Julianne Schaub and Susan Wefel) sometimes sings its lines, backed by Christopher Waters on guitar and the sound design by Lucas Fendlay. Note to the production: It's a good idea to make sure Euripides' name is spelled correctly on the program's title page — either Euripides or, if you want to get down to it, Ευριπιδης.
—
"Medea" runs through Nov. 11 at Hedgerow Theatre, 64 Rose Valley Road in Rose Valley, outside Media. 610-565-4211 or hedgerowtheatre.org.