Mastery parents demand more crossing guards, safer schools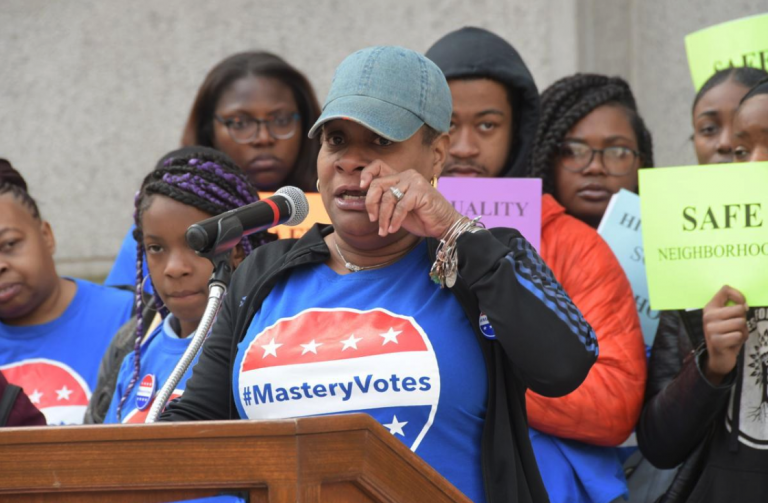 This story originally appeared on The Philadelphia Tribune.
—
Pauline Hill said her 9-year-old son Khalil was hit by a car near Mastery Charter School's Grover Cleveland Elementary School in October.
"A car was double-parked and the other car was coming down the street and [the driver that hit him] was in a jeep and couldn't see him because he's so small," Hill said. "He got hit by the car, fell and he hit his head."
Hill, of North Philadelphia, doesn't want to see that happen to her son — or anyone else's child — again.
So she was part of the Mastery Parent Action Team that rallied outside of City Hall Thursday morning. The group met with Philadelphia Police Commissioner Richard Ross and other city leaders to ask for more crossing guards near Mastery Charter Schools' 18 campuses in the city, discuss blight and work in partnership with Mastery on anti-violence initiatives. The Philadelphia Police Department hires crossing guards.
"As parents, we know that when our children have to walk past abandoned buildings and mountains of trash, when they pass by or go into stores where people are loitering and fighting, when they have to walk by known drug hot spots or cross busy streets with no crossing guards, they are not safe," said parent Markida Ross, who has two sons at the Mastery Cleveland campus.
Hill said Ross promised to work to make sure there are more police patrols around Mastery Schools at arrival and dismissal.
"We don't want the police to only show up when something negative happens," Hill said. "We want to build relationships between the police and our community."
The administration of Mastery Charter Schools said its parents are leaders in the fight for safer neighborhoods and thanked city leaders for their support.
"We deeply appreciate [Mayor Jim] Kenney's administration's responsiveness to the concerns raised in our recent safety surveys such as agreeing to hire more crossing guards and look into over 300 specific issues that parents identified like illegal dumping and [drug] hot spots," an emailed statement from Mastery to the Tribune read. "Parents are already seeing concrete action, but we all know we have a long way to go."
Mastery parents and students canvassed their neighborhoods and found a total of 343 locations in North, West, Southwest and South Philadelphia and Germantown, Nicetown, Tioga and Frankford that have concerns.
Overall, their study found 40 corners in need of crossing guards, 24 nuisance businesses, 18 crime and drug hot spots in abandoned buildings and open air, 44 abandoned buildings that are open and dangerous and 32 lots with heaps of trash and short dumping, among other things.
WHYY is your source for fact-based, in-depth journalism and information. As a nonprofit organization, we rely on financial support from readers like you. Please give today.