Mail ballot trends suggest Biden on path to victory in Pa.
Definitive results aren't expected until at least Thursday in Pennsylvania, but strong trends in mail ballot results are giving Biden's campaign reason for hope.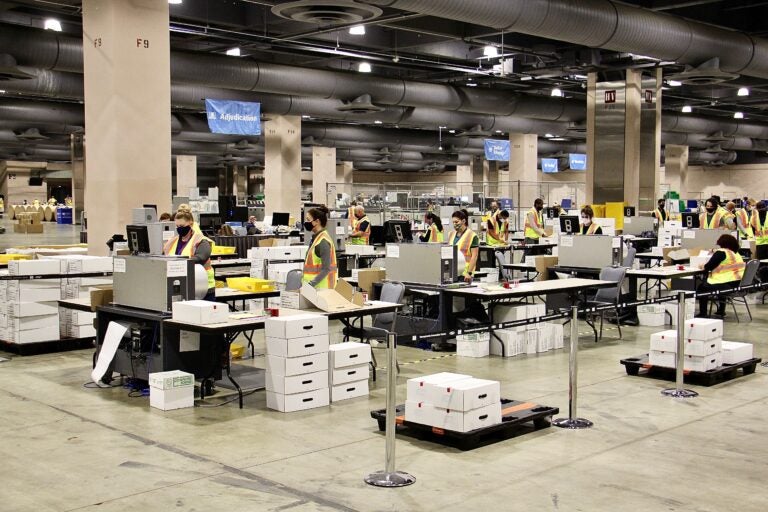 Joe Biden's odds of winning the White House increased Wednesday, even without winning Pennsylvania, as the Associated Press called Wisconsin and Michigan for the former vice president.
Pennsylvania remains at the center of the electoral fight, though, as several key states remain too early to call, including Georgia and Nevada.
Definitive results aren't expected until at least Thursday in Pennsylvania, but strong trends in mail ballot results are giving Biden's campaign reason to hope for a victory in the commonwealth.
Pennsylvania's mail ballots have so far skewed heavily toward Democrats, and its in-person votes skewed Republican. That lopsidedness had been predicted for months: More than 1.6 million Pennsylvanians who returned mail ballots were Democrats, and less than 600,000 were Republicans.
In-person votes were tallied more quickly and, as expected, President Donald Trump took an early lead in the commonwealth. By 5 a.m. Wednesday, he led Biden by 700,000 votes. But, also as expected, those margins steadily shrank as more mail ballots were tabulated. As of 7 p.m. Wednesday evening, Trump led by 249,263 votes.
So far, with about 1.9 million of 2.6 million expected mail ballots counted, Biden has won the vast majority. The exact percentage has varied throughout the day, but on average about 78% of mail ballots have been going to the former vice president, while Trump has been getting about 21%.
If that trend holds, Trump will pick up about 146,323 more of the still-uncounted mail ballots and Biden will win around 543,487 — enough for the vice president to wipe out Trump's edge.
Of course, that isn't guaranteed.
Chris Borick, a pollster and political science professor at Muhlenberg College, said that while pre-race polling showed an extremely similar partisan split between mail ballot and in-person voters, Biden's advantage will vary by county.
"It's hard to extrapolate exactly," Borick said. "I think certainly Biden's going to pick up substantial ground as these ballots are counted. I think there is a significant likelihood it puts him into the lead in Pennsylvania. It's not guaranteed, but … there's a clear path forward for him."
Although results are still incomplete in much of Pennsylvania, one key county does have nearly all its results in: Northampton.
Four years ago, Trump unexpectedly flipped the county red. After a more than four-point win for Barack Obama in 2012, Northampton went for Trump by almost that exact same margin in 2016.
This year, with all of its in-person votes counted, and almost 98% of its mail votes in, it appears Biden could claim a very narrow victory in Northampton.
He leads by 0.44%. And, Borick said, while it's a tiny margin, it may be one of the most meaningful results to come out of Pennsylvania.
"Northampton County is the bellwether county in Pennsylvania," he said. "As it goes, the state often goes. At this point, it looks like Biden flipped it back Democratic."
What that could mean, Borick said, is that Biden has been able to cut into the group that did so much to deliver Trump a victory in the all-important northeast: white voters — particularly white men — who didn't go to college.
Lackawanna County, where Scranton is, is also showing signs of a trend along those lines. With 98% of Lackawanna's votes in, Biden leads by more than eight points. It's nothing like Obama's nearly 30-point victory in 2012, but it's bigger than Clinton's 3.5% victory in 2016.
"Biden might have been able to win some inroads," Borick said. "Modest inroads, [but they] could be valuable in ultimately winning the state."
Meanwhile, Trump's campaign has launched a battery of last-ditch legal complaints aimed at halting the vote count in Philadelphia. The Biden camp has dismissed the validity of those challenges.
Late ballots, lawsuits and partisan fighting
As Trump was falsely claiming to have won Pennsylvania, and his campaign was suing to stop Philadelphia from counting votes, Pennsylvania's Democrats were trying to defuse Trump's claims, as well as accusations from state lawmakers.
Wednesday afternoon, Senate Majority Leader Jake Corman called for Secretary of State Kathy Boockvar, who is in charge of elections, to resign.
He said she'd changed Department of State guidance to counties too close to the elections.
"To have this sort of stuff going on at the 11th hour is unconscionable, so we have total lack of faith in her ability to do the job and do it fairly," he said at a press conference in Harrisburg.
Boockvar's rule change has to do with late-arriving ballots. The Pennsylvania Supreme Court has allowed ballots to be counted if they arrive at county election offices by 5 p.m. on Nov. 6, so long as they were postmarked before the election night deadline.
Many Republicans, including Pennsylvania legislative leaders and the Trump campaign, believe the ruling is an overreach and have sued to overturn it. The U.S. Supreme Court has upheld it twice.
Boockvar initially told counties they should "segregate" late-arriving ballots, and not count them until they got further instructions. Then, new instructions came on election night: she told counties they should still keep late ballots separate from the rest, but could count them.
"Every one of those ballots will be counted by the counties, but they will keep those results segregated, and the ballots segregated," Boockvar said Wednesday.
Republicans are concerned that counting the late-arriving ballots might make it more difficult for them to be thrown out in court later. The Trump campaign intends to appeal the U.S. Supreme Court's most recent decision upholding the late ballot acceptance — one of many lawsuits it is filing.
Boockvar noted Wednesday afternoon, the number of late ballots counties have received so far have been small — in the hundreds statewide, and just a small fraction of total mail ballots.
For instance, Montgomery County, which has received nearly 243,000 mail ballots, reported Wednesday that 153 had so far come in late, and could be counted.
"It seems to be a much lower number of late-arriving ballots than we saw in the primary," said Boockvar. "It's anecdotal, I've only heard from a couple of counties…but that's good news."
The fate of the down-ballot races
Pennsylvania Democrats had high hopes for retaking the state House and Senate going into the election. But so far, the triumphant wave of victories they'd hoped for hasn't materialized.
Enough mail ballot results are still missing that it remains too soon to call most of the races, and there are a number of close contests that could flip.
If the status quo remains, that would mean at least two more years of partisan tension between Democratic Gov. Tom Wolf and the House and Senate.
Results have been clearer in at least one congressional race. The Associated Press has called the 1st Congressional District, which covers all of Bucks County and part of Montgomery, for the Republican incumbent, Brian Fitzpatrick.
Fitzpatrick is a moderate in a purple district who has worked hard to distance himself from Trump without opposing him outright.
The district sits in an area of the state that's been getting steadily bluer. That has made GOP-held seats there key targets for Democrats. With Democrat Christina Finello running on her own moderate bona-fides and union support, the district was one of the party's best shots for a 2020 flip.
But although votes are still being counted, Fitzpatrick has a sizable lead over Finello. He had an upper hand throughout the race — consistently raising more money, and even outstripping FInello in union endorsements.
Despite the AP's call, Finello's campaign has not conceded.
Ali Anderson, Finello's campaign manager, said in a statement that "Bucks and Montgomery County officials are still working their way through tabulating tens of thousands of mail-in ballots."
The campaign, she said, believes "this number will grow even more as additional mail-in ballots are delivered through the November 6 deadline for elections officials to receive these ballots from the USPS."
Pennsylvania's other most closely watched congressional matchup is the 10th District, which covers Dauphin County and parts of York and Cumberland. Most of the results from Dauphin and York are in, but Cumberland is still counting and the race remains too close to call between incumbent Republican Scot Perry and Democrat Eugene DePasquale, the state auditor general.
Three other Pennsylvania races, the 8th, 7th and 17th, also look close. In each, Democratic incumbents are expected to hang on.
Pennsylvania's three statewide row office seats — attorney general, treasurer and auditor general — are all close.
Incumbent Democratic Attorney General Josh Shapiro has been trailing GOP challenger Heather Heidelbaugh slightly, though he's running ahead of Biden and will likely make up the difference.
Democrat Joe Torsella, the incumbent treasurer, could be in a slightly tougher position. He's been running about a point behind Biden against GOP challenger Stacy Garrity, and even though mail ballots across the state have heavily favored Democrats, it's possible that the trend won't be as strong in down-ballot races.
The race for Auditor General looks even tougher for Democrats, who have held the position since 1997, when now-U.S. Senator Bob Casey won the job. Democrat Nina Ahmad is running about three points behind Biden against Republican Timothy Defoor.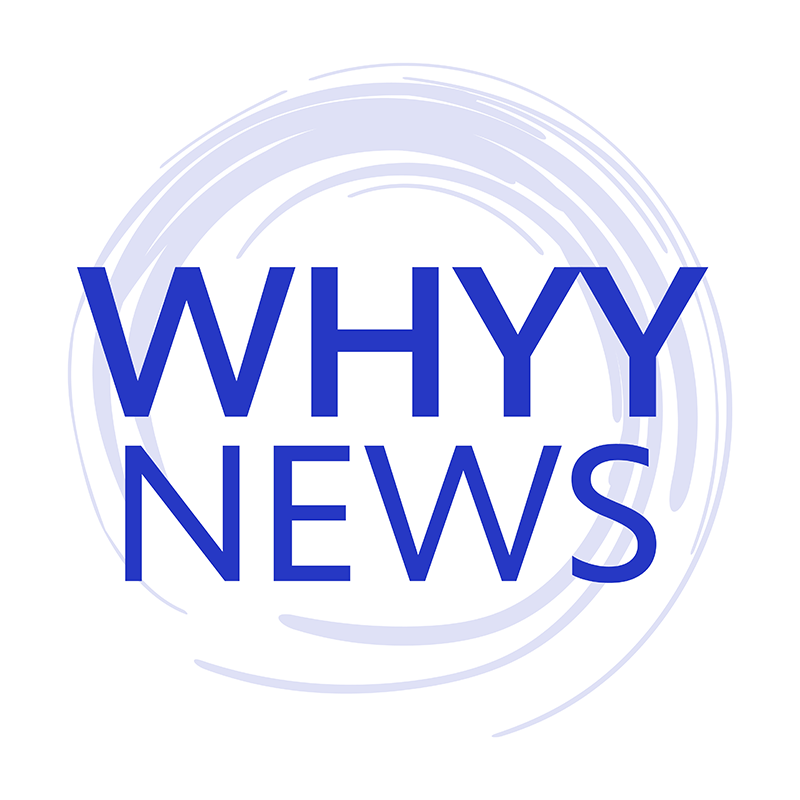 Get daily updates from WHYY News!
WHYY is your source for fact-based, in-depth journalism and information. As a nonprofit organization, we rely on financial support from readers like you. Please give today.