Love Note #159: Andrew Nusca's love note to 30th Street Station's warm, gilded embrace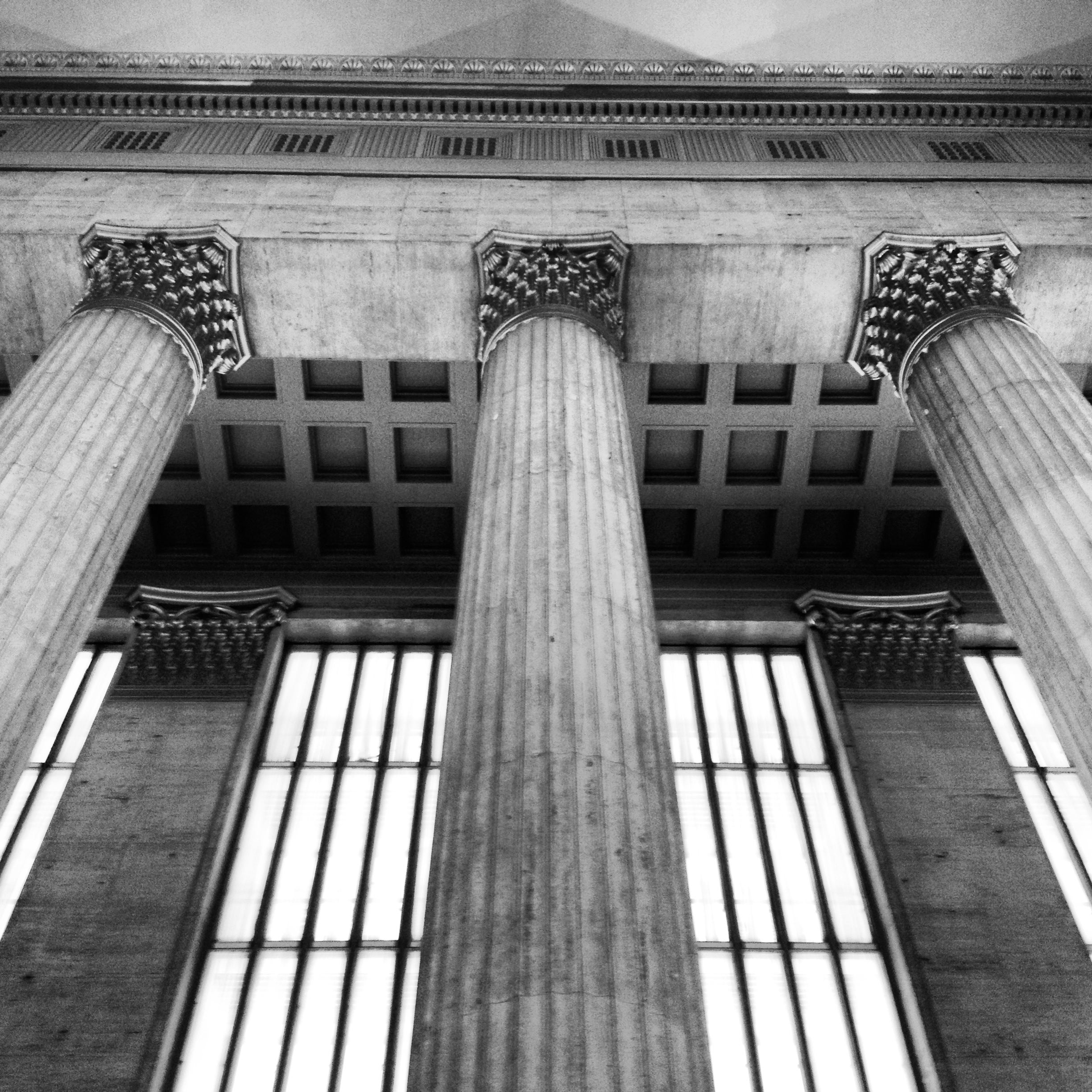 Here's another installation in our Philly Love Notes collaboration – an ode to our city's grand temple to transportation: 30th Street Station.
Favorite spot: 30th Street Station

Neighborhood: University City

Address: 2951 Market Street
I am: A writer and editor who was raised in Montgomery County, works in New York and lives — for now — in Philadelphia.

Years in Philly: 20, if you count the 'burbs

Current neighborhood: Cedar Park, West Philadelphia
Dear 30th Street Station,
I admit it that it is counter-intuitive to write a love note to a place in which people exit the city of Philadelphia in droves, but we must also remember that it is a place where people enter it, too.
And my, what an entrance one makes. As you slowly ride the escalator up from the dark, cheerless train platform, glimmers of gold begin to peek over the threshold, soon revealing a soaring coffered ceiling punctuated by capsule-shaped art deco chandeliers. You step away from the stairwell, look around, and orient yourself using the 71-ft.-high Corinthian columns at each end. Below you, the heels of hurried travelers click on the Tennessee marble, echoing across the 95-ft.-high expanse. Before you, passengers file courteously behind draping velvet ropes. Above you, the archangel Michael, rendered in columnar bronze as a war memorial, watches over the proceedings.
Then, over the public address system, a man's deep, booming, deliberate voice: "Ammmmmmmtrak train one-seventy, to Trenton, Newark, New York, New Haven, Providence and Bostonnnnn, now boardingggggg on track threeeeeee."
Yes, this is how to welcome someone to Philadelphia: in a warm, gilded embrace.
My job in Manhattan often takes me away from this town, and for spells, my life removes me from it completely. But each time I return, I pass through the porticos of this station and feel how monumentally wonderful, and eminently civil, Philadelphia is.
When I'm on my way out of the city, yet early enough to linger for a few moments, I slouch on the worn, sloping walnut-colored pews and sip coffee and watch people criss-cross the concourse: a bobbling child struggles to keep up with her long-legged parent; a high-heeled woman pauses, then bends, to fix bunching in her tights; an old, bespectacled man with wiry gray eyebrows looks up from his morning paper; a tidy business traveler clad in a gray overcoat frowns as he taps through presentation slides on a tablet computer.
There aren't too many urban transit stations where you can do this anymore.
Architectural historian Vincent J. Scully, Jr. once bluntly assessed another Pennsylvania Station, the one 99 miles to the north, in New York, by contrasting its airy pre-1963 incarnation with the present day version shoved beneath the Madison Square Garden arena: "One entered the city like a god, one scuttles in now like a rat."
There are no rats in Philadelphia, at least not according to way 30th Street Station receives its guests. And if there are, they must surely wear natty red conductor's caps like the smiling porters found here.
Love,
Andrew
(Philly Love Notes)

(Philly Love Notes)

(Philly Love Notes)

(Philly Love Notes)
Philly Love Notes is a collection of reminders. There is too much in the city that is forgotten or overlooked. Philly Love Notes seeks to rediscover those places — to remind the city, and us, that it is loved. Want to share your favorite spot? Drop Philly Love Notes an email with your idea.

Eyes on the Street has teamed up with Philly Love Notes to feature especially plannerdly love notes about places in Philly on this blog. So far we've shared love notes about bikes at Rittenhouse Square, a walk through Ed Bacon's greenways, a twofer about Penn Treaty Park, Drexel Park, Wayne Mills, where the Reading Viaduct meets Noble Street, stoop culture, the Parkway Central Branch of the Free Library, the Woodlands Cemetery, Frankford, a log cabin in Northern Liberties, memories of Independence Hall as the city's most prime stoop, and Passyunk Square's singing fountain.
This piece originally appeared on Philly Love Notes on March 6, 2013.
WHYY is your source for fact-based, in-depth journalism and information. As a nonprofit organization, we rely on financial support from readers like you. Please give today.