Look Up: Our collection of German, Flemish Revival mansions
Dec. 21
By Alan Jaffe
For PlanPhilly

"Look Up" is a new feature of PlanPhilly that encourages appreciation of our architectural and historical environment. Each week, the photo essay will focus on a different Philadelphia area neighborhood and its distinctive building styles and details, all of which make up the physical fabric of the city and region.

Philadelphia was the focus of the world in 1876, when 250 buildings representing 37 nations attracted 10 million visitors to the Centennial Exhibition in Fairmount Park. Temporary hotels and restaurants surrounded the grounds of America's first world's fair.

Yet after the fair, only Memorial Hall and Horticultural Hall were left standing. With the arrival of the electric trolley in 1895, developers returned to the Parkside area. German brewers Frederick Poth and Joseph Schmidt purchased much of the land and hired the era's fashionable and avant-garde architects to erect an extraordinary collection of German and Flemish Revival mansions and apartment buildings.

The buildings fell into disrepair in the late 1950s and '60s. But in 1983 Parkside was added to the National Register of Historic Places, and the Parkside Historic Preservation Corporation has been carefully restoring the structures over the past 25 years, helping to spark the revitalization of the neighborhood and the Centennial District. On Dec. 11, the Philadelphia Historical Commission voted to designate Parkside as a historic district.


The Art Nouveau form of a woman gazes from the top of a Parkside home toward Memorial Hall.

The Brentwood apartment complex, built in 1897 and attributed to architect Angus Wade, is three double-wide houses with elaborate gables.

The three sections of the Brentwood are connected by a terra cotta porch supported by ornate columns.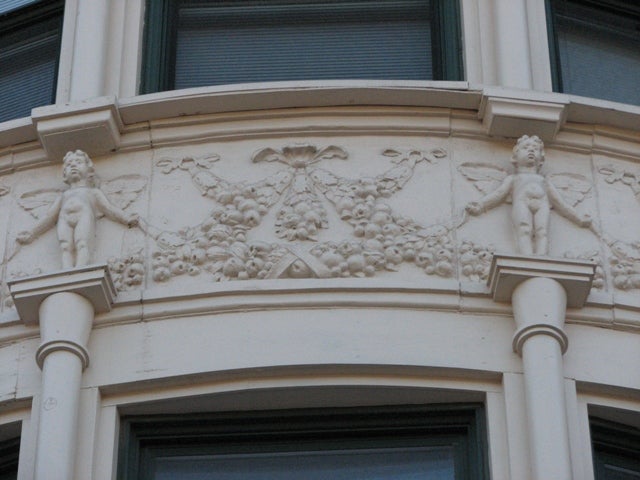 The central section of the Brentwood is adorned with rows of cherubim.

A stone owl perches atop a column of the Brentwood porch.

The Flemish Revival style tops off the Brantwood I apartment building.

On the streets running perpendicular to Parkside Avenue, some of the mansions await restoration.

A developer recently restored this house at 42nd and Parkside. The original copper trim shines in the morning sun, recalling the 19th-century grandeur of the Parkside homes.

The copper windows glisten on the home on the left. Most of the copper trim on the 4200 block retains a verdigris coating. H.W. Flower and Frederick Newman each designed groups of double houses of Pompeian brick with copper and terra cotta trim along the avenue.

The original, ornate ironwork still hangs between many of the houses on Parkside Avenue.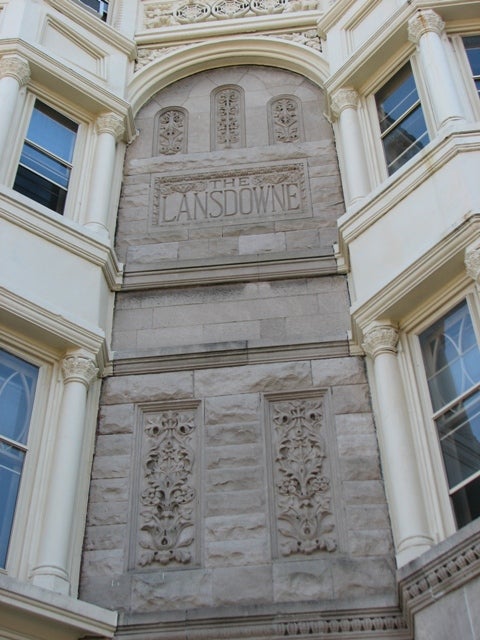 J.C. Worthington designed the Lansdowne apartment building at 41st Street and Parkside.