Limerick Township proposes tax increase to preserve land amid rise in development
On the November ballot, Limerick Township residents will decide if they want to pay more earned income tax used to preserve open space, which could slow down development.
Ask us: As Election Day draws near, what questions do you have?
Amid an influx of development plans in Limerick Township, Montgomery County, the township is proposing an open space tax — an earned income tax increase that would be used to preserve open space.
Residents will make the final call on this November's ballot.
A ballot question asks Limerick Township if they want a 25% increase to the township's total earned income tax to use solely for purchasing open space. The funds could create more recreational land, passive land, park land, and trails.
The township and its school district, Spring Ford Area School District, already collect 0.5% each of earned income, totaling a 1% earned income tax for township residents. If this tax is enacted, the total earned income tax would be 1.25%. For every $50,000 of taxable income (the median household income is $96,914), according to Limerick, the EIT will increase by $125.
For 2023, Limerick will receive about $5.4 million from earned income taxes. With the proposed increase, Limerick estimated it will receive an additional $2.1 million annually.
With just over 20,000 residents, Limerick has seen a recent spree of development — including proposed warehouses on a 116-acre plot of land and plans for more than 450 housing units and a 332-unit apartment complex — that has caused some concern among residents.
"One of the big pain points for anyone that's lived in the township is the amount of development that's going on currently. And right now, there is nothing for the township to do to slow it down or stop it," said Allen Dowhie Jr., a township resident and former member of the township's now dissolved Citizen Advisory Committee for the Open Space Plan.
Dowhie said this move allows the township to act effectively against rapid development.
"We're just trying to proactively get ahead of it and preserve as much open space as possible," Dowhie said.
Township Manager Daniel Kerr said the open space tax plan would allow the township to "preserve some properties that could come under development," basically, "control development."
On the other hand, of course, it is another cost for residents. "We do have a lot of open space preserved already," Kerr said. There is just over 1,942 acres of open space in Limerick, equaling 13.3% of land in the township.
"So I guess we're going to find out if the voters think that there's enough already or if they're willing to continue to preserve the open space and the natural resources of the community before they come under the hand of development," Kerr said.
The question has been a few years in the making. The township began to re-look at its open space plan in 2019 and hired private consultant Sarah Leeper with Simone Collins Landscape Architecture to work with the township's newly formed Open Space Committee. The committee finalized the Open Space Plan this year and presented it to the township supervisors in January.
"The new revised plan highlights objectives for open space preservation, new park land, passive lands," Kerr explained.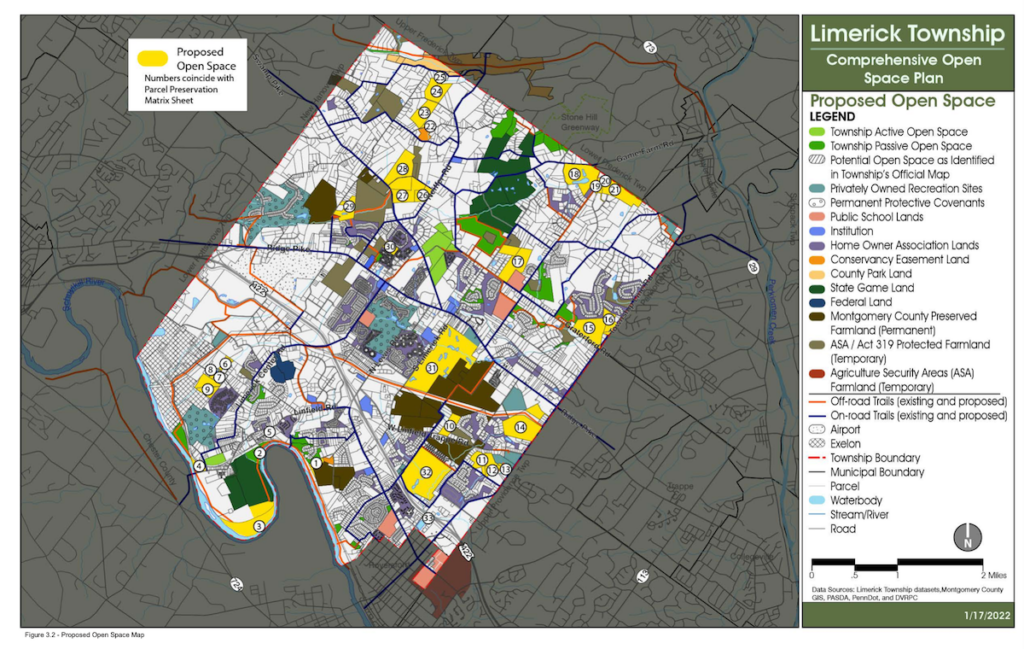 Limerick's board of supervisors appointed a new Open Space Committee, which will come together if the EIT is approved. The committee would work with the board to ascertain where the money should be spent, using the Open Space Plan as a foundational guide.
Resident survey reveals most want more open land
The township surveyed residents from November 2019 to March 2021 to gather feedback on preserving open space. Out of 628 total responses, without everyone answering each question, 454 said Limerick needs more public parks, natural areas, and open space.
Approximately 55% of respondents said they felt they did not have adequate open space near where they live — most said they drive to parks and would prefer to walk.
Roughly 48% of respondents said they would support an earned income tax increase to preserve open space, and 20% said they were unsure. The survey listed other ways the township could fund the acquisition of land, including dedicated funds from earned income tax, general township funds as budgets allow, bond referendum, partnerships with private land conservancy, matching grant programs, and private donation or dedicated lands. Respondents' top three choices were private donation, grant programs, and land conservancy partnerships.
The Open Space Plan states that "an EIT referendum for open space is needed to provide opportunities to utilize capital funds as leverage for matching grants. However, applicable grants are very competitive."
Kerr said that Limerick's Open Space Committee landed on using EIT to fund open space acquisition because it forces the question of preserving space on the referendum. He said it's a "steady funding stream," compared to a one-time donation that can't be used as leverage to get other loans, bonds, or grants.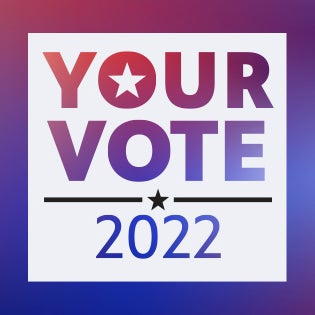 Your go-to election coverage
WHYY is your source for fact-based, in-depth journalism and information. As a nonprofit organization, we rely on financial support from readers like you. Please give today.