Lily Pads Frozen Yogurt opens on Willits Road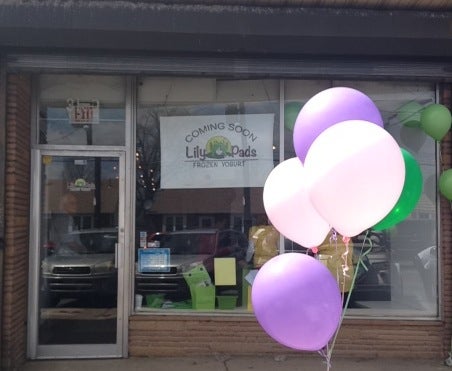 Not quite yogurt, not quite ice cream, but just in time for the warm weather is Lily Pads Frozen Yogurt, the newest addition to the shopping center at 3130 Willits Rd. in Academy Gardens.
Saturday's grand opening started at 10 a.m., and was marked by an old-fashioned car and pink, purple and green balloons in the busy parking lot. By noon, the shop was bustling with customers as employees greeted the new patrons, complimented kids on their yogurt concoctions and wiped small messes off the green counters.
Lily Pads is new to the shopping center, but owners Diane and Keith Kirschner are not. The Bucks County-based spouses own A&L Appliance. Though they still own that business, they decided to close the Willits Road location and move away from the parts side of the business. Frozen yogurt, for the Kirschners, seemed like the next logical thing to do with their storefront.
"They're flourishing in Bucks County," Diane said of the frozen yogurt business. Several companies have franchises and small mom-and-pops in the suburbs and nearer to Center City, but the trend hadn't really yet taken off in the Northeast.
The couple did a lot of research, which Diane admits, involved sampling a lot of yogurt.
"It took some time to work with the city [for the permits] and check out a lot of different yogurt places," she explained. "And we were trying to come up with some new and different things we wanted to do."
Current flavors
Non-fat alpine vanilla
Sorbet mango tango
Non-fat very strawberry
Low-fat cake batter
Low-fat peanut butter
Non-fat cable car chocolate
Non-fat thin mint
Non-fat cookies and cream
The result? Eight current flavors and three bays of sneeze-guard protected toppings to choose from, including fruits, nuts, candies, cookies and marshmallows. Diane's favorite is peanut butter and chocolate yogurts with walnuts.
Each of the four machines has two flavors, as well as a twist option, but customers can really create any type of dish they like, served in a bowl, cone, or — one of the Kirschner's new ideas — sandwiched between two fresh-baked cookies.
The store has eight employees, and the Kirschners say if all goes well at the first location, they may consider expanding. For now, they're focusing on the Willits Road shop. They're getting to know the customers, and will decide if the flavors and hours need to adjust to better meet patrons' needs. Customers can expect more deals in the future, like the 25 percent off deal during the grand opening, and Diane said she plans to reach out to local kid-focused organizations like club and sports teams to talk about fundraisers.
"We love kids," Keith said," we have three of our own. In fact, the initials of their children — ages 13, 11 and 11 — can be found in the Lily Pads logo.
Lily Pads is located at 3130 Willits Rd.215-260-7893. Hours: Mon -Thurs and Sun: 11 a.m. – 9p.m., Sat: 10 a.m. – 9 p.m. Allergy and dietary restriction information available upon request.