'License to Inspect' enables easy monitoring of L&I data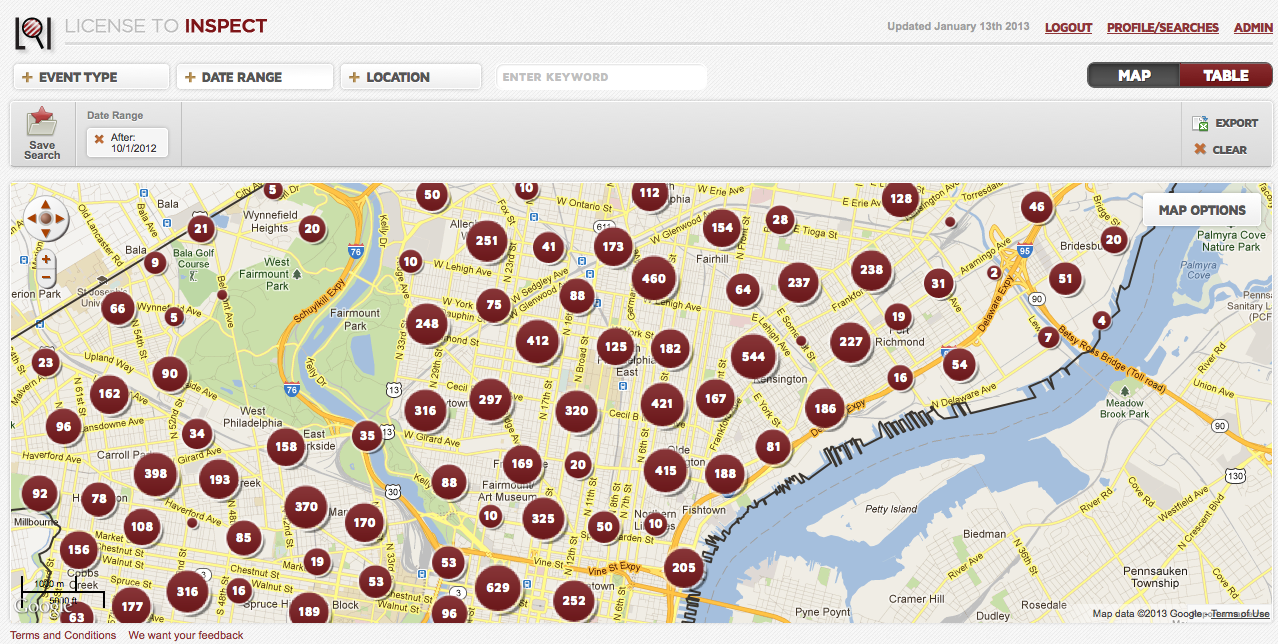 Today, PlanPhilly and Azavea released a new online tool that makes it easy to monitor construction, demolition, and code violations in targeted areas of the city. The tool, called License to Inspect, enables users quickly to search, display, sort, and save data collected by the city's Department of Licenses and Inspections. It was developed by Azavea, a local GIS software firm, with funding from the William Penn Foundation.
"As more and more municipalities nationwide release their data, applications like 'License to Inspect' are made possible, which in turn fosters a dynamic dialogue between data consumers, software engineering companies, the public, and the municipal government that holds the data," Azavea said in a press release.
The use value of License to Inspect should be immediately apparent to community groups and journalists, in particular. During testing last week, LTI led me quickly to the people involved in the demolition and redevelopment of the half-demolished Ruffin Nichols Memorial AME Church, at 11th and Mt. Vernon streets. Without knowing the precise address of the church, I used LTI to zoom in on the location until it displayed a handful of permits connected to different addresses for the same property, between 618 and 622 North 11th Street. In a matter of minutes, I was able to call the individuals listed on the permits; their failure to return any of my calls shouldn't be held against License to Inspect.
A particularly useful function for community groups, neighborhood activists, and development watchers is the ability to save searches and receive relevant updates at regular intervals via email. Everyone who wants to be alerted when zoning or construction permits, vacant property licenses or demolition permits are issued in their neighborhoods should find that the LTI app serves that need well.
The app lets users select from a list of common "event types": addition permits, alteration permits, sign permits, vacancy licenses, housing inspection records, and many more. These can be displayed individually or in groups, in limited or unlimited date ranges, and citywide or in particular locations. Additionally, users can search keywords to turn up permits for less common event types—L&I has allowed the tool full access to its online records.
"Through OpenDataPhilly and other efforts, Azavea has supported and promoted Open Data in Philadelphia for several years," said Azavea founder and president Robert Cheetham, in a press release. "PlanPhilly could not have provided this online tool to the public without the City's willingness to share the data related to licenses and permits. This project is a real demonstration of how open data can enable new types of applications and services that benefit the public."
Try License to Inspect for yourself today.
Contact the reporter at jbrey@planphilly.com and follow him on Twitter @jaredbrey
WHYY is your source for fact-based, in-depth journalism and information. As a nonprofit organization, we rely on financial support from readers like you. Please give today.