Lehigh Valley congressional race in play for control of the House
Listen
4:52
Following Pennsylvania's recent redistricting and the retirement of Republican U.S. Rep. Charlie Dent, the Lehigh Valley has become a crucial battleground in the fight to control the U.S. House of Representatives.
Three candidates, Democrat Susan Wild, Republican Marty Nothstein, and Libertarian Tim Silfies are contending for the open seat that covers Lehigh, Northampton, and the southernmost part of Monroe counties.
'A woman belongs in the House …'
On a recent Tuesday night, at a campaign field office in Bethlehem, about a dozen teachers joined a discussion about the challenges they face as educators in Lehigh Valley schools. Standardized testing, trauma-informed therapy, arming teachers, and pensions were all hot button topics debated around the table.
At the center of the conversation was Susan Wild, the Democrat running for the 7th district seat.
"One of the things I think about for all of you teachers is the incredible emotional burden you must take home with you," Wild said.
She told the teachers that education is one of her top priorities along with health care, campaign finance reform, jobs, and infrastructure.
Wild, an attorney and former Allentown city solicitor, said she became interested in running for congress to help her children and future generations. But as her campaign kicked into gear, she began to notice more people in the district who were struggling to pay their bills while working more than one job.
"I feel as though government has left behind the middle class," Wild said.
Born in Germany on an air force base, Wild grew up as a self-described military brat. She lived in France, California, New Mexico, and in the suburbs of Washington, D.C.
When Wild and her husband decided it was time to put down roots and raise a family, they settled in the Lehigh Valley.
At her campaign field office, hand-written posters decorated the walls with slogans like, "A woman's place is in the House and the Senate" and "Go Wild and fight for families."
In one section was a kid's corner with rugs, alphabet blocks, coloring books, and dinosaur magazines. In another, a group of campaign staffers huddled around their computers and spreadsheets with a stash of snacks nearby.
Although she's never held elected office, Wild squeaked by in a crowded primary with only about 1,500 votes.
Now she is considered the front-runner, leading her opponents — Republican Marty Nothstein and Libertarian Tim Silfies — in polls and in campaign cash. By the end of September, she had raised $1.5 million more than both Nothstein and Silfies combined. Outside political groups have also spent more than $1.3 million opposing Nothstein.
Wild's campaign also got a boost from Pennsylvania's new congressional district map.
Earlier this year, when the state Supreme Court declared Pennsylvania's congressional districts unconstitutional and put a new map in place, analysts said it changed the political balance to be more favorable to Democrats.
Through her decades-long experience as a lawyer, Wild says she's honed her skills of compromise and negotiation, something she thinks is desperately needed in Washington.
"For years now taxpayers are essentially paying for a bunch of people to be in Congress who can't seem to move anything forward because they refuse to meet in the middle," Wild said. "The one thing I've learned is that in order to bring about successful resolutions, both sides have to feel like they've won something."
On the night of the teacher's roundtable, John Gackenbach, a special educator in Allentown, came to the field office undecided. He didn't know much about Wild, and wanted to learn more about the candidate.
"Tonight, I walk away with that she really has our best interest for education and teacher stability and providing what the schools need for everyone to be successful," Gackenbach said.
At the end of the night, Gackenbach left with two Susan Wild lawn signs, one for himself and one for his neighbor.
Playing catch-up
On a recent Friday, at a parking lot in Mount Bethel, a tiny town just south of the Delaware Water Gap, about 20 supporters gathered around a white tent for a meet and greet with Republican candidate Nothstein.
Red, white, and blue balloons were tied to the outside of the tent. Inside, campaign staffers handed out homemade cookies and red hats that said, "Make the Slate Belt Great Again" — a nod to the region's once thriving quarries.
"Right now this election is going to be about results verses resistance and we want to continue with these results." Nothstein said.
The Lehigh County Commissioner and Olympic cyclist says he's the only candidate in the race with governing experience and, if elected, his priorities would be to keep the economy booming and bring jobs to the district.
He said voters should ask themselves some key questions: "Am I better off today than I was two years ago? Do we think this country is headed in the right direction? Are we getting more money — of our hard earned dollars — [that] we're allowed to keep?"
For most voters, Nothstein says, the answer is "yes."
Volunteer Karen Frey agrees. She's been knocking on doors and organizing events for Nothstein.
"I am not for her, I don't care if she is a woman or not," Frey said of Wild.
Instead, she wants a congressperson that will support President Donald Trump and believes Nothstein will be that representative.
"He's honest. He's been helping people all along," Frey said. "He wants to lower our taxes. He is pro-life. He's pro Second Amendment. He's a family man. He doesn't believe in socialism. He believes in capitalism."
But not everyone shares Frey's enthusiasm.
Nothstein's campaign hit a rocky patch after he announced his candidacy. An anonymous tipster lodged a sexual misconduct allegation against him over an incident dating back to about 2000. While details of the alleged incident were never made public, the complaint prompted several investigations and Nothstein was placed on unpaid leave from his job as executive director of the Lehigh Valley velodrome. Since then, U.S. Center for SafeSport, an organization related to the Olympics, and law enforcement in Lehigh County found the allegations to be baseless and cleared Nothstein of wrongdoing.
At a debate in October, Nothstein said, although he's been cleared, and that the truth is on his side, the allegations still hurt his campaign.
"At the end of the day, damage was done," Nothstein said.
And now he's playing catch-up.
In the parking lot, surrounded by supporters, Nothstein, donning a Team USA jacket, pulled out something shiny from his pocket: a gold medal he won at the 2000 Summer Olympics in Sydney. He handed it over to his supporters, who were surprised by the weight of the medal.
As part of his training, Nothstein said he's biked all throughout the Lehigh Valley.
"I've seen every corner of this district on my bicycle before I started to even campaign and we have so many great little communities in this district," he said. "People are so passionate, people are so caring. The entire district, although large in number, it feels like it's one big neighborhood."
Despite being behind in the race, in polls and in campaign dollars, Nothstein says the majority of the money his campaign raised has come from within the district, and that it's a closer race than outsiders predict.
'It's a two-way race between me and the establishment'
Back in the woods of Bethlehem, with an apple orchard nearby and the Monocacy Creek bending through his backyard, Tim Silfies' home doubles as his campaign headquarters.
On the wall is a calendar counting down the days leading up to Nov. 6. Next to the calendar is a large map of the state's new 7th Congressional District.
As a Libertarian, Silfies says his philosophy lines up with both conservatives and progressives at certain points.
When it comes to economics, Silfies leans conservative. He wants lower taxes, less regulation, a balanced budget, and free trade. But on other issues like immigration, LGBTQ rights, and ending the war on drugs, he leans more progressive.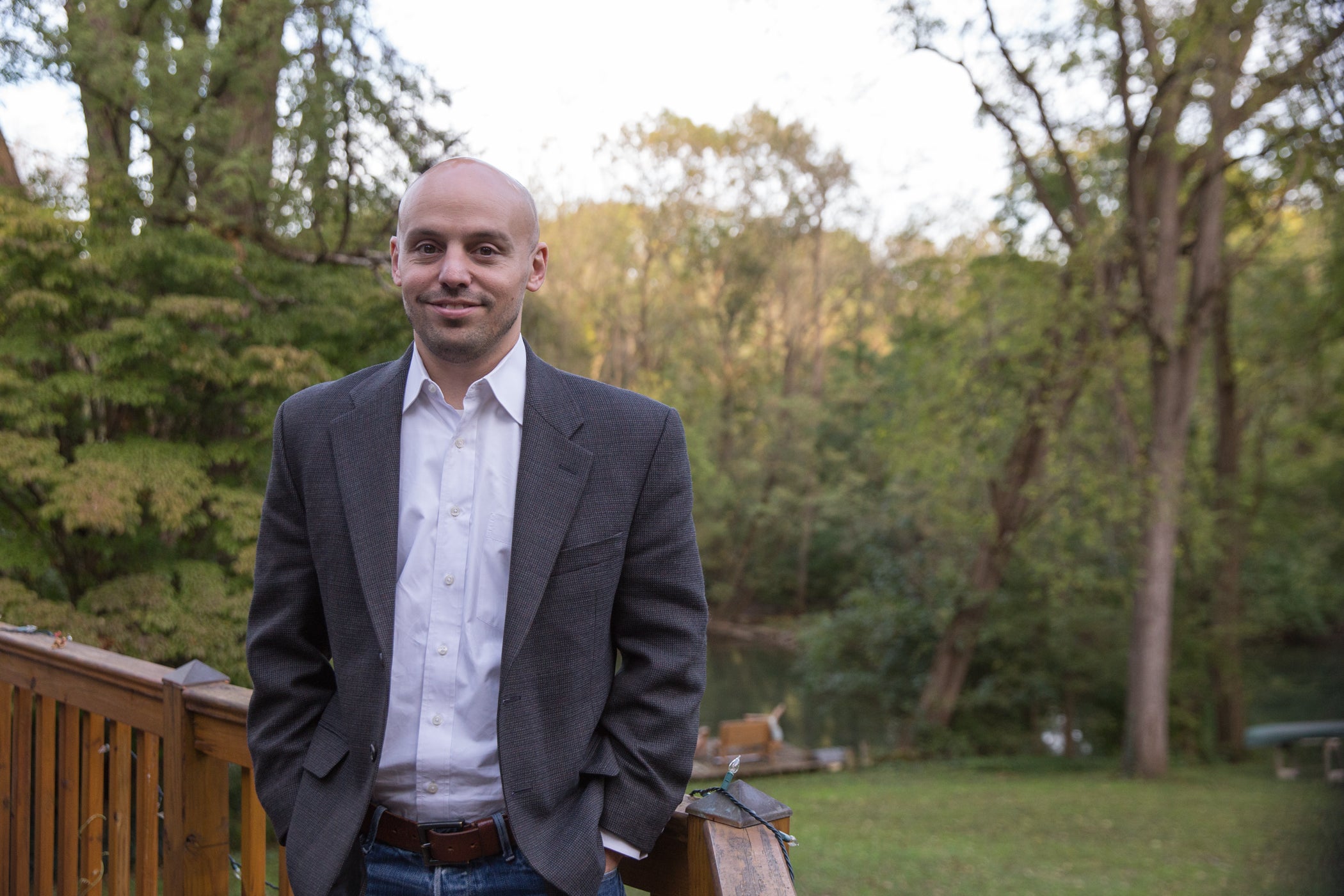 Silfies admits his underdog status in the congressional race is obvious, but argues that doesn't mean he should be counted out.
"There are weird political winds blowing right now. I mean, Donald Trump is the President of the United States," Silfies said. "To me, it seems like a logical next step. Maybe third parties will start popping up and winning."
Silfies, a former TV journalist, made the leap into politics because of the polarization and dysfunction he sees growing in Washington. With Dent's retirement and the redistricting, he seized the opportunity to run for an open seat in a new, untested district.
"I don't think people know the fabric of the district the way they think they do," Silfies said in response to projections of a Democratic win in the district.
He started by knocking on doors and gathering support one conversation at time.
One recent fall evening, Silfies visited the home of Christina Holden, a supporter in Easton, to drop off t-shirts and campaign flyers.
Holden, a communications specialist, moved to the Lehigh Valley about two years ago, and said this is the first time she and her husband have ever really gotten involved in local politics.
"Like many people, I think we reached a point where we want something different," Holden said. "It's maddening to me to see that the way that politics are handled at the federal level translate into divided communities."
She asked herself what other options are out there. After doing some research, Holden and her husband switched their voter registration to Libertarian.
"An independent congressman actually would have a lot of power, especially, with how divided things are right now. To be a swing vote in congress, there's a lot of power in that," Silfies said. "That would give our district a lot of influence and it would be a good check on when the Democrats go too far or when the Republicans go too far."
But to become that swing vote, Silfies and voters would have to make history. Pennsylvania has never elected a Libertarian candidate to congress.
Nevertheless, Silfies says the 7th district is a two-way race.
"It's between me and the establishment."
WHYY is your source for fact-based, in-depth journalism and information. As a nonprofit organization, we rely on financial support from readers like you. Please give today.