Lawmakers Street, Rabb, Muth seek to repeal death penalty in Pa.
The lawmakers are introducing legislation to repeal the penalty that is proven to be unsuccessful as a crime deterrent, incredibly costly, and a flawed system of punishment.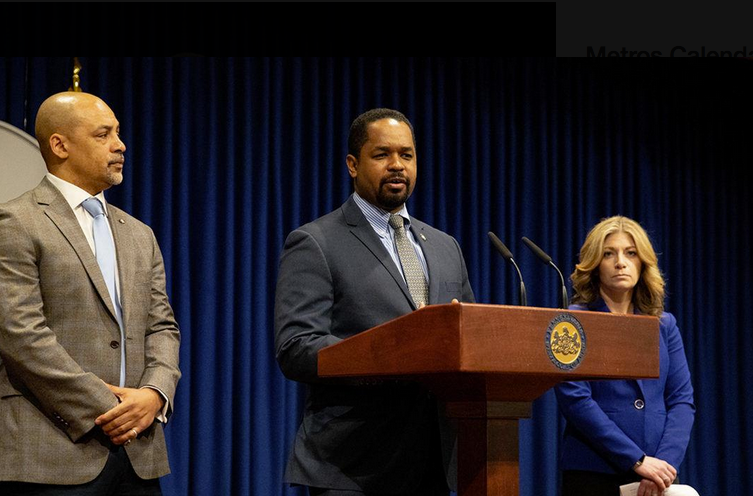 Sen. Sharif Street (D-Philadelphia), Sen. Katie Muth (D-Berks, Chester, Montgomery), and Rep. Chris Rabb (D-Philadelphia) recently joined advocates in Harrisburg as they called for ending the death penalty in Pennsylvania.
The lawmakers are introducing legislation in their respective chambers to repeal the penalty that is proven to be unsuccessful as a crime deterrent, incredibly costly, and a flawed system of punishment.
"The overwhelming cost, disparate application of the death penalty compounded by human error and it's historically arbitrary and racist implementation in our country make it unfit for any use in an efficient and truly just system," Street said. "I am proud to join my colleagues in issuing the Death Penalty Repeal Act and bringing an end to a relic of Pennsylvania's past, with no role in a future of Progressive Criminal Justice Reform."
Since 2010, states that allow the death penalty have experienced an 18% or higher increase in homicide rates compared to states that have abolished the punishment.
The increase shows that the threat of a death penalty sentence is no more of a deterrent than not having the penalty.
The lawmakers believe that allowing the courts to issue the death penalty is ineffective and unnecessary. Most convicted individuals sentenced to death typically die of old age rather than lethal injection. This is caused by the appeals process that starts after sentencing and can last decades, rendering the death penalty futile in many cases.
The legislators and advocates also shared concerns that there is the continued risk of an innocent person being wrongly and unjustly executed.
"The risk of continuing the death penalty in Pennsylvania is a high and irreparable one," Muth said. "The longer we allow our justice system to hand down a death penalty sentence, the longer we continue the risk of putting an innocent person to death."
"One innocent life taken at the hands of the state is one too many," Rabb said.
Since 1978, 408 people have been sentenced to death in Pennsylvania. Of those 408, 169 were resentenced to life, 16 received reduced sentences to a term of years, and six have been exonerated.
Advocates who joined the legislators and spoke at the event included Kathleen Lucas, Executive Director of Pennsylvanians for Alternatives to the Death Penalty (PADP); Kirk Bloodsworth, Executive Director of Philadelphia-based Witness to Innocence and the first person incarcerated on death row to be exonerated by DNA evidence; and Jimmy Dennis, a Philadelphia native and constituent of Rep. Rabb's district who was incarcerated on death row for 25 years for a crime he did not commit.
Commenting on his experience, Bloodworth stated, "if it can happen to an honorably discharged United States Marine with no criminal record, it could happen to anyone."
"There are innocent women and men in prison in this state," Dennis said. "We must understand that criminal justice reform is a must."
He said abolishing the death penalty is a must.
"I am grateful to the legislators for advocating for repeal of this failed government policy," Lucas said. "We all want a justice system that is fair, and the death penalty is anything but. It costs millions in taxpayers' money to prop up a system that hasn't resulted in an execution in 20 years."
---
Contact Johann Calhoun at newseditor@phillytrib.com or call at (215) 893-5739
WHYY is your source for fact-based, in-depth journalism and information. As a nonprofit organization, we rely on financial support from readers like you. Please give today.