KPMG: Bike-share and ride-share could cut the number of two-car households
The Greenworks plan created by the Mayor's Office of Sustainability, which was recently saved by the voters through a referendum, has an official goal for reducing vehicle miles traveled in Philadelphia, but the progress report MOTU released this spring had some disappointing news on that front.
Not only is Philly still a long way off from hitting its 2015 target, but actually since 2011 things have been moving in the wrong direction. About a third of the gains we've made since 2009 have been wiped out:
The current mix of city parking pricing and right of way policies is decidedly friendly to car owners, and especially multiple-car owners.
For instance, even with the new stepped pricing policy for residential parking permits, where it costs a bit more for each additional permit, it would still cost just $260 a year to rent four curb parking spaces on a block – slightly more than the median rate for a single month in an off-street parking lot or garage in greater Center City.
Asking people to go from one car to no cars is a harder sell than asking them to go from two or three cars to one or two, so the population of multi-car households is one of the more promising areas to go looking for VMT cuts.
According to the American Community Survey's 3-year estimate, there are 135,594 multi-vehicle households in Philadelphia County. About 33% of households don't own a vehicle, 43% own one vehicle, 19% own two vehicles, 4% own three vehicles, and 1% own 4 or more vehicles.
So about 23% of Philadelphia households have two or more vehicles, compared to 57% for the nation as a whole.
And now a new analysis of the auto industry from KPMG predicts the Mayor's Office of Sustainability could be in for a technological assist in achieving its VMT goal. They're predicting that "mobility on demand" services like ride-share (Uber, Lyft) and bike share could cut the number of multi-car households even further, and they expect the shift to be more pronounced in walkable urban areas.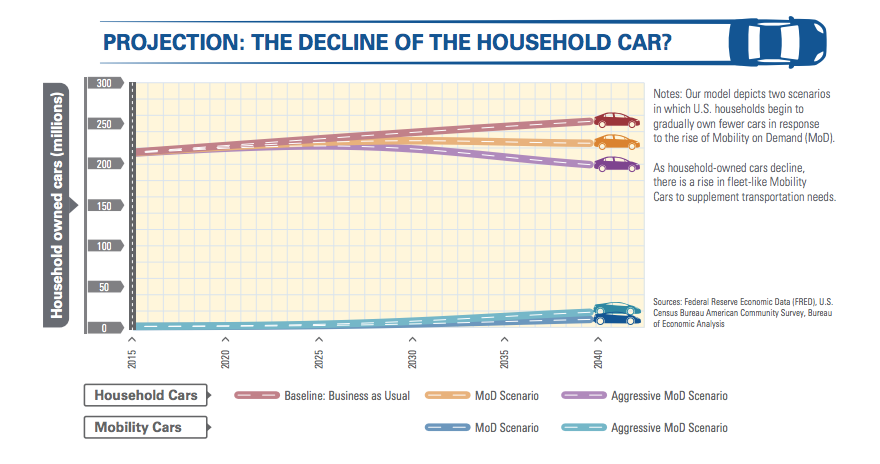 The main driver they see behind the trend toward replacement of personal vehicles with shared vehicles is simple economics. Shared vehicles are cheaper: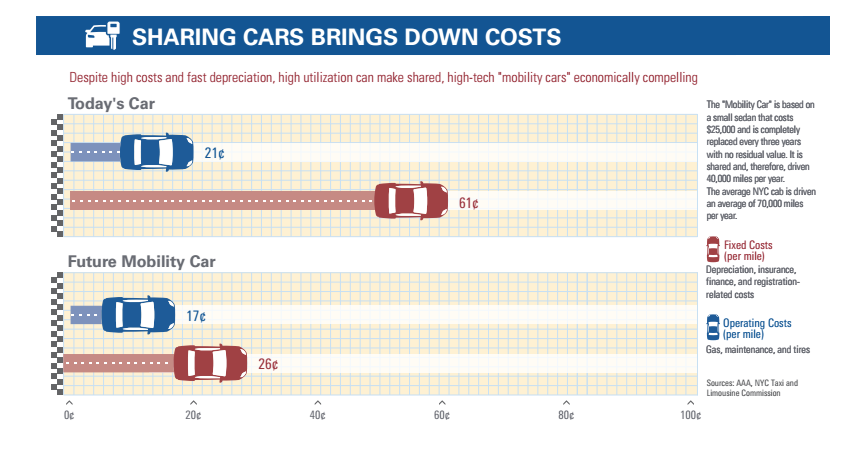 Not everybody who owns a car uses it every day. The ACS numbers found about 21% of the people with two or more vehicles available indicated they take public transit to commute to work.
This is certainly the case in my neighborhood in Bella Vista. Averaging the four Census tracts that overlap with the neighborhood, only 41% of my neighbors commute to work by car, but 62% of the households own a car.
Anecdotally, there are cars parked on the curb that haven't been moved for days or weeks at a time, which people use only occasionally to run errands or go out of town. Those are exactly the kinds of sporadic trips that could be replaced by Zipcar, taxi, bike, or bus trips, especially if each of those services were made more convenient.
Adding up all the two, three, and four-vehicle households, you get about 306,061 cars. If we assumed, as a sort of upper bound scenario, that each of these households decides to shed one vehicle in response to some more robust mobility-on-demand transportation choices, then there would be about 135,594 vehicles that could potentially go away.
But even if ride-share and bike-share systems made it possible to reduce the number of second, third, and fourth vehicles by a quarter or a third, that would still be about 76,000 to 102,000 vehicles – a potentially huge difference for curb parking availability and traffic congestion.