Kenney's 2019 budget falls short on spending for libraries, housing, critics say
Mayor Jim Kenney's annual budget address proved to be a quiet affair, with little in the way of cheering, jeering, or laughter.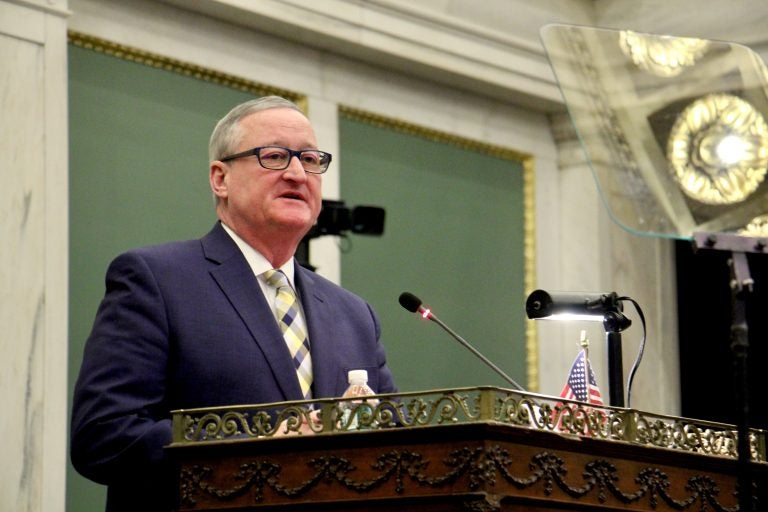 This article originally appeared on PlanPhilly.
—
Mayor Jim Kenney's annual budget address proved to be a quiet affair, with little in the way of cheering, jeering, or laughter. Two of the biggest applause lines came when Kenney highlighted a pilot street sweeping program and when he promised more funding for the beleaguered library system.
But for Yvette Hill Robinson, the mayor's commitment did not sound like much.
"We need $15.8 million, he offered $2.5, so this is just the first step of a long process," said Hill Robinson, who lives in Overbook Park and belongs to a friends group that supports the neighborhood Free Library branch. "We aren't going anywhere. The next step is working with City Council."
Luckily for Hill Robinson and her fellow library advocates, many council members agree that the city should spend more on libraries — and other resources they see as part of the city's uphill battle against poverty.
"It's definitely a budget that gives everyone the warm and fuzzies," said Councilwoman Cindy Bass, who chairs the Parks and Recreation Committee, which oversees the library system. "But our libraries need a lot of help and we know there is a big gap there."
City libraries currently operate on about $49 million annually, with about $40 million coming from the city and the rest coming from state grants and private donations. Free Library officials are seeking an additional $15 million to hire more staff and modernize facilites, as well as the collections inside. Kenney has proposed a smaller funding bump of $2.5 million.
The modest increase reflects Kenney's overall strategy for the election year ahead. It's a restrained proposal focused on incremental gains in areas like education that Kenney campaigned on four years ago.
"I'm often frustrated by the challenges we face, but it's not because the problems are too big to solve," said Kenney. "Frankly, it's just the opposite. We already have what we need to make Philadelphia a city that works for us all. And I know that this budget and plan will help us achieve [that] vision."
But the finer details of that vision have yet to come into focus, some City Council members say.  These critics said that more money should be channeled towards programs that address poverty and related issues like housing.
"Budgets are really about priorities," said Councilmember Helen Gym, who introduced a bill at a City Council meeting on Thursday that would make a tenant defense fund a permanent program instead of a pilot. "It is important to ensure the fiscal stability of the city, but we have an opportunity to make some really bold measures. We can go bigger than what is currently being offered, particularly around housing stability."
Councilwoman Maria Quiñones-Sánchez said the administration hadn't budgeted in a way that reflected a coherent strategy for fighting poverty.
"We should do budgeting around how is every department ensuring it has an anti-poverty strategy," said Quiñones-Sánchez. "The issue is not about investing enough, it's about we can't keep putting money into systems that don't work."
Quiñones-Sánchez named the Office of Property Assessment, the city's affordable housing policies, and the city's land disposition policies as examples of dysfunctional areas that affect people living in underresourced communities and need more attention.
Philadelphia councilwoman Cherelle Parker said she wants to see more money to support moderate-income homeowners in her district.
"I'm talking about down payment assistance  and housing preservation, that is what would be helpful to us," said Parker. "I will be laser focused on ensuring that every neighborhood gets its fair share."
So far, neighborhoods can expect to share an $80 million commitment to affordable housing over the next five years. Council President Darrell Clarke said earlier this week that he plans to fight for another $20 million for the city's Housing Trust Fund, and introduced three bills intended to help low-income people secure housing.  Clarke said he plans to use the upcoming budget hearings to press city agencies on plans to fight poverty.
"We will be asking every department to release their strategies for addressing and reducing poverty," said Clarke.
WHYY is your source for fact-based, in-depth journalism and information. As a nonprofit organization, we rely on financial support from readers like you. Please give today.