Justice Department to dispatch election monitors to Philadelphia, other jurisdictions
Philadelphia is among 43 jurisdictions where DOJ staff will monitor voting on Election Day.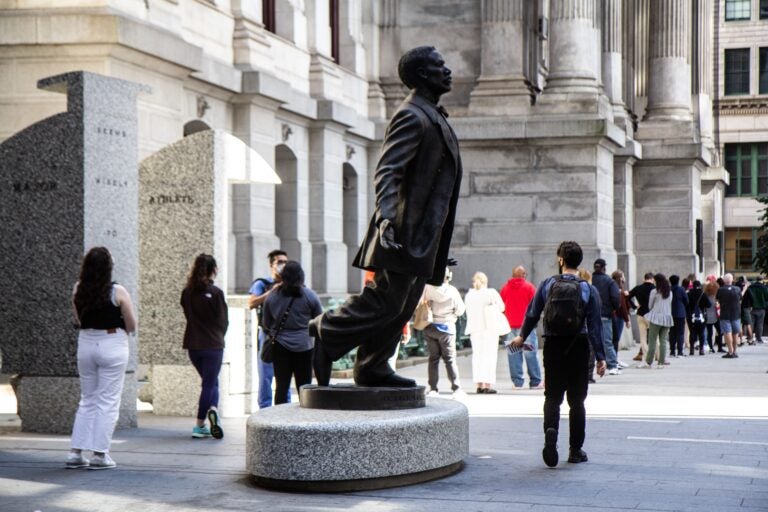 Updated: 2:30 p.m.
___
Ask us: What do you want to know about voting and the 2020 election?
The U.S. Department of Justice will dispatch staff to monitor voting on Election Day in Philadelphia, along with 43 other jurisdictions in 18 states.
DOJ officials said the monitors would "focus on compliance with the Voting Rights Act" in the 43 localities scattered across the country mostly in populous states such as Pennsylvania, New Jersey, Arizona, Florida, Massachusetts and Michigan.
"Federal law entrusts the Civil Rights Division with protecting the right to vote for all Americans," said Eric S. Dreiband, Assistant Attorney General for the Civil Rights Division. "Our federal laws protect the right of all American citizens to vote without suffering discrimination, intimidation, and harassment."
According to the DOJ statement, staff would be on call to enforce federal statutes such as the Voting Rights Act or the Americans with Disabilities Act. The division also enforces language access and federal criminal statutes that prohibit voter intimidation or suppression based on race, color, national origin or religion.
President Donald Trump has repeatedly called for partisan election monitors to be dispatched to cities like Philadelphia. United States Attorney General William Barr, who heads the DOJ, recently drew an ethics complaint from a bipartisan group of lawyers for allegedly using his office to further the president's reelection chances.
But local experts said the move to dispatch monitors was largely in line with prior election years, which saw DOJ lawyers sent to large cities or other areas with high numbers of residents who spoke English as a second language to enforce language access provisions, for example.
"It is routine for the DOJ to send teams to communities covered by the language access provisions of the Voting Rights Act and where they have received complaints," said Democratic election attorney Kevin Greenberg. "Voters should expect, and require, that any DOJ presence to be a routine presence of career officials."
Greenberg noted the DOJ was focused on fewer jurisdictions nationally than in past elections and the same three jurisdictions in Pa. as in 2016 — Philadelphia, the Pittsburgh area and the Lehigh Valley. In New Jersey, they will be headed to Middlesex and Bergen counties.
He hoped the federal presence would be supportive and "reassuring" to voters.
"It is time to let the votes be cast and counted and hopefully the federal presence occurs in an unobtrusive manner that protects the rights of voters to vote and for those votes to be counted," Greenberg said.
U.S. Attorney William McSwain, who was appointed by Trump for the district in eastern Pennsylvania, did not immediately respond to questions about whether the local office would be coordinating with national staff. His office stated in mid-October that it would also be on call to respond to reports of election fraud or voter intimidation.
Residents who wish to report possible violations of federal voting rights laws can do so on the department's website or by telephone toll-free at 800-253-3931. Individuals with questions or complaints related to the ADA guidelines can call toll-free at 800-514-0301 or 800-514-0383.
WHYY is your source for fact-based, in-depth journalism and information. As a nonprofit organization, we rely on financial support from readers like you. Please give today.