Johnny Doc charges rattle Pennsport
Listen
2:10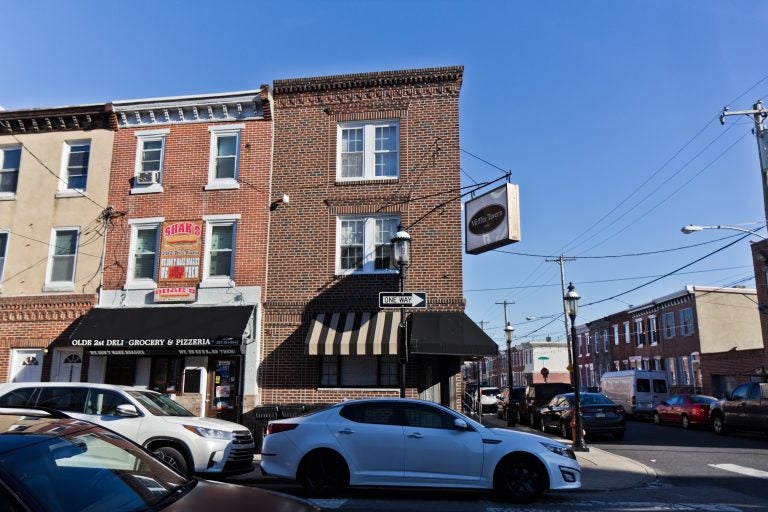 This story originally appeared on PlanPhilly.
—
Frank Kryszczak hasn't lived in Pennsport since 1985, but he still returns for a beer or two on occasion. Wednesday evening — hours after news of union leader John "Johnny Doc" Dougherty's indictment broke — was one of those times.
"There used to be three jobs in this neighborhood — policeman, firefighter, and longshoreman," said Kryszczak. "But now there's a fourth: IBEW electrician."
He sat at the bar in Mick Daniel's Saloon on 2nd Street as conversations about the indicted International Brotherhood of Electrical Workers' leader's influence on this tight-knit South Philadelphia neighborhood flowed.
Dougherty grew up in Pennsport and still lives there, as do many of the union's members.
But Kryszczak was one of few in the neighborhood who wanted to talk to a reporter about the union boss. His comments reflected a theme that emerged among those willing to go on the record and surfaced in the explanations of why others did not want to talk — the outsized role that Dougherty and his union play in this row house community even as the labor movement continues to shrink nationally.
A bartender at Mick Daniel's explained that Dougherty is a pillar of the community.
"People down here think the world of Johnny Doc," he said. "He gives to charity. It was just on the news that he gave a big check to the Ronald McDonald House. Local 98 lead the fight against drugs, sued the pharmaceuticals companies, getting people into rehab rather than jail."
At Dee's Place, another 2nd Street bar, a self-identified 98 member said that he didn't care if the charges were true. He still supported Dougherty, who took over the 5,000-member union in 1998 and led it to power, prestige, and a whole lot of work.
A couple men in Local 98 windbreakers sat over bottles of beer across the street at McKenna's Bar. They shook their heads when asked for a reaction to the indictment.
Reporter Dave Davies digs deeper into Doc's indictment on Thursday's episode of WHYY's The Why. Listen now and subscribe on Apple Podcasts or Stitcher. 
That was the basic reaction found up and down the "Two Street" strip of bars on 2nd Street between Snyder and Washington Avenues — longtime hangouts for white, working- and middle-class natives of South Philly.
A patron of O'Jung's Tavern who identified himself as Dr. Marty and did not want to give his last name described Dougherty as a benevolent boss of the neighborhood.
"I'm proud to know him — Johnny Doc always helped a lot of people," he said. "You got a problem, you come see the Doc. You can't always count on your representatives in this city, but Johnny Doc would help you if he could."
A woman who answered the door at the Sacred Heart of Jesus Convent said that Dougherty lives on her block and she couldn't discuss the indictment. She said the union boss is a good neighbor.
Another local woman, a worker at Pennsport Barber Shop, said that she couldn't talk about the situation because her husband is in the union.
A man walking down Second Street refused to talk to a reporter. He explained that he lives in Pennsport and therefore cannot discuss the matter.
The bartender at Mifflin Tavern, the 2nd Street bar that replaced former Local 98 hangout, Doc's Union Pub, acknowledged the union's connection to the bar. She said she couldn't talk.
Only three of 14 people asked for comment outside 2nd Street bars would speak on the record using their full names.
Elliott Landis was one of those people. He moved to the neighborhood within the past decade and lives on the northern end, nearer Washington Avenue. He said sentiment in Pennsport is split about Dougherty. More of the residents further south have lived in the neighborhood longer and are generally more supportive of the union leader, he opined.
"This neighborhood is split between people who've been here a really long time and newcomers," said Landis. "I think maybe the folks who've been there a long time might have a different opinion because they have family and friends in the union."Pennsport is considered a political bellwether in the city. Even as the area gentrifies and newcomers like Landis move in, it remains home to multigenerational Philadelphia families with deep ties to the city's institutions. Local 98 is one of them.
Ward leader elections have gone to union allies, and a 98-supported state representative won election after election for years. Other labor allies filled powerful appointments to entities like the Interstate Land Management Corporation and the Zoning Board of Adjustment. The former head of that body, Jim Moylan, was also indicted on Wednesday. Before leading the ZBA, Moylan presided over the Pennsport Civic Association.
In recent years, Electrician Union-supported Jonathan Rowan lost the state rep seat to a progressive newcomer (and former WHYY reporter) Elizabeth Fiedler. Union allies lost two ward elections to other relative newcomers.
"The sentiment among my friends and the group of people I roll with is that they're not real fond of the union bully tactics that go on," said Landis, who said he was particularly disturbed to read about Dougherty allegedly pressuring the Children's Hospital of Philadelphia to use union labor to install an MRI machine.
"That was really disturbing," said Landis, who works in the insurance industry. "That kind of stuff always bothers me when I hear stuff like that."
But Landis was one of only two people PlanPhilly spoke with in Pennsport who expressed even a slightly negative view of the union. The other refused to give his name.
Disclosure: The Electricians Union Local 98 represents engineers at WHYY.