'Johnny Doc' charged: The political fallout
Listen
4:02
The federal indictment charging electrician's union leader John Dougherty with a long list of crimes didn't just wound a powerful labor union.
It could take down the most prolific political spender in Pennsylvania, a kingmaker who's helped elect mayors, governors, lawmakers and judges for more than two decades.
The political committee of Dougherty's union, the International Brotherhood of Electricians Local 98, typically gives more than $2 million a year in donations to candidates and political committees, and that doesn't include its spending on field operations and other political work.
Democratic strategist Mark Nevins said the removal of Dougherty, known widely as "Johnny Doc," from the political game would have far reaching impact.
"Doc and Local 98 are a center of gravity in a campaign environment," he said, "and when you remove that center of gravity, things tend to drift, and the typical political path is no longer as predictable."
Reporter Dave Davies digs deeper into Doc's indictment on Thursday's episode of WHYY's The Why. Listen now and subscribe on Apple Podcasts or Stitcher. 
Mayoral matter
A key question for the moment is whether Dougherty's indictment will weaken Mayor Jim Kenney's chances of re-election this year.
Local 98 contributed $450,000 to a Super PAC that supported Kenney's winning effort four years ago, and raised large sums from others for the committee.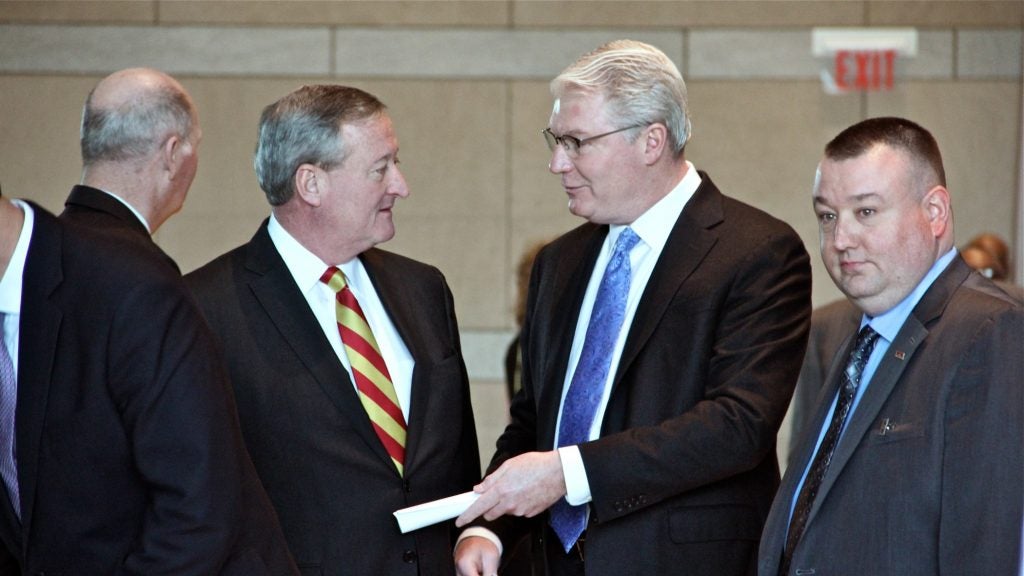 Alan Butkovitz, the only announced candidate to oppose Kenney in the Democratic primary, said in a phone interview it's hard to see how the union could replicate that effort this spring with Dougherty under indictment.
Butkovitz said Kenney would miss Local 98's money, and perhaps even more important, Dougherty's fundraising ability among other building trades unions.
"If he loses John Dougherty, he doesn't have anybody of that stature or that power or that impact that could equal the effort that John Dougherty put into it," Butkovitz.
Nevins said Kenney is in a better position to do without Local 98's help than he was four years ago, because he's an incumbent with a record to run on.
"I'm sure that not having Local 98 or Doc's support will be something the campaign's going to have to reckon with," he said, "but it's not a deal breaker. It's not a death knell for Jim Kenney."
There's also the question of whether voters will think less of Kenney when one of his key supporters is an accused criminal.
Kenney declined to comment directly on the indictment when asked Wednesday, but noted that no one in his administration was involved the case.
He also seemed to downplay his political ties with Dougherty.
"Mostly every union in the city has supported me, along with other folks who are in the business community," he said.
Kenney told the Inquirer Wednesday he intends to go forward with his re-election fundraiser Thursday hosted by Local 98. He said the contributions come from members, not the union leadership. "I'm a union mayor. And I support union activities and union work," Kenney said.
Beverage industry interests have invested heavily in trying to defeat Mayor Kenney's soda tax, and could support a candidate against him in this spring's Democratic primary.
A reduction in Kenney's financial support could make that option more attractive.
In addition, FBI tape transcripts included in the indictment seem to indicate that Dougherty supported the soda tax to exact revenge on a Teamsters local he was feuding with.
Butkovitz said that revelation will harm Kenney in the election by raising questions about the true motive for imposing the levy. Kenney said the comments in the indictment have nothing to do with his support for the tax.
Anthony Campisi, spokesman for a coalition opposing the beverage tax declined to comment Wednesday.
Philadelphia State Sen. Anthony Hardy Williams, who lost to Kenney in the 2015 mayoral primary, has said he's considering another run this year.
He released a statement saying he won't comment on the allegations against Dougherty "until we have all the facts."
John Dougherty's brother Kevin Dougherty was elected to the Pennsylvania Supreme Court in 2015 with heavy support from Local 98 and its allies.
He'll face a retention re-election in 2025, the kind of race that Pennsylvania jurists practically never lose.
Who's in charge?
What if the indictment doesn't take Dougherty out of the political game?
First Assistant U.S. Attorney Jennifer Arbittier Williams said in response to reporters' questions that the prosecutors have no plans to seek Dougherty's removal from his union post while he's awaiting trial.
It's unlikely the U.S. Labor Department would act to remove Dougherty, according to a labor law expert I spoke to.
The national leadership of the IBEW could take some action, but they had no comment when contacted Wednesday.
So it's possible that for the municipal election cycle ahead, Dougherty could remain in charge of the union's political fund, which showed a balance of $7,186,933 at the end of 2018.
In the 2015 city election cycle, besides its $450,000 Super PAC effort for Kenney, Local 98 spent money to help at least 12 City Council candidates, Democrats and Republicans.
Will candidates be willing to accept money from someone under indictment?
"I think it depends on the campaign and the candidate," Nevins said, "but I think in this environment, you are innocent until investigated, and that may not be a bridge a lot of candidates are willing to cross."
The Councilman
Also charged in the indictment is City Councilman Bobby Henon, a former political director of Local 98 who continues to draw a union salary while serving on Council.
He's accused of committing honest services fraud by serving the interests of John Dougherty rather than his constituents.
Henon has said he won't resign, and he's presumably one candidate who won't mind accepting Dougherty's help under the circumstances.
But Henon is up for re-election this year like all Council members, and the charges against him are likely to attract other candidates from his district in lower Northeast Philadelphia.
City Council President Darrell Clarke declined to call for Henon to step down, saying in a statement that while the charges against him are serious, he's "entitled to defend himself if he believes the government's allegations to be erroneous."
Mayor Kenney also didn't call for Henon to quit, saying that decision is up to him. The primary election is May 21.
---
Disclosure: The Electricians Union Local 98 represents engineers at WHYY
WHYY is your source for fact-based, in-depth journalism and information. As a nonprofit organization, we rely on financial support from readers like you. Please give today.