Interview: Acting PennDOT Sec. Leslie Richards on bringing a planner's perspective to PennDOT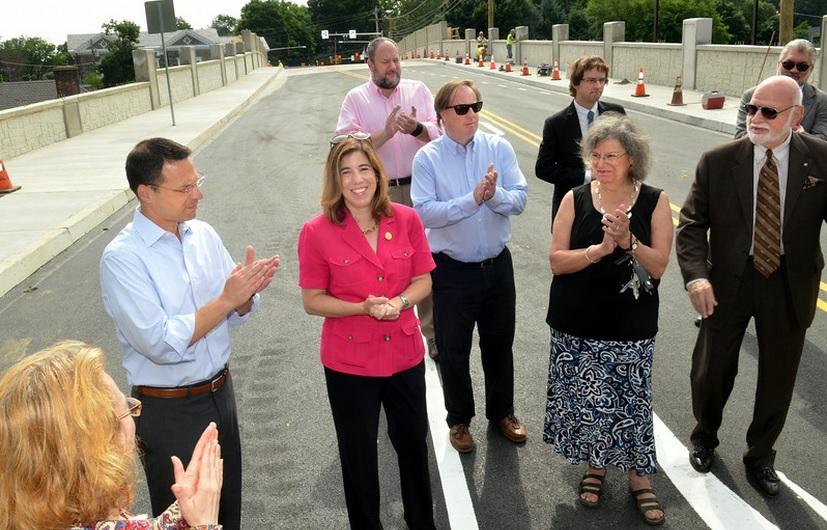 Jon Geeting and Jim Saksa recently sat down for a phone call with acting Secretary of Transportation Leslie Richards and PennDOT spokesman Richard Kirkpatrick. Richards spoke about bringing a planner's perspective to the "engineering eyes" at PennDOT, the Norristown High Speed Line, and how her experience working at local and regional levels will help her lead PennDOT. This interview has been condensed and edited for clarity.
PlanPhilly: What do you think are the biggest transportation challenges in the greater Philadelphia region? We know you work for all of Pennsylvania now, but we'd like to focus on the Philly region for this interview.
Leslie Richards: First of all, as you know, we're coming up on a federal deadline right now, with the highway trust fund and the [mass] transit trust fund. So we're really working with our partners in DC, making sure they know how important this new bill coming out would be to us. Passing the bill would impact major projects like I-95 – that's the big one, of course – which will really rely on federal monies coming down the road. The bill will allow us to plan long term. The president has put out a 6 year plan, and we would love to see that happen.
PP: Looking at the state level, what are the challenges that this region is facing?
LR: Well, if the federal money doesn't come through, it will really make us reallocate the money we do have, because we're counting on federal money for many of the projects. We're looking at turnpike interchange improvements, as well as new interchanges throughout the Southeastern Pennsylvania region.
We're looking at implementing projects currently in the DVRPC's Transportation Improvement Program as well as adding trail projects and multimodal projects, and, obviously, transit and the long list of bridges and highways. I could give you a list but I just feel like it'll be hundreds of projects… [laughter]
"As far as SEPTA is concerned, we're looking at the Norristown High Speed Line –how that's going to expand, have new service, and really help transit and economic development around King of Prussia."
PP: What do you think are the best opportunities in the region? What are two or three really big transportation projects that would make a big difference in people's lives?
LR: Hmm…. Trying to put my DVRPC hat for a second [laughs]. I have to say, my focus since I've been here, on the job, for three weeks has been to get on board with all the projects throughout the Commonwealth, so, really, I've been brushing up on Western and Middle Pennsylvania for the last few days. But as far as Southeastern Pennsylvania, there are a lot of resurfacing projects. And I don't want to keep mentioning I-95, but obviously I-95 is a very big project for us. We're looking at our roadways that cross our county areas as well.
As far as SEPTA is concerned, we're looking at the Norristown High Speed Line –how that's going to expand, have new service, and really help transit and economic development around King of Prussia.
PP: That's going to be a big one. Are you interested in pursuing the Broad Street Line extension to the Navy Yard?
LR: I know that is being talked about, I know we're looking to see the changes being made at the Philadelphia Regional Port Authority right now, and that will be an issue that we will be discussing. PennDOT hasn't decided yet how actively or not actively the BSL extension will be pursued. But I know that will be discussed very shortly.
PP: One issue we've been paying attention to is the adoption of the NACTO street design guide by the Federal Highway Administration and state DOTs. Are you familiar with it?
LR: I'm not. What is that?
PP: NACTO is the National Association of City Transportation Officials. It was started a few years ago by Janette Sadik-Khan, who was Commissioner for the New York City Department of Transportation, and Rina Cutler – the Deputy Mayor for Transportation here – is the vice president of it. It's like AASHTO or some of the other state transportation officials groups, in that they put out engineering guidelines. NACTO does so mainly for urban streets, though.
The Federal Highway Administration recently endorsed NACTO's urban street design guide manual as one of the manuals that state transportation departments could use for project evaluation. Would PennDOT be interested in adopting something like the NACTO Urban Street Design Guide?
LR: We would obviously have to take a look at it. But we are absolutely cognizant of the challenges in our urban areas, and its something we definitely want to be proactive with, helping the urban areas.
We are currently looking at ways to make bicycling better. I just came out of a meeting that was centered on urban areas and highlighting multimodal initiatives. So, once we take a look at the NACTO guide, obviously – if it makes sense – it would be something we would want to help promote.
PP: In a related vein, California recently tossed out the concept of Level of Service as a means of evaluating street projects in urban places that have an older street grid, like Philadelphia does, because it led to a lot of over-engineered streets and prioritizing throughput for motor vehicles over other concerns, like pedestrian safety. Is that something you'd look at?
LR: Absolutely. Absolutely. As a former County Commissioner I'm very well aware of some of our aging infrastructure in our older urban areas and the special needs that they have. We know that quality of life is strongly connected to how people can get around their community. We have to understand that particular areas like Philadelphia, and Harrisburg as well, some of our older urban areas were coming up at a very significant time, where a lot of our roads are hitting that 50 plus, and sometimes even more. Their intended lifespans are expiring, and we need a good plan. Without planning for that, we're going to come up against some big problems.
PP: You mentioned that you were a commissioner in MontCo. Before that you were a town Commissioner in Whitemarsh, and started your career as a project manager at a civil engineering firm. You were also the DVRPC chairwoman. Now you're slated to be the next Secretary of PennDOT. You've done a lot – you've been able to look at this transportation picture from a lot of different levels. What do you think is the right power balance over major transportation projects – the right balance between local governments, MPOs, and the Commonwealth?
LR: Given my background, I feel that I bring to the table that connection to various levels of government, and that is so important. Obviously, being part of local government, being very active with our MPO and now being in this state role, I feel like communication has been underutilized in the past, and it is something I intended to stress and build on in my capacity as acting secretary and hopefully when I become secretary.
I think communication is a powerful tool. I particular think the MPO and [Regional Planning Organization] roles have been useful, but they can be used in an even better way. That is something I'm definitely going to explore.
PP: Care to expand upon that a bit, on what you mean by an "even better way"? Empowering the RPOs to do more, over the local government? Or doing more that is currently done by PennDOT?
LR: It'll be more conversations. Obviously the local government does a very good job representing their needs. When you look at an organization like DVRPC, I've been so impressed by how they really act as a regional planning organization. There are a lot of MPOs out there that, even though there are a regional planning organization, they still look at their costs, their money or their work, and how it is allocated, in very segmented ways. I've been impressed by how the DVRPC really works as a region.
For instance, even though I was there to represent Montgomery County, I realized that maybe in one given years there were large projects in Philadelphia or Delaware County and they'd get more money than we'd get that year. And then the following year, or two years down the line, when we'd have a big ask, like the Norristown High Speed Line, it would come back to us. And the DVRPC has done a great job doing that. And that kind of communication needs to come up through PennDOT and through the [PennDOT regional] districts.
"I think the planning department here at PennDOT will be looking at these issues that have been brought up before and we will be balancing out those engineering eyes with planning eyes."
PP: Tom Wolf has mentioned that he wants to create a statewide office of smart growth, and get the state more involved in planning and helping communities with best practices in urban planning. What do you see as the role for PennDOT and the MPOs in something like that? Has Wolf sketched out a vision for that yet?
LR: We're working on that right now. In fact, we're drafting a report to be part of this new Office of Transformation, Innovation, Management and Efficiency. PennDOT has always done a great job and I'm looking forward to getting us to the next level, looking where we can save money.
In the last year alone, PennDOT has generated $100 million in savings. We've looked at how we can work with, for instance, the Department of Conservation and Natural Resources and the Department of Community & Economic Development, how we can help them produce some of the written materials that they have over at our DMV centers and just looking at where we can achieve economies of scale. So we can continue to do those types of cost saving measures, and we're looking to see how we can do this internally as well.
We're drafting that right now, and I know we'll come up with some good ideas for this new office to take hold of.
PP: There can be conflicts between PennDOT and the cities that are pushing for complete street design over the rehabilitation and design of arterial streets that are under PennDOT's purview. In Philadelphia, for example, there is a push to redo the Delaware Avenue and implement some traffic calming, but there has been a conflict with PennDOT over that. How will you, as the Secretary of Transportation, handle these sorts of disagreements?
LR: What will be different, coming from a planning background, is that we will just be looking at these issues with a fresh set of eyes. I think the planning department here at PennDOT will be looking at these issues that have been brought up before and we will be balancing out those engineering eyes with planning eyes. So, I think we may have some new ideas on the table that we may not have been discussed before.
But, of course, without looking at all the details of what has been done in the past and what is coming up, its hard for me to be specific on that issue. In fact, you bringing it up is the first time I've thought about Delaware Avenue [as acting PennDOT Secretary].
PP: Relatedly, in Philadelphia Councilwoman Cindy Bass introduced a proposal for a "Vision Zero" policy of really trying to reduce pedestrian injuries and fatalities in the city. And a few other cities, like Chicago, New York and San Francisco, have looked into this before. What can PennDOT do to support, or incentivize, something like this? And would you be interested in pushing for a statewide Vision Zero policy.
LR: Again, I'm not quite sure what is in the Vision Zero policy, but I can tell you that health and safety are at the forefront of what PennDOT does everyday. What we deal with on snow issues, we're always looking at public safety, reducing the amount of fatalities and accidents. That is always at the forefront of what we do. Making sure that pedestrians can travel safely in Philadelphia is definitely a priority of ours, and we will look to see what measures we can support.
I just want to also add that I recently had a conversation with Chicago's transportation commissioner, Rebekah Scheinfeld, and we're meeting on a number of issues, and now that you've brought this up, I'll make sure its one of the issue we'll talk about.
We have a lot we can learn from Chicago, so I will mention that in the conversation with her.
PP: Since you've already mentioned I-95, we're going ask a question about that. There's a big push to see a large chunk of I-95 capped along the central Delaware. And the Delaware River Waterfront Corporation released a study not too long ago saying that capping a portion between Chestnut and Walnut would cost approximately $250 million, and that it would net $1.8 billion in economic development. Where do you see PennDOT stepping in and making an impact on this project? Are you a neutral, we'll go along with whatever people want do, or do you see PennDOT helping to advocate for very ambitious projects like this?
LR: We will need to look at our resources and where we're flexible on using our resources. But I know Governor Wolf – as well as myself personally – we're very interested in – where we can – in helping in economic development issues, particularly job creation issues. And if it makes sense, we're also really pushing for government efficiency. So we all want to be working together, again, on these kinds of issues.
I know I'm being very general here, but we have to look at where we are resource constrained and where we're not, and at this point I don't have that information.
PP: Act 89 has done a lot. But we want to know: What are your thoughts on the allocation of Act 89 funds being used for the expansion of infrastructure versus the maintenance or improvement of what is already there?
LR: I can't be clearer when I say: I am happy to have the Act 89 funds to work with.
But we are not going to be able to complete every project that is on everybody's wish list. So, we need to be very strategic on what we prioritize and we definitely need to continue to maintain what we have.
Act 89 will give us some flexibility to do some new things that we haven't been able to do in the past. And getting back to you original question about Southeastern Pennsylvania, we are going to make sure that the Act 89 projects that have started will continue. We will definitely be looking at the Navy Yard access and moving that forward, the Vine Street Expressway bridges and the parks that are associated with that construction, and the Circuit, which is the trail system with over 700 miles in the region but we know that a lot of those pieces still need to be connected. We will be looking at all that and, as you mentioned, the waterfront access to I-95.
PP: The Pennsylvanian [the Amtrak service between Harrisburg and Pittsburgh] was recently taken over by PennDOT, right?
Richard Kirkpatrick: The Pennsylvanian was started back in the early 1980s. And PennDOT has been subsidizing that ever since.
PP: Ok. The recent development on that was that Amtrak was kinda cutting that line lose, and now it's entirely a state project?
RK: I don't have all the details – we had some negotiations with them. Obviously, Amtrak is trying to increase the state share of a lot of those costs, but we're able to negotiate them, and primarily we're maintaining the Pennsylvanian service. And, again, Act 89 through the multi-modal fund, is making additional dollars available, so that service can be continued.
PP: So right now, it only runs once a day –
RK: Yeah, one train a day.
PP: I wonder: Is the service frequency not an inhibitor to growing ridership on that line? Are there any plans to increase the frequency of that line?
RK: Not at this time. Again, the challenge is the finances. PennDOT is already providing significant dollars to maintain the service that we have. And obviously, a lot of the focus over the last decade or so has been on the Harrisburg – Philadelphia – New York portion – the Keystone service – which, in the past 15 years or so has seen a $145 million in additional federal and state investment, which has made that a true high speed service.
Again, that's where most of the customer base is, the growth on that portion of the line has been phenomenal, and the Pennsylvanian portion – we have made the financial commitment to continue at least one train a day service. But in terms of thinking about additions, it goes back the constrained resources.
LR: We are announcing the public comment on the comprehensive study between Harrisburg and Pittsburgh. That's coming out [February 12th].
RK: One of the aspects that is in there is the significant cost to try to expand that service. Again, it's a matter of having the resources. Pennsylvania, over time, has made a commitment to passenger rail. Most of that is in the Keystone service, and we at least continue to have the service to Pittsburgh. But if you're talking about any kind of expansion, I think when this report comes out, people looking at that will see the significant required cost to bring about a kind of expansion, which has to be looked at very, very carefully, which is why its going to a public comment period.
"As a former County Commissioner I'm very well aware of some of our aging infrastructure in our older urban areas and the special needs that they have. We know that quality of life is strongly connected to how people can get around their community."
PP: Can you speak more about capital expansion within SEPTA?
RK: I think that Act 89 in large measure has stabilized SEPTA. You talk about the difference between new and maintain what we have, what Act 89 allowed SEPTA to do is to really start to catch up on that massive amount of delayed and deferred capital improvements, like the structures for the regional rail system.
LR: Absolutely. The age of the buses is unbelievable. The buses and trains, they're all – I shouldn't say all – most are senior citizens. And it's time, now that we have some money, to start putting some newer equipment on the line and newer buses.
One of the points I always like to talk about when talking about SEPTA: while it is fantastic that they have doubled their budget, they still operate at a far lower level than a lot of their sister agencies. For instance, Chicago and Boston, they have $1 billion [annual capital budget]. And SEPTA is still at the $600 million level. So it's just important to realize that, that they're operating still on – I won't say a shoestring, but maybe a wider shoe string than they had before. But they are also making a billion dollar commitment to new rail cars.
PP: SEPTA's regional infrastructure is so much more impressive than what other regions have in the US. How do you think we can really capitalize on that, and improve the connectivity of our region here in the Southeast?
LR: Well, I've always been an advocate for transit, and always want to make sure that we have alternatives to getting in and out of our busiest and most congested regions, as well as the air quality benefits and other energy saving benefits….
I don't have a specific answer for that… other than just saying that I support all the services that SEPTA provides and want to make sure that they can continue to provide it and continue with the frequency that they exist at today, and in some areas help them increase that frequency, and, obviously, with the Norristown High Speed Line and other examples, where its appropriate for them to expand.
PP: Our last question is easy one: anything else you want to say to our readers?
LR: Just that I'm very excited to bring a planning perspective to the Commonwealth and to all the issues related to PennDOT. And that I think my local experience – understanding stakeholders, whether private sector stakeholders, county level stakeholders, municipal level stakeholders and of course my experience with SEPTA and the DVRPC, as well as the Greater Valley Forge TMA – means there are a lot of people sitting around the table as I speak on these projects, so they'll be well represented.
PP: Thank you for taking the time to speak with us!
LR: Oh, it was my pleasure! And keep up the good work there at PlanPhilly.
WHYY is your source for fact-based, in-depth journalism and information. As a nonprofit organization, we rely on financial support from readers like you. Please give today.