In Profile: Nancy Goldenberg of the Parks & Rec Commission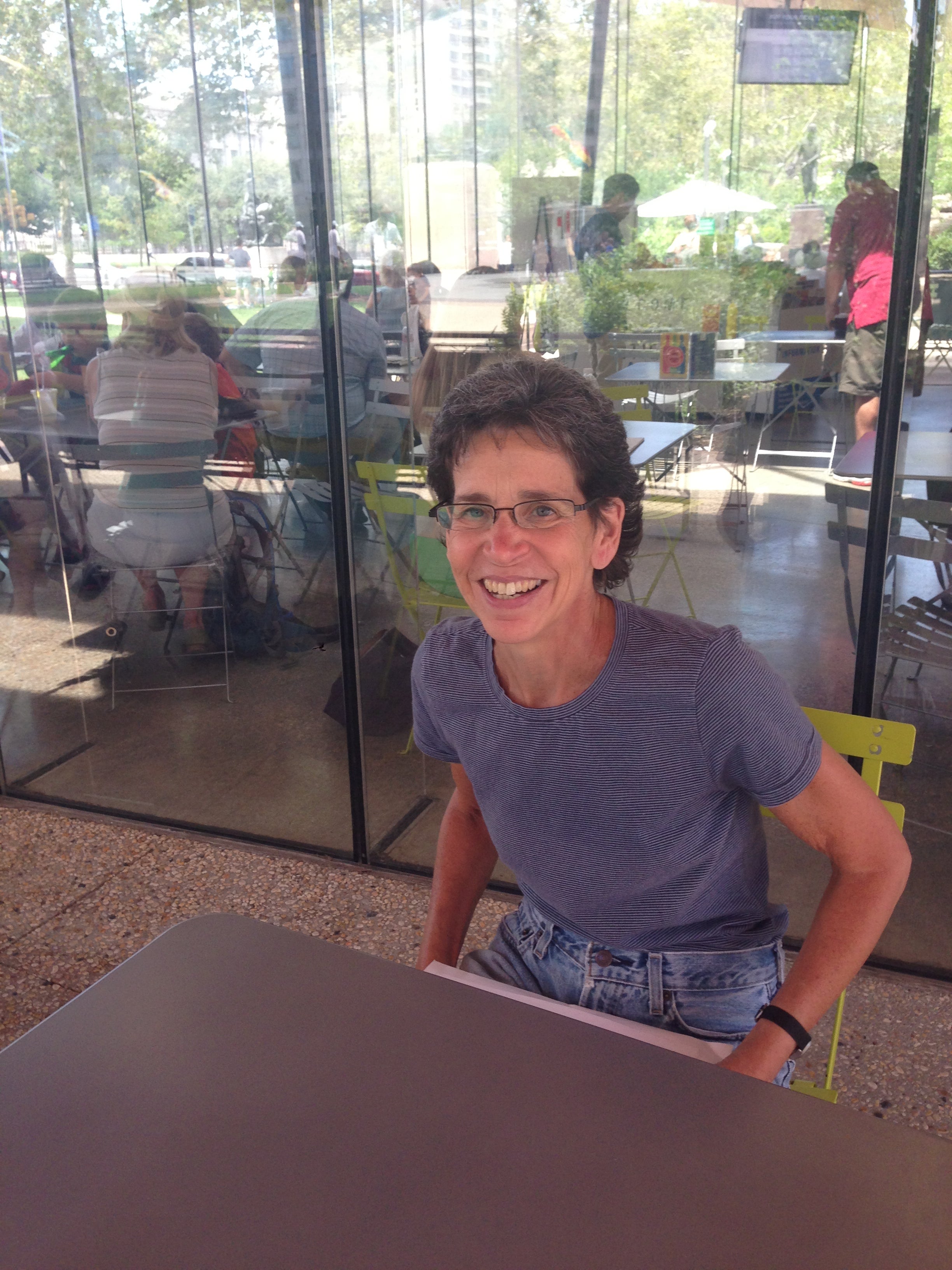 Nancy Goldenberg has led a charmed career, she knows that. From the internships she scored while a student at George Washington University in the late 1970s — first at the National Trust for Historic Preservation and then at the U.S. Department of the Interior — to the jobs she's landed since, including long stints at the Center City District, she has found herself in the company of people who could guide, inspire, and challenge all along the way.
"I've learned so much from every one of my bosses and worked on so many wonderful projects," she says now, sitting in Sister Cities Park, one of those projects. "I had wonderful role models."
Last year, Goldenberg, 57, made her latest leap — coming to the Pennsylvania Horticultural Society as Chief of Staff, a newly-created position that nicely makes use of her management skills and her varied interests in planning and public spaces. A native Ohioan, Goldenberg always wanted to be an architect but GWU didn't have a program, so she found herself majoring in urban affairs with a concentration in historic preservation, which was coming into vogue at the time.
"My advisor thought I should pursue my broader interests, though," she says. "So I listened and I applied to the city planning program at Penn." There, she remembers working on a capstone project that concerned Atlantic City. "I was the only planner in the group, the rest were architects. They were all building these fantasy casinos and I was out in the city talking to the community about its values."
Her first real job picked up on that initiation. She served as project manager for the Reading Center City Develoment Fund for two years, echoing the gigs she'd later have at CCD. After Reading, she found herself back in Philadelphia, working as a planner for Venturi, Rauch and Scott Brown. As it would often happen in her career, the move came about serendipitously: she got to know the principals when Reading hired the firm to work on a new art center.
Goldenberg worked closely with Denise Scott Brown to develop a master plan for Fairmount Park, but when the firm lost the commission, work dried up and she started looking for a different position. At one job-seeking session, the interviewer told her about an opening elsewhere that he thought she'd be perfect for. "I seem to have great luck in being in the right place at the right time," she says now.
The place was the office of city councilwoman Joan Specter, where Goldenberg got to know Michael Nutter, who would become a friend and, later, an important ally. Politics would come handy, but Goldenberg really wanted to be back in the public space arena— particularly in the parks system.
After establishing her own independent consultancy, she won a commission to develop the master plan for the river drives. But when she ran into someone from her days in Reading and he told her he was the new township manager for Lower Merion and that he needed an assistant, she leapt at the chance of a bigger planning job. "Again, I was at the right place, I guess," she smiles, her blue eyes turning even brighter.
"I loved it, but I missed Philadelphia," she continues, "I called up Paul Levy and said I wanted to work at the Center City District. He said, 'I have two openings — which one do you want?' I chose the director of public information." She would leave CCD after four years, pulled by her love of Fairmount Park, to adminster a National Lands Restoration program there. All the while Levy "kept trying to lure me back," she laughs. Finally, she adds, "I said, 'I'll come — if you let me work on parks.'"
And ever since then, she's found herself in some way working with the park system, including serving as chair of the Commission on Parks & Recreation. "I think dense, urban areas need beautiful public open space," she says. "There's a wonderful sense of democracy in a space like Sister Cities Park. People from all walks of life, all ages, come together here. Yet, you can also be alone in this beautiful space."
Nature, with a capital "N," is totally different, she adds — and that, too, is important to her. "That kind of experience means you can be personally challenged, you can push yourself, you can take risks, you can explore new things. That's all very appealing to me."
It's no wonder, then, that this whippet-thin runner and hiker, has lived in West Mt. Airy for the past 18 years in a stone twin with a 75-year old wisteria vine coveirng the front porch. "I've always lived in and around the Wissahickon," she says. "I couldn't imagine not being near its beautiful trails."
That love of nature inspired Goldenberg to work with Specter and Nutter to bring a chapter of Outward Bound to Philadelphia — it's one of the things she's most proud of. "Michael Nutter and I took an Outward Bound sailing course in Baltimore together with some Philadelphia school principals and we spent five days pitching the idea of bringing the program to Philadelphia kids," she says. "I wrote the grants — I still remember getting the first one from the Philadelphia Foundation, and screaming, 'yes, yes, we got $7,000!'. Today, more than 2,000 Philadelphia kids particpate every year.
"So, if you asked my friends what I like to do most, they'd say, it's to start things," she adds. "I like coming in, getting the pieces together, and letting it take off."
It's still happening today — with bigger grants and bigger projects, such as the TIGER grant she scored, after two tries, to get the Dilworth Plaza renovation underway. "I just knew we were going to get it," she recalls. "It was the perfect match of a project at the heart of the city in desperate need of transformation combined with a very significant transportation component. I let out a primal scream when we got that one!"
At PHS, she'll continue to look at improving significant public spaces like the airport and the Amtrak corridor — specifically through greening. "We do so many things at PHS and I think we're really looking at how we want to package and brand ourselves," she says. "Ultimately, we want to bring added values to projects. We're all about beauty and the impact that it has."
A frequent traveler — this year, Sicily, last year, Portugal — Goldenberg, like many students of the built environment, has always taken loads of photos of urban ephemera. "When I was with CCD, I was looking at trash cans, I was looking at signs. People were always teasing me," she laughs. "Now, when I travel, I'm looking at urban gardens and planting arrangements!"
PlanPhilly.com is a project of PennPraxis, the clinical arm of the School of Design of the University of Pennsylvania. Goldenberg is a PennPraxis board member.

WHYY is your source for fact-based, in-depth journalism and information. As a nonprofit organization, we rely on financial support from readers like you. Please give today.