In Philly and through region, thousands of women will march toward better tomorrow
For the third year, women across the country will march and rally Saturday to support a multitude of issues including reproductive, immigrant and civil rights.
But as this renewed women's movement continues, national and local leaders are confronting criticism and thinking about how they can move forward in the long term.
Atlantic City's first Women's March will honor civil rights trailblazer Fannie Lou Hamer, a Mississippi resident who made national news in Atlantic City.
"This is the 55th anniversary of Fannie Lou Hamer challenging Jim Crow at the 1964 National Convention, which was in Atlantic City," explained Estina Baker, one of the organizers.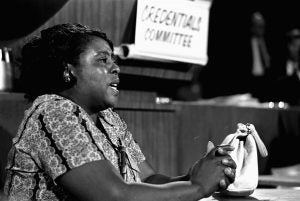 In a nationally televised testimony back then, Hamer asked that Mississippi's all-white delegation be replaced with an integrated group.
In her remarks, Hamer described the hardships she encountered because she tried to register to vote, including a brutal beating after she attended a voter registration workshop.
"Is this America, the land of the free and the home of the brave, where we have to sleep with our telephones off of the hooks because our lives be threatened daily, because we want to live as decent human beings, in America?" she said in what was then Convention Hall.
Because the contributions of women of color are often overlooked, Baker said, organizers want to use the Atlantic City women's march to change that – starting with honoring Hamer and showcasing a diverse group of speakers.
"We want to be an example to show that if you're going to use the word 'diverse' or if you're going to say, 'Look at our diversity,' we want to show what the real meaning of that is," Baker said.
From the first march in January 2017, there were questions about the inclusivity of the national Women's March.
More recently, a national leader has been slammed for appearing at an event with Louis Farrakhan, the leader of the Nation of Islam, and praising him on social media.  Farrakhan has drawn ire for anti-Semitic remarks.
Some sister rallies in other parts of the country have disassociated their events from the national march because of this. But that's not why Philadelphia will, once again, have two women's rallies on Saturday.
"It's important for us to keep this Philly based," said Deja Lynn Alvarez with the Philly Women Rally, which is not affiliated with the national Women's March.
"This is for the local women, for the greater Philadelphia area, that's what it was created for," she explained. "So it needs to stay that."
Alvarez said it's not a competition between marches.
Shawna Knipper, with Women's March Pennsylvania, agreed.
"The reality is, not everything is for everybody, and the more people we can bring out and have conversations with about the things that matter right now, the better," she said.
In its inaugural year, Philadelphia organizers drew almost 50,000 people to the Ben Franklin Parkway. Last year, attendance was closer to 40,000.
And while snow is supposed to sweep in later on Saturday, leaders said they hope many thousands of women will show up to march.