Ideas Pa. cities might want to steal from German cities
The fifth in a series of Keystone Crossroads posts from German cities.
I'm spending a few weeks in Germany as part of a German/American journalist exchange program through the RIAS Berlin Kommission and the Radio Television Digital News Foundation. During the trip, I'm sending back lessons on urban planning and revitalization from German cities. Today's topic: ideas to steal.
After visiting 10 cities in Germany and Belgium, I've compiled a list of ideas that Pennsylvania cities could steal.
Tempelhofer Feld, Berlin
Ever walked on an airport runway before?
In Berlin, residents do it all the time. The city has turned its former airport Tempelhof, the site of the Berlin Airlift, into a park.
The runway is a path for walking, biking and roller skating.
(Marielle Segarra/WHYY)
There's also a stage for concerts, as well as an urban garden made from repurposed wood and furniture.
(Marielle Segarra/WHYY)
I especially liked this shelf, lined with plants that grow out of shoes.
(Marielle Segarra/WHYY)
More importantly, this could be a use for some of the abandoned airports in Pennsylvania.
Real-time bus stops, Berlin & Münster
Many Berlin bus stops have real-time information on digital signs. The ones that don't usually have timetables.
A bus stop in Berlin. (Marielle Segarra/WHYY)
In Münster, a city known for its biking and pedestrian infrastructure, the bus signs are also really intuitive. There are digital signs and timetables at stops.
A bus stop in Münster. (Marielle Segarra/WHYY)
We did a story a couple months ago about Pittsburgh's plan to overhaul its wayfinding system and put bus maps at every stop. The city is also considering digital kiosks. In that story, SEPTA officials told us why they weren't implementing something similar. (Bottom line: they said it'd be too expensive and time-consuming).
Public space installations and transit parks, Dortmund
Dortmund is a city of 500,000 people, known across the country for its championship-winning football (soccer) team. It's also a hub for adaptive reuse of old industrial buildings.
But something else I noticed was how well the city uses its public spaces. It seems like every space in the city center is a public space.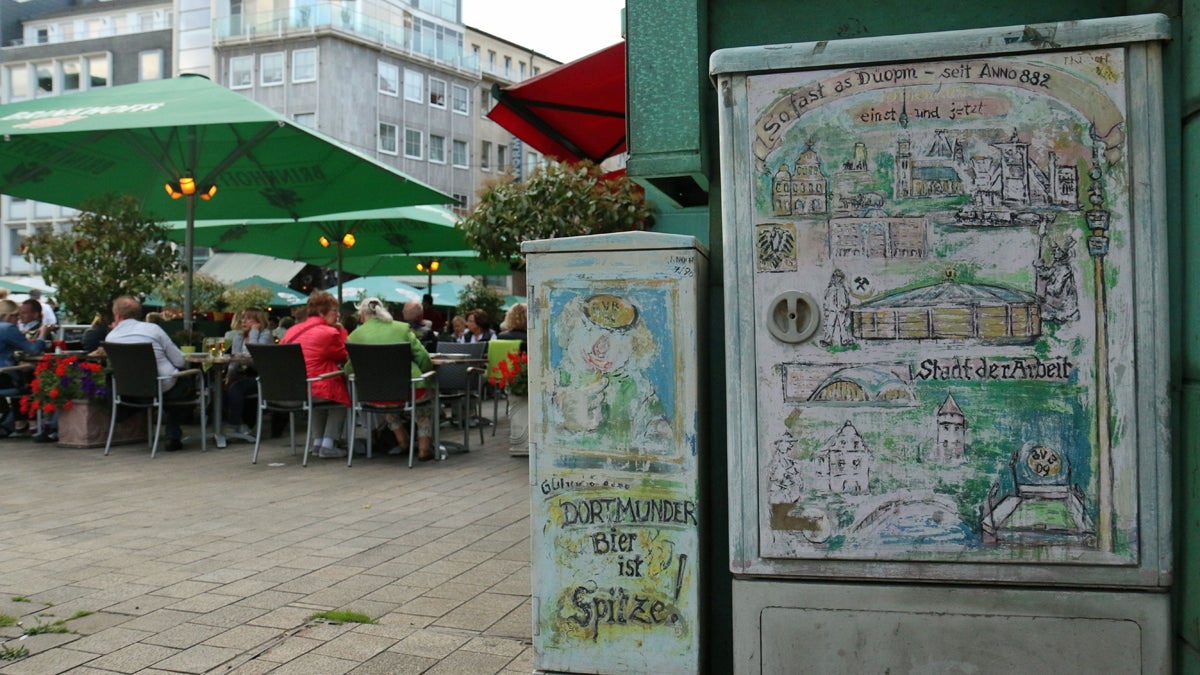 (Marielle Segarra/WHYY)
Bars, restaurants and cafes all have outdoor seating. But there are also installations that get people to linger on the street, like this mini-bike for children:
(Marielle Segarra/WHYY)
this little wooden race car…
(Marielle Segarra/WHYY)
and this oversized see-saw.
(Marielle Segarra/WHYY)
There were also swingsets in the middle of the street, tables that whirl around like the teacup ride at Disney World and other installations designed for people to sit, spin, bounce and swing on.
And there's a park near one of Dortmund's U-Bahn stops that encourages people to spend time around the station. It has a birdhouse, a skate park and a play area for kids.
(Marielle Segarra/WHYY)
Parks like these could be a way to get people to use spaces around transit hubs.
Bike-centric infrastructure, Münster
Münster, a city of about 300,000 in the Northwest, calls itself the bicycle capital of Germany. After visiting, I'm a believer. I've never seen so many bikes in my life.
(Marielle Segarra/WHYY)
With such a robust cycling culture, you'd expect the biking infrastructure in the city to be extensive. And Münster doesn't disappoint.
The signs are very clear about where bikes, cars and pedestrians belong.
(Marielle Segarra/WHYY)
The inner city is blocked off to cars, and it has a tree-lined ring around it called the Promenade. Bikes and pedestrians each get their own path on this ring, which takes you to the local palace, the train station and other major points.
(Marielle Segarra/WHYY)
Oh, and the city even has bike paths on cobblestone streets.
(Marielle Segarra/WHYY)
No excuses, Philly.
See the rest of the photos from Munster.
If you're looking for other ideas Pennsylvania should steal from German cities, we've also written about this urban garden in Berlin and about how cities in the Ruhr region are reusing their old industrial sites.
We'll be sharing more ideas in the coming weeks, including stories about a neighborhood that's being built from scratch on Hamburg's waterfront and an old coal city that's trying to become the greenest in its region.
You can follow along with the trip through Germany at Keystone Crossroads, @PaCrossroads with the hashtag #kcgermany and on our Facebook page.
WHYY is your source for fact-based, in-depth journalism and information. As a nonprofit organization, we rely on financial support from readers like you. Please give today.