'I forgot I was supposed to be nervous': Costumed custodian eases fear at Camden County vaccine clinic
Marisol Rivera is a 53-year-old custodian who is on a mission to make people laugh while they receive the COVID-19 vaccine.
Last week, as a Marc Anthony song blared through a loudspeaker at Camden County College's Papiano Gymnasium, Marisol Rivera salsa danced through rows of people who had just been inoculated against COVID-19. She was dressed as a leprechaun.
Periodically, the 53-year-old Camden grandmother disinfected vacant chairs, while medical personnel observed whether anyone was experiencing adverse reactions to the Moderna vaccine.
"I'm gonna make you laugh!" she said to an elderly woman. "Forget COVID!"
Some patients used their smartphones to record Rivera. Others took selfies. Above the masks, you could see laugh lines around their eyes.
"She's amazing. In an anxious setting, she's calming people's fears with the power of a smile," said Dominic Vesper, deputy Camden County administrator. "Many people have come up to me and said: 'Thank you for bringing her here.'"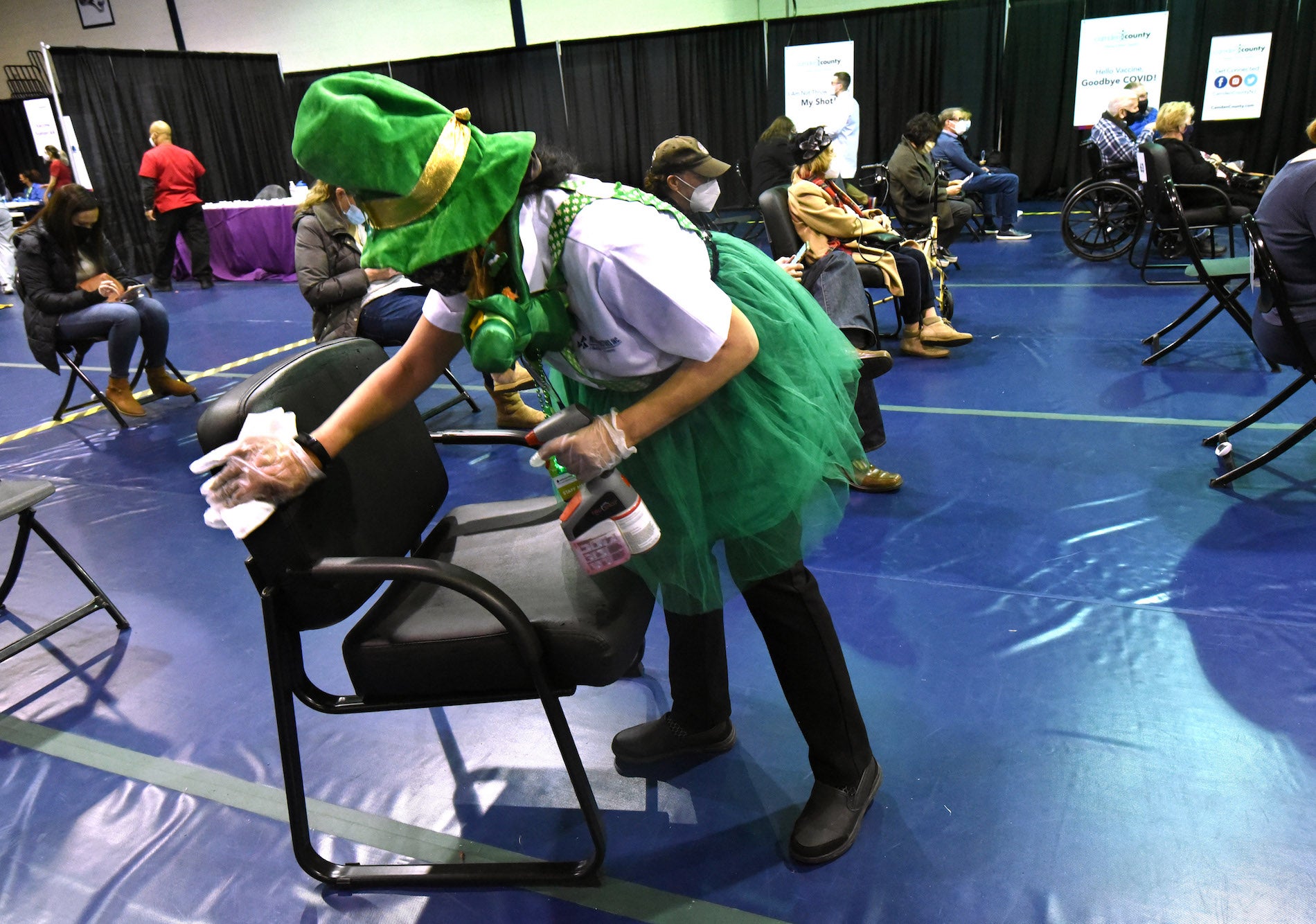 Kim Lauletta was charmed by Rivera. After being vaccinated, she said, "I forgot that I was supposed to be nervous. She's adorable."
Larry Bullock is Rivera's supervisor at Pritchard Industries, the company contracted by Camden County to maintain the gym on the Blackwood campus that was converted into a vaccination center last month. Bullock said he had no idea that when he hired Rivera to do custodial work that she'd wear costumes on the job. On her first day, Bullock gave Rivera a ride to the gym. "I picked her up and when she came out of the door as a reindeer, I was like, 'What is this?'"
At the site, patients move to a large waiting area after being vaccinated. There, they sit in numbered chairs with timers set for either 15 or 30 minutes, depending on an individual's risk of having an adverse reaction, before leaving the gym. The waiting area is Rivera's stage.
"Are we cooked?" she asked one patient after noticing that his timer is about to go off. Rivera wears a Fitbit, and said she often reaches 40,000 steps in her eight hours at the vaccination site.
Rivera's only complaint is that sometimes the site's soundtrack lacks energy. "What can I do about our music?" she asked during a recent quiet moment. "It's not motivating me!"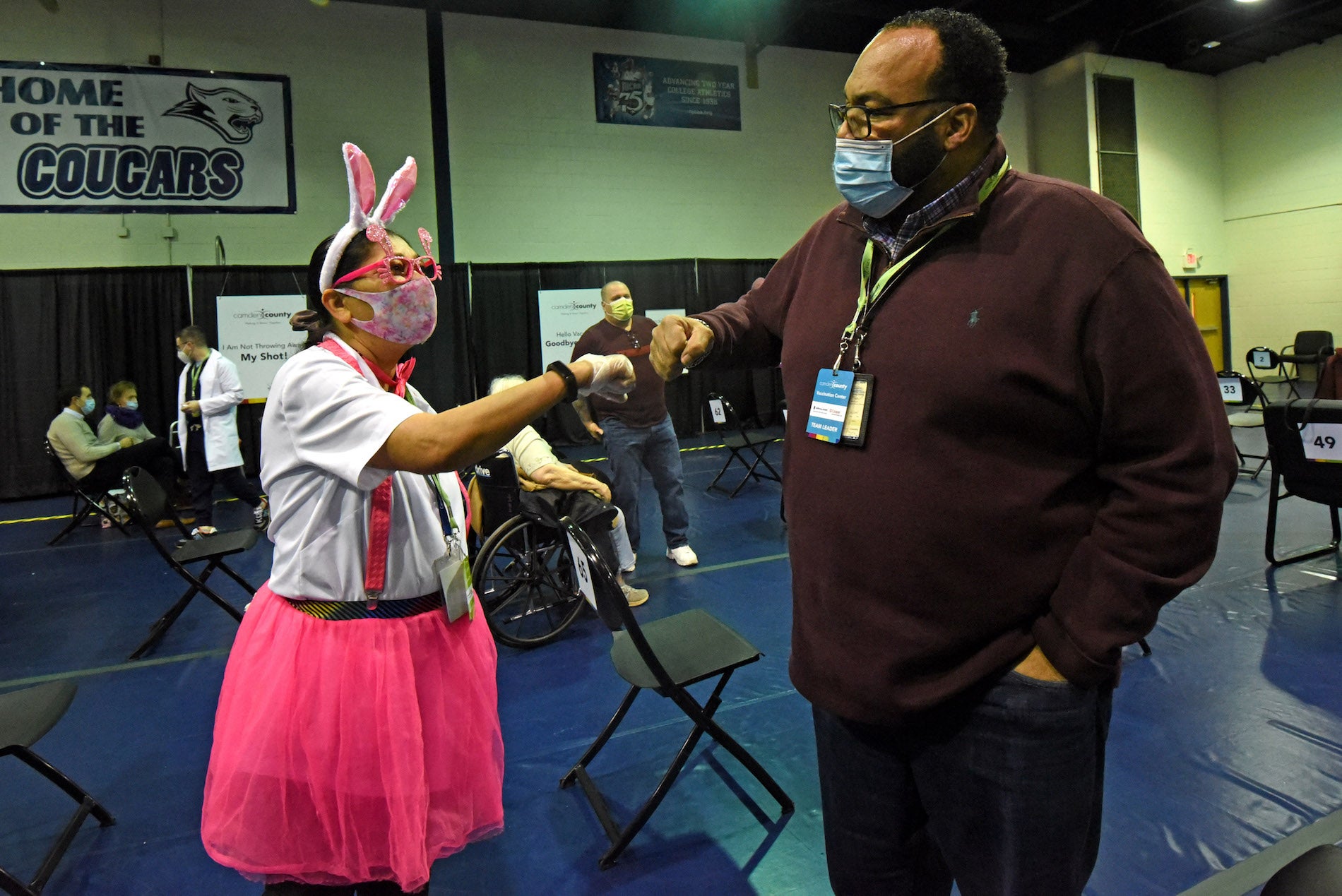 Camden County spokesperson Dan Keashen said with vaccinations currently available to seniors age 65 and up, "We get an older crowd; sometimes they want to hear Tony Bennett, not Beyonce."
Rivera's current job is not her first foray into entertaining while performing more conventional duties. For 13 years, she waitressed at the Cherry Hill Diner, where she donned a bunny costume at Easter. During the holiday season, she dressed as an elf, spending hundreds of dollars on gifts for her favorite customers.
After the diner cut her hours, Rivera quit. When she found out four of her coworkers there had contracted COVID-19, she decided she was safer at the vaccination site.
When Bullock surprised Rivera with a framed certificate proclaiming her as 'Employee of the Month' for January, she cried.
"I never get anything like this," Rivera said. "I never get recognition, ever."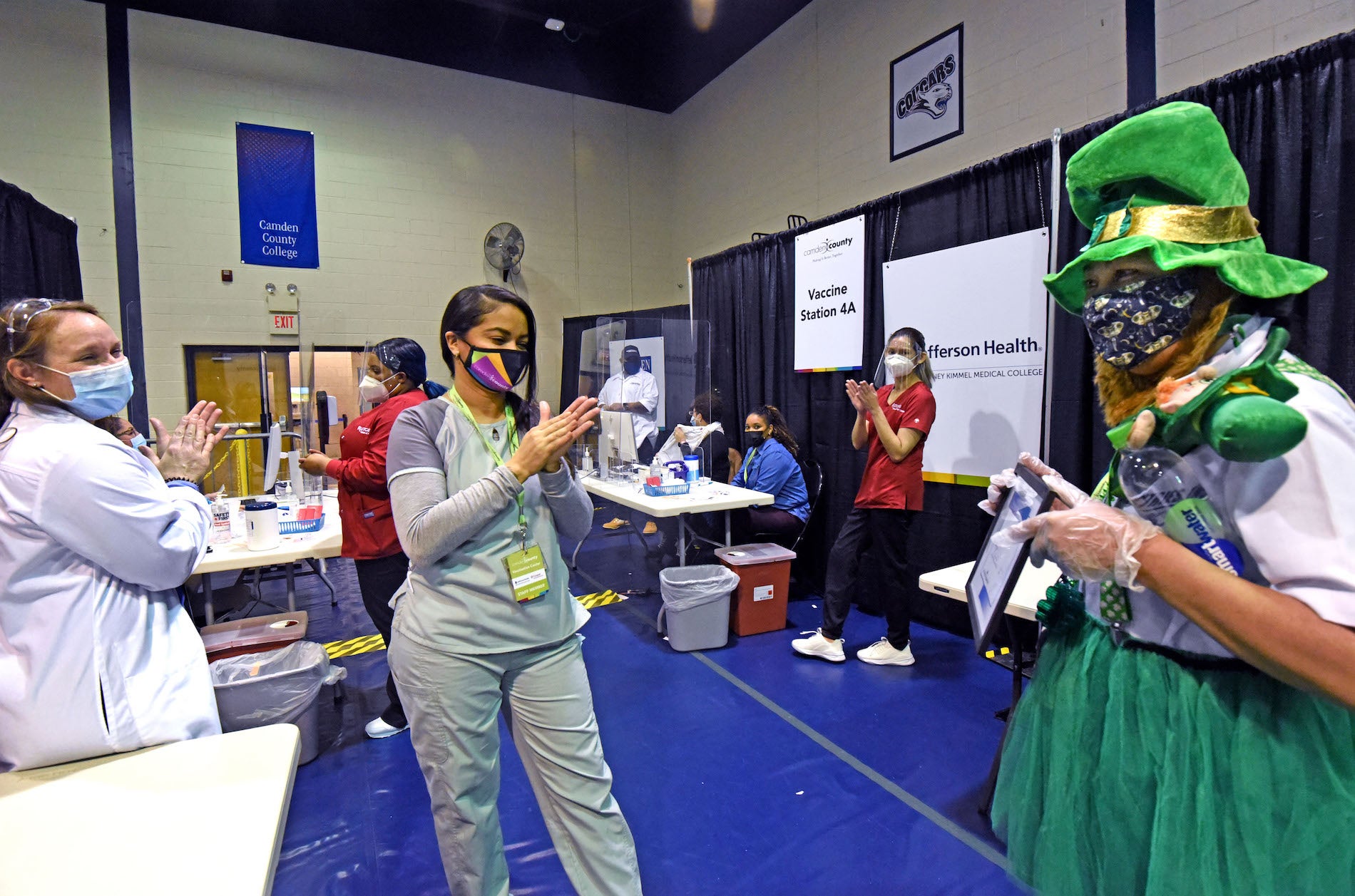 At the site's exit door, the newly-vaccinated are invited to finish the sentence, "I got the COVID-19 vaccine because…" on placards, which are then displayed on the walls.
Some of the completions contain specific goals, such as "I want to be able to travel to Japan," and "I want to see my grandchildren and hug them." Others are more poignant: "I love this world and want to live in it again" and "I'm scared and hopeful."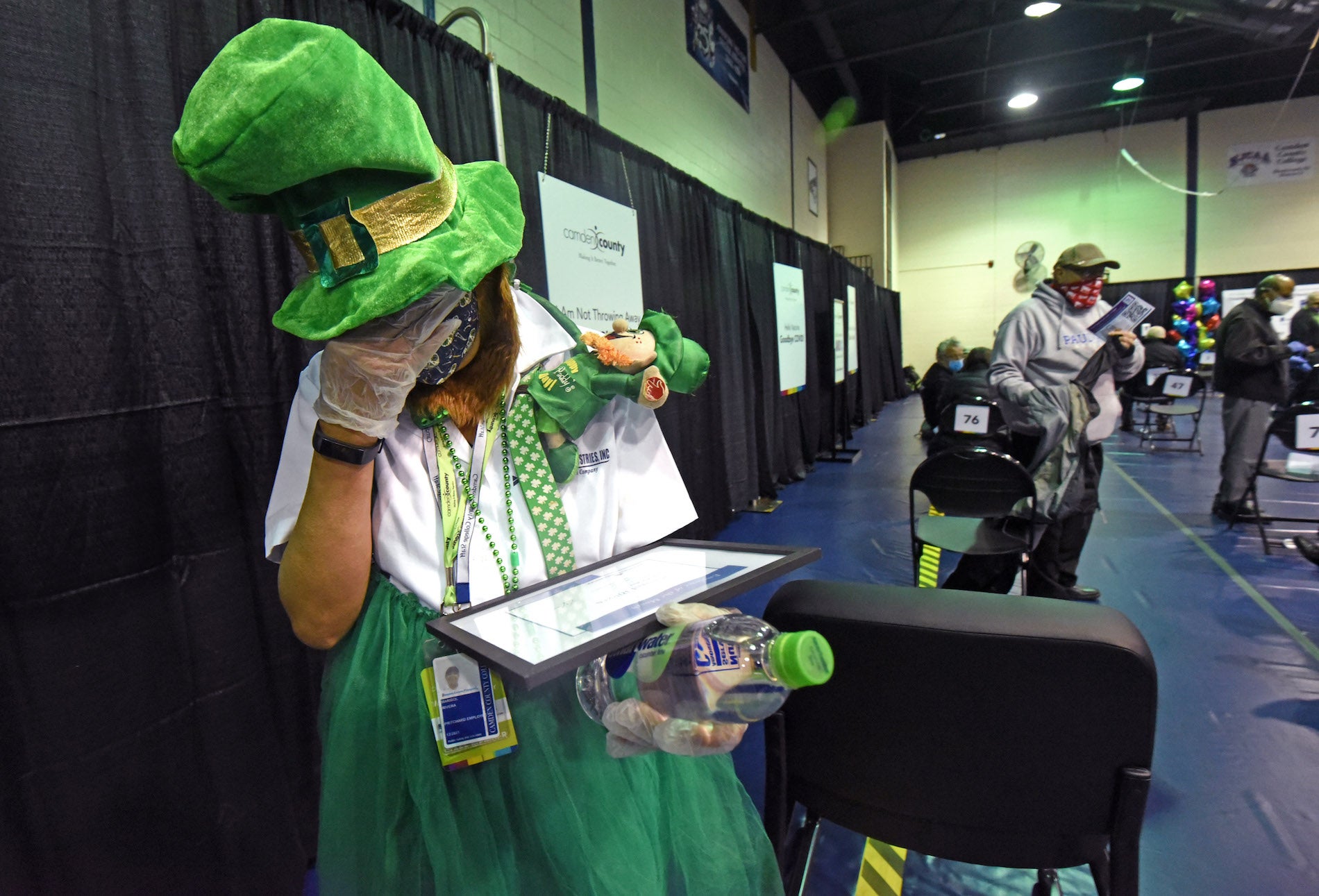 Rivera is aware of the heightened emotions of her audience.
"Some of them do cry," she said. "And I start dancing, and they start laughing."
Lisa Mullen was vaccinated in the gym last week, though the Williamstown resident had contracted the coronavirus in June. "It was horrific," she said. "I'm hoping not to get it again." Admittedly nervous after getting the shot, Mullen responded to a dancing Rivera by swaying in her seat to the music.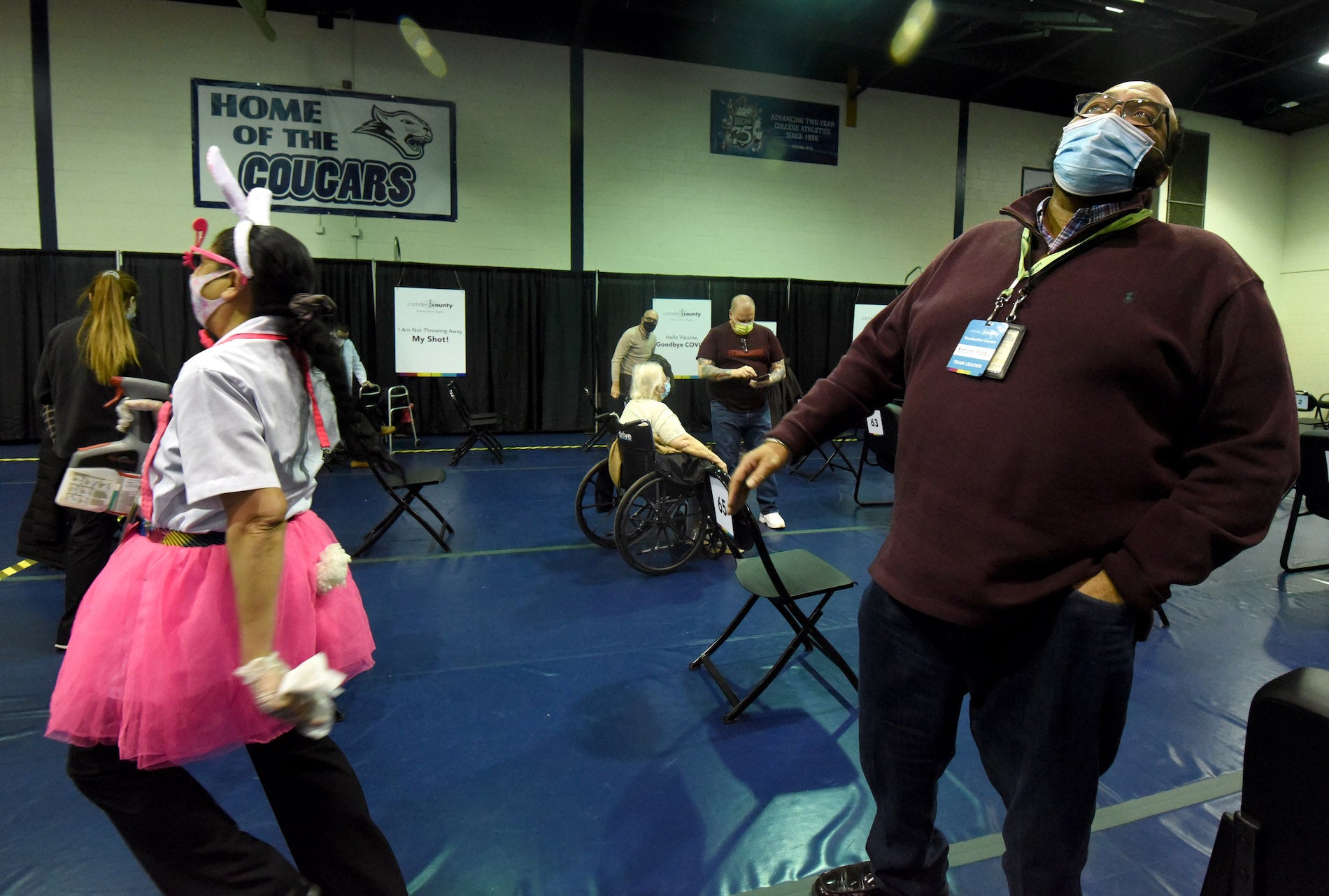 "I make sure everybody's happy," Rivera said. "We're going to beat this." Rivera has several hundred costumes and hopes to wear a different one every day.
"I love that I'm making a difference," she said. "Yesterday, I was a kitty cat!"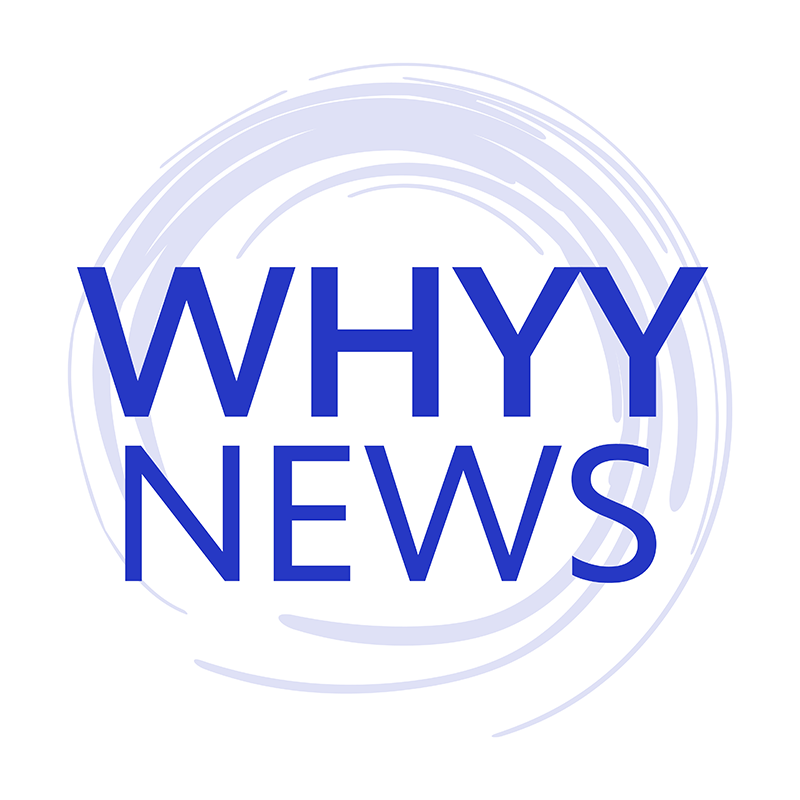 Get daily updates from WHYY News!
WHYY is your source for fact-based, in-depth journalism and information. As a nonprofit organization, we rely on financial support from readers like you. Please give today.