I-495 violations sent to Delaware-based companies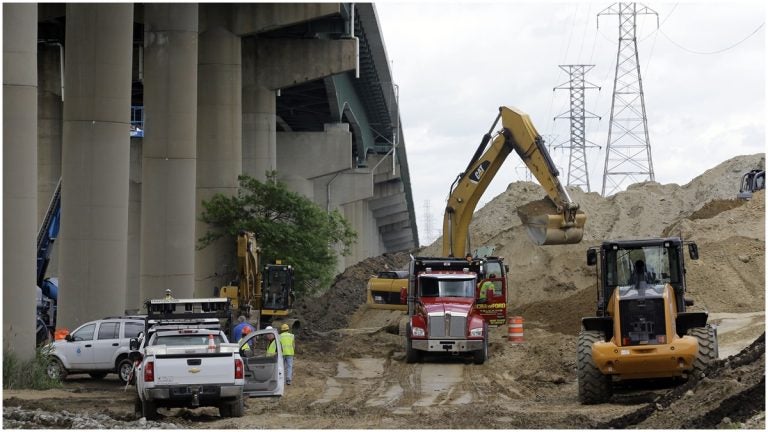 State environmental regulators have sent violation notices to land owners in the vicinity of the damaged bridge section of I-495.
The Delaware Dept. of Natural Resources and Environmental Control sent the notices to the DuPont Co. and New Castle-based Alma Properties, LLC. DuPont and Alma own the land where a 55,000-ton mound of dirt was stockpiled near the bridge's support columns.
Engineers blamed the huge mound of dirt for the damage to the columns that resulted in the interstate's closure earlier this summer.
The letters cite a number of violations on each company's part regarding the stockpiling of soil. DNREC did not blame either company outright, but stated, "Through this Notice of Violation the Department is engaged in determining the responsible parties for the violations due to the stockpiling activity."
According to the Associated Press, the violations could lead to fines of up to $2,000 a day. The notices mark the first step towards the state recouping an estimated $45 million in repair costs.
Dan Turner, a spokesperson for DuPont, said that the company "strongly disagrees" with DNREC's notice of violation.
"We have stockpiled no soil whatsoever on the property we own, nor have we given permission in any way to anyone else to do so," the company said in the statement. "It is our understanding that Port Contractors, in turn, entered into an entirely separate agreement with Keogh Contracting Company to use part of the property, and Keogh brought the soil onto the property for storage."
Turner added that DuPont has no contractual relationship with Keogh and at no time did he or DuPont authorize them or anyone else to store soil on the property leased by Port Contractors.
Keogh Contracting has not yet responded to NewsWorks' interview request.
According to the statement, DuPont has a long-term ground-lease agreement on the property with Port Contractors, Inc.
Alma Properties and Port Contractors companies are apparently linked: When attempting to reach Alma Properties for comment, the phone was answered with the greeting, "Port Contractors."
Company officials were not immediately available for comment.
The Christina River crossing was closed in June when it was discovered that some of bridge's support columns were tilting. The southbound lanes reopened July 31 and the northbound lanes are expected to reopen by Labor Day.