HUD wants to sweeten the deal for landlords who accept housing vouchers
HUD Secretary Ben Carson wants to entice more landlords to accept housing vouchers and the agency's first step in Philadelphia is talking to people like Michael Batley.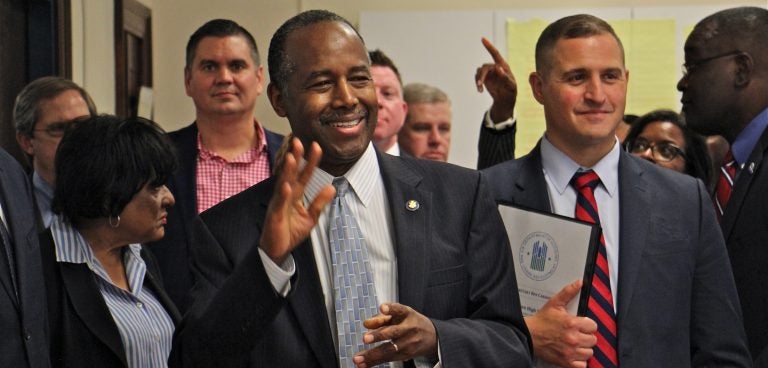 This story originally appeared on PlanPhilly.
—
U.S. Department of Housing and Urban Development Secretary Ben Carson wants to entice more landlords to accept housing vouchers and the agency's first step in Philadelphia is talking to people like Michael Batley.
Batley owns 48 residential properties in Philadelphia, many of them in sections of North Philadelphia, Kensington, and Frankford where most renters survive on poverty-line incomes.
For decades, he avoided tenants with Section 8 vouchers because of rumors he heard from other landlords about heavy-handed inspectors and vengeful tenants who would twist Housing Authority regulations against a property owner.
A few years back that changed when he noticed that more and more of his tenants were struggling to pay their bills and ending up in eviction court. Vouchers proved an obvious solution. With the federal government covering 70 percent of the rent, most Section 8 recipients paid up each month.
"It is the landlord's joy to have money coming into the property on a timely basis and not have to chase rents, which is our biggest issue here in Philadelphia," Batley said of the voucher program. "It cuts down on evictions and the collection hassles we have."
But Batley also found that the negative rumors about the program weren't totally unfounded. Under HUD regulations, the local housing authority — Philadelphia Housing Authority in this case — must annually inspect every property that houses a Section 8 voucher holder. The rule makes sense; The inspections are intended to ensure that the landlord is keeping the home in good condition. But Bately found that in practice, the inspections felt very subjective.
Conditions that would get you a passing grade from one inspector could get you failed by another because one person might be more concerned with the paint job, or whether a door sticks, while another may be singularly focused on safety.
Batley recalls one episode wherein a tenant's unpaid electric bill meant that an apartment didn't have working power when the inspector visited. The inspector failed the property as the result of the power outage, he said, and the landlord lost rent for two months.
"When you convert a regular property into a Section 8 property you have to make sure it's better than the property you live in yourself," said Batley. "You have to anticipate everything. The smell of the house. Every door, every window, every nut, every bolt, every piece of paint will be perfect, or you will not pass the inspection process."
It's this sort of feedback that HUD is now soliciting as part of a reform process intended to ultimately remake the system to be more landlord-friendly. A recent study from the Urban Institute found that 67 percent of Philadelphia's property owners would not accept a tenant with a voucher.
The low rate of participation isn't good for Section 8 recipients in search of housing that meets their needs, especially if they are interested in living in areas where poverty isn't concentrated. Landlords in more affluent areas where poverty rates are lower are especially unlikely to accept the vouchers, the study found. A whopping 82.5 percent of landlords in neighborhoods with poverty rates under 10 percent denied voucher holders applications.
With that data in hand, HUD officials are meeting with landlords around the region in hopes of gathering feedback on changes that could improve participation rates.
"This is about making the program more attractive to landlords," said Joe DeFelice, HUD regional administrator for the Mid-Atlantic region that includes Philadelphia. "It's about tweaking the way we do things. We've received over 7,000 comments and we're reviewing them at headquarters. We hope to have an initial proposal to Secretary Carson by the end of the year."
One item that landlord groups have already brought to the table is the rule that forbids a landlord who has failed an inspection from charging rent until the issue is addressed. The back rent can't be collected, regulations decree. Landlord groups say this penalty can be especially harsh for smaller property owners who are paying off mortgages and struggling to keep up with the exacting regulatory regimen anyway.
The time it takes to get a property inspected can be a huge problem for landlords as well. Batley estimates that it takes as many as eight weeks to schedule an inspector, and an additional four to six weeks if the property fails the first inspection. From there, it can take another two to three weeks before the agency decides how much rent the landlord can charge Section 8 tenants.
There is no negotiation, and according to landlords, it is almost impossible to get through to the Housing Authority by phone, so an in-person visit is required to contest an inspector's findings.
"The maintenance costs for voucher holders are generally higher," said Victor Pinckney, first vice president of the Home Owners Association of Philadelphia, a landlord trade association. "Not because PHA tenants are doing more damage, but because of the inspections every year and that you can always find something wrong in a building if you want."
To address many of these complaints, the Urban Institute researchers recommend "expediting inspections" and "streamlining tasks," both of which might be difficult for housing authorities who have seen their budgets cut repeatedly in recent decades. The Urban Institute researchers discussed an array of other options for making the program more attractive. Some jurisdictions offer signing bonuses for landlords who agree to participate in the program. Other housing authorities offer various financial incentives, including security deposits, insurance against damages, interest-free loans for repairs or fee waivers.
"I think there is a lot of room to improve how individual housing authorities interact with the landlords around the inspections," said Martha Galvez, one of the authors of the Urban Institute study. "There could be more predictability around when and how inspections will happen and what landlords can expect from them.  I don't know how much housing authorities can do without a clear directive and funding to support that kind of work."
Technically, it's illegal to not accept vouchers in Philadelphia. Like a couple dozen other municipalities and a handful of states, the city has a law on the books forbidding "source of income discrimination" which means landlords cannot refuse someone who wants to pay much of their rent with a federal subsidy.
But many landlords do just that. Renter advocates like the Philadelphia Tenants Union argue that instead of sweetening the deal for owners, the housing authority and the city should simply enforce the laws that require Section 8 acceptance.
"Landlords don't need any more handouts," said David Thompson of the Tenants Union, in an email statement. "Landlords who refuse to participate in the voucher program should be penalized and prosecuted."
Under the current administration, such a course of action is unlikely to be pursued. Instead, DeFelice said that he is giving his cell phone number to landlords he meets, trying to answer questions and listen to complaints.
And landlords have been calling, he said. Since an initial meeting at HUD's Philadelphia regional office, DeFelice has received a dozen personal requests to help landlords navigate relationships with local housing authorities and their inspectors.
For Batley, seeing more landlords make use of the program could only benefit the neighborhoods he operates in. He sees the Section 8 program and its good repair requirements as a means to provide social stability. The more landlords in the program, he figures, the fewer evictions and the more properties kept in good repair.
That's why, for all his frustration, he wants to keep moving his properties into the hands of voucher holders.
"It builds a better sense of unity," said Batley "It's just so divisive out there maybe we can calm down this anger that's been bubbling up on the social end of things."
WHYY is your source for fact-based, in-depth journalism and information. As a nonprofit organization, we rely on financial support from readers like you. Please give today.