How diversity saved a historic church in West Philly
Philadelphia's neighborhoods are studded with hundreds of historic churches. But as attendance steadily declines, many of these religious buildings have fallen into disrepair. Some have been forced to become something else entirely, like loft-style apartments.
A Pew Charitable Trust study released in October found that of the city's 839 historic churches – defined as those constructed before 1965 – about 83 percent were still being used for religious purposes. Ten percent have been repurposed into other uses and five percent are vacant.
From 2011 to 2015, 23 were demolished.
The loss of historic churches is a trend that continues, as Bella Vista's Christian Street Baptist Church is now targeted for demolition, even after the building was thought to have been spared the wrecking ball by the Historical Commission.
In West Philadelphia, the Calvary Methodist Episcopal Church at 48th Street and Baltimore Avenue, faced a similar fate. The building had fallen into disrepair, but instead of allowing the demolition of the church, the neighborhood saved the space by embracing the diversity of the surrounding community.
Richard Kirk, a member of the church's board of trustees, said that in the late 80s and early 90s, the 110-year-old building was deteriorating badly. Leaders of the Methodist Church, the owner of building, were confronted with mounting costs.
"They had not been paying enough attention to the building," said Kirk. "There was a lot of deferred maintenance that became a serious problem. It quickly overwhelmed the situation. It was raining in the sanctuary and you can still see the scars of it."
In 1990, the building was put up for sale but, after three years, no buyers could be found. The church decided that they would instead try to sell Calvary's unique 26-foot tall Louis Comfort Tiffany stained glass windows.
But selling what Kirk describes as "priceless" windows proved to be a step too far. The congregation didn't support the plan and, soon after, neighbors founded the Friends of Calvary as a way for locals to find ways to save the building.
"It was a last stand situation," said Kirk.
Kirk was brought on board by his neighbor, Bob Jaeger, a co-director of the then newly-founded Partners for Sacred Places, a local non-profit group that works to preserve endangered historic churches.
"I think the Methodist hierarchy, at that time, wanted to close the congregation down," said Kirk. "It was a very progressive congregation, even then, and it stood in contrast to a lot of Methodist doctrine. So, they weren't real happy with it."
In order to devise a plan of action, a consultant from California was hired who had helped save a church in Oakland after it had suffered damage in an earthquake. Then organizers worked to ensure their focus groups reflected the diversity of the community.
"Everybody said the same thing, no matter who they were," said Kirk. "They didn't want to see the building go away. They wanted to see it stay a church."
In 2005, they were able to secure grants for restoration from the William Penn Foundation to replace the roof. After renovating the space, Calvary opened its doors as a community center and a place of worship for many religions.
"One of the goals has been to put all three religions under one roof," said Kirk, noting that they always hoped to share the space between Christian, Islamic and Jewish faiths. "In today's environment it's important that we look for a new paradigm on how to get along better."
Currently, the building – now known as the Calvary Center for Culture and Community – is home to the Calvary United Methodist Church, the Gospel Chapel Pentecostal Church, the West Philadelphia Mennonite Fellowship and the Kol Tzedek Synagogue. Until last year, Calvary was also home to a Muslim congregation, but that group has since moved to a new space. Members of the Islamic faith continue to participate in an ongoing book study at the church.
To Andrew Zitcer, a founding member of the Kol Tzedek Synagogue, sharing the space with the Muslim congregation and the other religious groups is part of what makes worshiping at Calvary such a unique experience.
"It's nice to be in a space where religious tenets of faith and tolerance can be practiced in a shared space," said Zitcer.
As Kari Collins, the building manager, gave a tour of the building's labyrinthine hallways she pointed out an eye-catching historical anachronism. Several small swastika-like designs are etched into the door above the entrance to the chapel that the congregations share. She explained that the design was considered a symbol for luck long before it was co-opted by the Nazis. But just to be considerate, Collins said they are putting black tape over the designs in order to ensure no one is offended.
(Hayden Mittman)

(Hayden Mittman)
A diversity of religious congregations is not the only way Calvary embraces diversity. Groups from all over the community utilize the space including Camp Sojourner, a leadership program for girls, and a robust battery of jujitsu classes.
The Calvary Center for Culture and Community is also home to the Curio Theatre Company, which transformed a sanctuary in the building – that had gone unused for more than two decades – into its performance space.
Working in this religious setting even lead to the creation of a play, as Curio created a performance called "The Matter of Frank Schaefer" based on the true-life story of a Methodist priest who was defrocked in 2013 after performing a same sex marriage ceremony for his son.
Gay Carducci, managing director of the theater company, said Schaefer's hit home with them because they are based in a space they share with a Methodist church.
But ticket sales alone can't pay all the bills. Even with all that is going on at Calvary, Kirk said, the space is still in dire need of renovations.
There is netting above the performance space in the sanctuary to protect audiences from small bits of plaster that may fall from the ceiling during a Curio performance. The heating in the building needs near-constant work.
Currently, Calvary is undergoing a $200,000 restoration project on the Tiffany stained glass windows and, Kirk said, they hope to raise funds in the coming year for a matching $1 million state grant for additional renovations.
Kirk said that he hopes that Calvary will continue to exist as a shared, inclusive space for all the residents of West Philadelphia to share: "This place is unique to the neighborhood, but it's a tribute to the neighborhood too."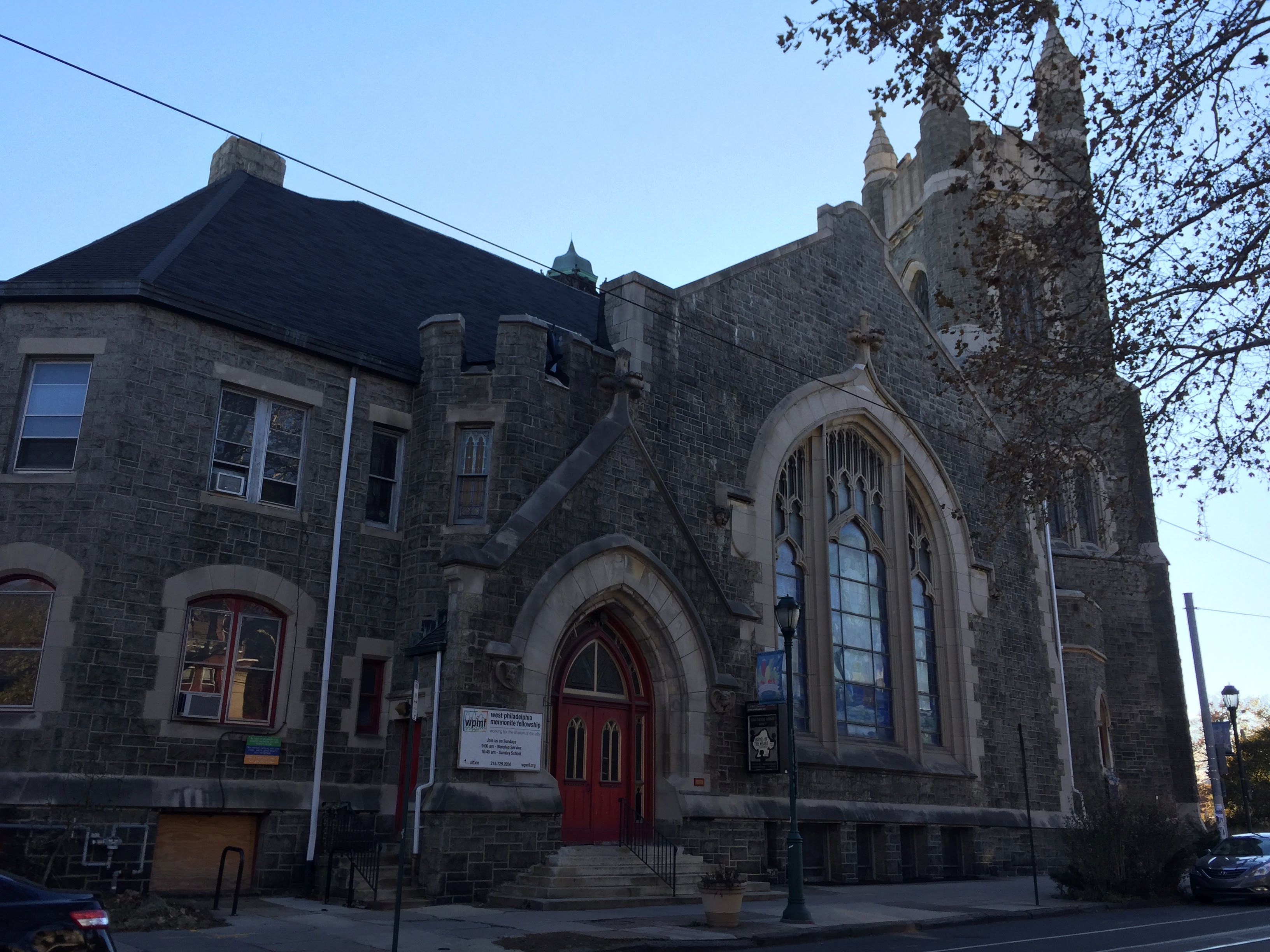 Dear reader, this article is free and available to the public only because of your support. We depend on you to continue providing the local public interest news that you value next year. This giving season, please make a tax-deductible donation during our once-a-year membership drive. Thank you for eleven great years of watchdog coverage and counting!
WHYY is your source for fact-based, in-depth journalism and information. As a nonprofit organization, we rely on financial support from readers like you. Please give today.