Housing Authority raised $9.5 million from property auctions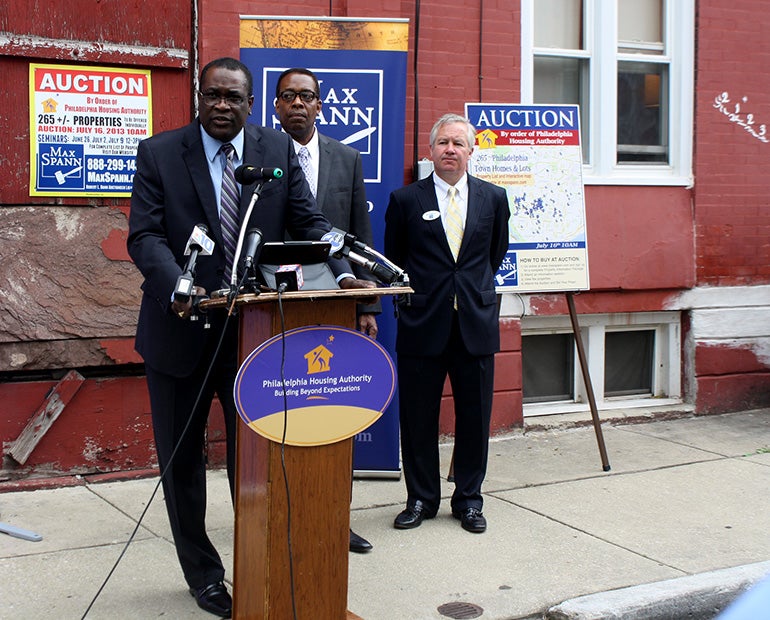 A new report by researchers at the University of Pennsylvania shows that the Philadelphia Housing Authority (PHA) has raised $9.5 million by auctioning off nearly 500 surplus properties, bringing more than $25 million of formerly tax-exempt property back on to the city's tax rolls.
The Housing Authority began selling individual scattered sites at auctions in 2011, in partnership with the New Jersey-based Max Spann Real Estate & Auction Company. Surplus properties were sold to the highest bidder, who is then required to develop or renovate the property within three to five years or relinquish ownership back to the Authority.
The report was produced through a course called "The Politics of Housing and Urban Development," organized by Penn's Urban Studies and City and Regional Planning departments and the Fels Institute of Government. John Kromer, an author of the report and former Director of Housing for the City of Philadelphia, said he undertook the research out of curiosity over what happened to the properties that PHA had auctioned.
The report, called "Auction Sales of PHA Scattered-Site Properties," found that many of the sales were clustered in North Philadelphia, that most sold for under $15,000, and that around 70 percent of the buyers live in Philadelphia while 30 percent live elsewhere. More than $8 million in tax abatements have been granted on properties sold at PHA auctions, and the current market values on two thirds of the auctioned properties are higher than their sale prices, according to the report.
"I found it really interesting that the auction process produced such positive results, in terms of putting publicly-owned properties back on the tax rolls and stimulating development," Kromer said in an email. "The fact that the vast majority of properties are code-compliant and current with respect to real estate taxes is very encouraging."
Kromer said the findings suggest that the Authority and other land-holding agencies should consider open auctions as a quick, effective, and potentially productive way to offload surplus properties. Last summer, at Councilman Mark Squilla's behest, the city and the Redevelopment Authority put 200 properties up for auction in the 1st Councilmanic District, eventually pulling in around $1.8 million.
"This experience suggests that, under some circumstances, it makes sense for government to just expose properties to auction sales, without entering into the lengthier traditional process of issuing a request for developer proposals and reviewing the experience and qualifications of the parties that respond," Kromer said.
The process can also help the city identify small-time developers who are particularly good at turning around vacant or blighted property, Kromer said.
The Housing Authority says it has around 3,600 scattered sites that are currently occupied, and another 1,000 or so that are unoccupied. In an interview with PlanPhilly last week, PHA President and CEO Kelvin Jeremiah said that many of the Authority's scattered sites were handed over from other public landholding agencies in the 1970s and 1980s, as the city was losing population.
PHA was meant to rehab them and provide them for low-income residents, but wasn't given any funding to do so, Jeremiah said. So the Authority has tried to "reposition" the properties, both by auctioning them off and by partnering with Community Development Corporations and private developers to redevelop them.
"So when we auctioned those properties, we had a two-fold goal in mind," Jeremiah said. "One was to reposition them, and the second part was to collect some revenues to address what still remains."
Since its last round of auctions, in 2013, the Authority has been investing in rehabilitating some of its scattered sites in neighborhoods where private-market rentals are becoming less affordable—places like Point Breeze, Francisville, Brewerytown, Fairmount, and Center City, according to Jeremiah. The Authority rehabbed 152 scattered sites in 2014, 229 in 2015, and has another 250 scattered site rehabs "in the pipeline," Jeremiah said. The rehab work is expensive, but not nearly as costly as building new units, which runs above $400,000 per unit, according to the projected cost of PHA's massive transformation plan for Blumberg-Sharswood.
"We looked at communities across the city where we had properties that were long-term vacant, and we made a strategic decision, in particular communities that were becoming unaffordable, we made a decision not to auction those properties and instead remove the blight by rehabbing them," Jeremiah said. "And we've spent millions of dollars to date doing those properties."
Read the full report here.