Holme Circle Civic president resigns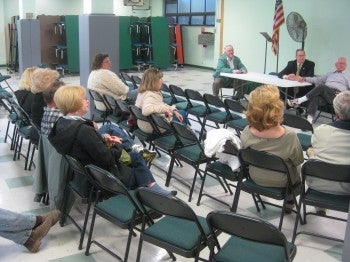 Last night's Holme Circle Civic Association meeting began with an announcement that came as no surprise to most of those in attendance.
President Sean McAleer announced his resignation from the group, which coincides with his out-of-town move. McAleer's faced a long commute to work everyday, and will be moving closer to the workplace with his family — a decision he said happened in just a few short weeks.
It's unclear who will take the lead now that McAleer has stepped down, though such a position usually falls to an existing board member should no one else express interest.
In honor of his last meeting, McAleer gave updates on the two most prevalent issues in the neighborhood: the T-Mobile cell phone towers and the upcoming Pennypack Circle project.
The HCCA's battle over the T-Mobile cell towers atop the Holme Circle Apartments at Axe Factory and Welsh Roads sparked the civic association's creation a few years back. Now, after trials and appeals, T-Mobile has decided to appeal to the Commonwealth Court.
The service towers, which were put up without the proper permit, still remain. Until now, State Rep. Denny O'Brien has been footing the legal bills for the HCCA to fight, but McAleer noted that could come to an end as Commonwealth Court is "very pricey."
Introducing Officer Taylor
Officer Harry Taylor is the new Community Relations Officer for the 8th District. He stopped by Holme Circle to explain his goals:
-restart and reinvigorate town watch groups in the 8th
-go on patrols with town watch groups
-get people involved at PSA meetings.
McAleer said Taylor "seems to be a man of action," and Taylor was recently recognized as Officer of the Year at the 8th.
McAleer said he asked a T-Mobile representative to come to an HCCA meeting to discuss alternatives with residents, but that T-Mobile declined, and has since threatened to take the matter all the way to the Supreme Court.
"They have money to do this, and we don't," McAleer said. "And they know this."
As far as the Pennypack Circle project, McAleer said there have been some delays, and could be more, since the "economic times of the state are not good."
The project, which would involve restructuring Pennypack Circle where Roosevelt Boulevard intersects with Holme and Solly avenues to form a single bridge over the Boulevard's middle lanes, is still expected to start in 2011.
McAleer's final meeting with the HCCA ended much the way his time there started: two big issues, general neighborhood concerns and a small group of a involved residents.
Though he's unsure about who will fill his shoes, he said all he hopes is that someone steps up. "A small civic association is better than none at all."