Holme Avenue Bridge re-opens after months of repairs [slideshow]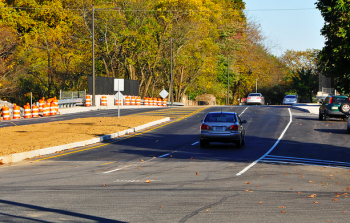 Months of work and detours culminated at 2 p.m. yesterday when the Holme Avenue Bridge re-opened.
Work on the Holme Circle bridge began earlier this year with partial lane closures, but by the end of June, both lanes on either side closed for good after PennDOT and Buckley Construction found structural deficiencies.
PennDOT assured Holme Circle residents the bridge would re-open by Christmas — a long time, given commuters hadn't expected it, but far sooner than if repairs had continued with partial lane openings, as was the original plan.
It was at the September Holme Circle Civic Association meeting that PennDOT told residents the bridge would be open by the end of October, a full two months early. HCCA President Joe Razler then announced the formation of a committee to help beautify the circle and the area around the bridge. The proposal included neighborhood signs and restoring the circle to its original look, including the removal of the detour signs and new traffic lights installed to alleviate traffic during construction.
And aside from the new sidewalks and asphalt, the bridge doesn't look much different than it did back in June. Traffic patterns remain the same, with two lanes in each direction bordered by sidewalks above the train tracks.
One thing Razler and neighbors hope will change: graffiti. PennDOT assured last month the rails and walls would be coated with anti-graffiti paint to quell the persistent problem neighbors have long sought a solution to.
WHYY is your source for fact-based, in-depth journalism and information. As a nonprofit organization, we rely on financial support from readers like you. Please give today.